Day 1,828, 01:15
•
Published in Thailand
•
by Mystela

In recognition of the 5th. year anniversary of eRepublik & of eThailand, on 20th. November 2012.
The accuracy of the following is dependent on the sources used, all of which are either linked throughout, or listed at the end of the article. I trust that none of these sources deviate
too
far from the truth. I hope that this article brings back happy memories & also dispels some of the myths surrounding the Empire of eThailand.
Behold the Empire!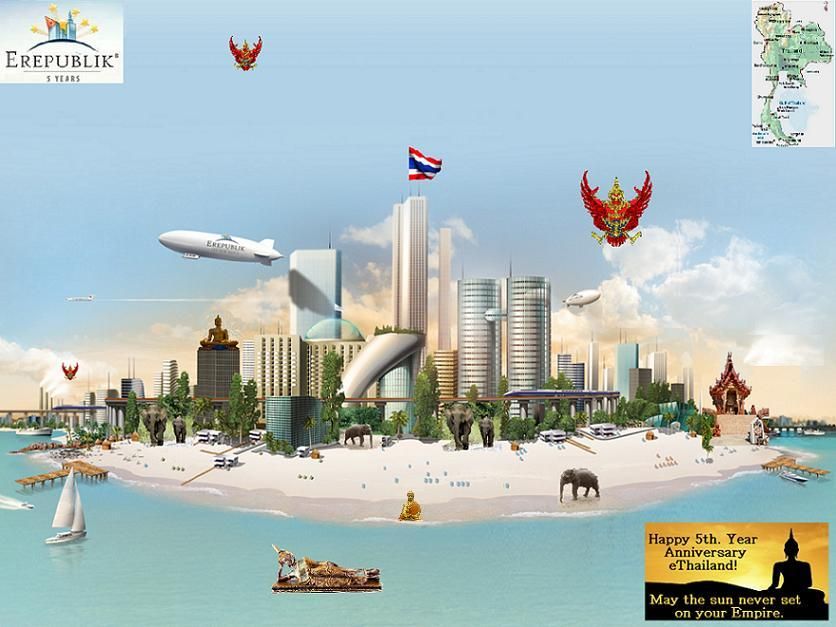 Press Release July 2010 - eRepublik is built around the concept of a daily social experience.
In this simulated New World, where a nation survives not only due to the success of its military, its political, economical & strategic prowess, but
especially
because of its society, eThailand is a shining example of the pride, determination & endurance of its citizens, not to mention their sense of humour & camaraderie.
♛ The Birth of an Empire ♛
Five years ago,
Thailand was one of 43 countries simultaneously introduced to the New World.
On 06th. June 2008, after the first 6½ months, Thailand was home to 88 citizens, including the owners of 17 companies, with a national unemployment rate of 54.44%. Another 6 months later, on 08th. December 2008, the population had nearly doubled to 150 citizens, resulting in
a food shortage!
😮
That article & the comments are a good representation of eThailand on many levels, a kind of microcosm of the game itself, at that time. The diversity of jobs, sectors & products, the planning required by employers, the power of employees, the fall out from government action or inaction, all actively discussed by players from many different backgrounds.
Who were they?
eRepublik teams have always been populated by their respective countries' real life citizens, or barring that, by a mix of citizens from all over the real world, sometimes in an organized group, commonly referred to as a Political Take Over (PTO). As of 23rd. May 2008, many PTO's had been carried out, including those by teams from America to Poland, Canada to Switzerland, Indonesia to China & several by Sweden to Austria, India & South Korea!
PTO's had become an integral part of the game.
Thailand experienced many
waves of immigrants
, the most notable among these earliest, being from Sweden & the UK, followed by Brazil, America,
Iran's eMafia,
Romania,
Italy
&
Indonesia
etc. Some of these PTO's appear to have been planned to be, or developed into hostile take overs, bent on theft & destruction. Others seem to have been genuine attempts to gain control, to further the real development of eThailand, for everyone willing to stay & work.
And what about the Real Life Thai players?
Contrary to popular belief & unlike most other eNations, eThailand's native population growth has always been subject to real life government restrictions, as described by
Freedom House.
Bold highlights are mine.
---
The internet was accessed by approximately 24 percent of the Thai population in 2011.
Government censorship of the internet has been in place since 2003
... since the 2006 coup, internet censorship has increasingly been used against potentially disruptive political messages and sites that are considered a threat to national security...
The Ministry of Information and Communication Technology (MICT) blocked at least 2,200 websites between April and June 2010...
In 2010, the Thai Netizen Network cited sources indicating that the number of blocked websites was as high as 10,000.
The opening of the CSOC in 2011 signalled an even greater decline in Thai internet freedom. It has enabled the MICT to shut down and block online content more quickly... working with internet service providers and website owners to block content not only in Thailand, but globally.
Their efforts are particularly focused on social-networking sites such as Twitter and Facebook,
both of which have gained significant ground in Thailand recently. The controversial CCA assigns prison terms of up to five years for... as well as for the use of proxy servers to access restricted material... Prachatai has been harassed by the police and burdened by the CCA's requirement that websites monitor and take responsibility for user comments. As a result, the news site has removed its discussion forums.
---
Real Life Nationalities
While other cultural factors may have played a part, I imagine that those government restrictions discouraged many RL
Thai
from ever trying this game. One of the earliest exceptions though, was a thoughtful player named
Wisdom.
Other nationalities of a few early, notable players included,
Hungarian
-
tujul,
Filipino
-
Mew Tong,
Latvian
-
SpeedKing,
Brazilian
-
Antonio Salgado,
American
-
Korbin King
&
Estonian
-
s33valdi
, among many others.
In general, players were knowledgeable & enthusiastic. Travis Byrd, a RL American who lived part-time in Thailand & was fluent in the language, was
a good example of the kind of player attracted to eThailand.
Active players like Callagan, tried to anticipate & meet the needs of the team, in this case by publishing
an interesting history of eThailand, as he experienced it.
The Art of Recruiting or How to Start a War for teh Lulz
Appropriately, his name was sparkster.
😃
I have no idea who he was (a Brit?) or where he is today, but I imagine that no matter where he is, sparkster is being misunderstood. Also, ironically his first recruit on Day 489 was a Serbian, Marko Grce, found in the UK, no doubt a refugee from his own homeland, so recently PTO'ed by the Croatians. Needless to say, although the comedy was appreciated, recruitment never went very well.
😒
Day 487
-
sparkster begins recruiting by unwittingly insulting the Americans.
Day 488
-
He triggers eThailand's first ever trade embargo by Denmark.
Day 488
-
sparkster gives a warning.
Day 489
-
Reaction in Thailand to the Danish embargo.
Day 496
-
Thailand's Intelligence Agency position on Danish.
Day 841
-
One year later...
Enter the Serbian Menace
😛
Serbia was added to the game on Day 449, nearly 15 months after Thailand. It was promptly PTO'ed & by Day 489, was completely overrun by Croatia. However, less than 3 months later, Serbia would be established in the game as a powerhouse, not only able to defend herself, but also able to provide protection to
a very grateful Thailand!
Populated by many passionate RL Serbian gamers, among them were the founding members of the Serbian Council of Elders who, in their search for a new challenge, made their first appearance in Thailand around Day 1014 -
Ifke,
nearly 2 years after the introduction of Serbia to the game.
After more than 3 full years in eRep, with player retention still a major problem though out the game, Thailand had yet to establish a core base of players.
Worse still, the community was completely fractured, with players in near comic confusion, many choosing to abandon the country.
Under the patient guidance of the Elders, who despite their Serbian nationality, acted unilaterally in the administration of the country, Thailand achieved a sense of overall lasting stability for the first time in her eHistory. Today, eThailand's population is dominated by RL Serbian players, loosely surrounded by a mix of players from Croatia, Italy, Turkey, America & I believe that I'm the token Canadian. :3 The team spirit, the good-natured, easy going administration & power sharing, by those who are elected, the sense of respect & real affection among them, is palpable. What's more, they share all of that with anyone who earns their trust & who is obviously dedicated to the team.
I'm going to stop now, even though I've barely touched on the wealth of information available concerning eThailand. Maybe next anniversary, I'll publish some more. In closing though, look what I found!!
😮
ADMIN!
Congratulations on your success! While you're still in a generous mood, why not correct that long-standing, glaring error &
give eThailand our missing 6th. region of West Thai
? Also, because we've been deprived of that region for so long, I think that it's only fair to allow our King to choose the resource. Some monetary compensation might be nice too, Gold even, or maybe some free Q7 tanks, or food...
Behold! Our Missing Star! ✺ West Thailand!! ✺
tl;dr
Send a ticket to Admin! We're missing a region!!
😮
EDIT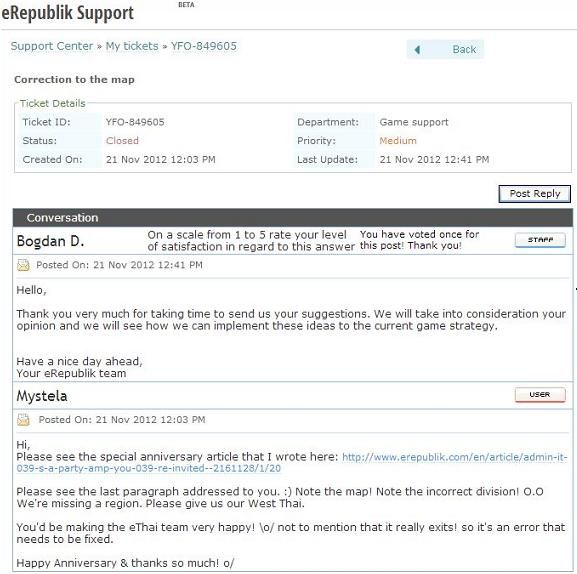 Sources
eRepublik Blog
eRepublik Live
eRepublik Press Releases
eRepublik Wiki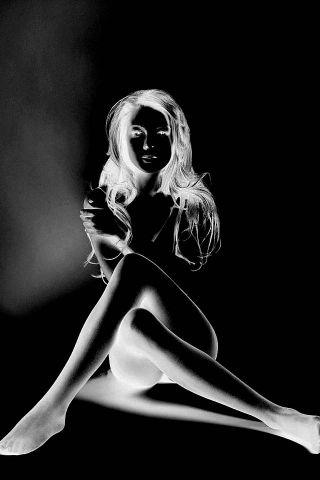 Post your comment
What is this?

You are reading an article written by a citizen of eRepublik, an immersive multiplayer strategy game based on real life countries. Create your own character and help your country achieve its glory while establishing yourself as a war hero, renowned publisher or finance guru.