Day 5,591, 17:17
•
Published in USA
•
by James S. Brady Press Room
WHPR 5592: Initiative #2, War Map, Knowledge
Israel Stevens inspects a rifle donated to the Civilian MU Gun Drive, circa February 2012
Dateline:
Monday March 13, 2023 (Day 5592 )
Location:
James S Brady Press Room, The White House
In Today's White House Press Report:
:1:
National Initiative #2
:2:
War Map & Analysis
:3:
Repair Yard : Knowledge is Power
Editor's Note:
We set out last week to fill the Airstrike Food bin once and ended up 12 Airstrikes ahead.. In a matter of hours. No prizes, just pride.
This week let's slam the GIMP Program. Again no prizes, just pride.
And, Shoutouts to old pros Phenix Quinn and Cthulhu, for stepping up to the plate and poppin' out home runs for me..
oh, hell yeah!

National Initiative #2 : Gun Drive
Press Corps Writer Custer
Back in the day… back in the day…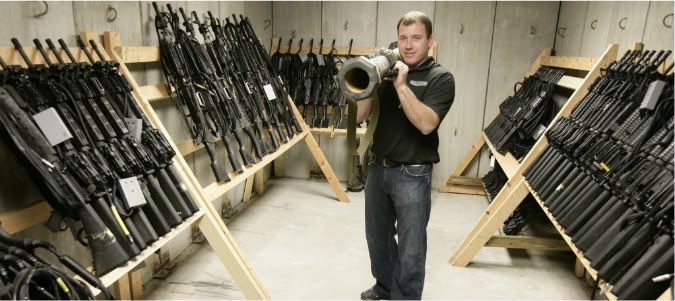 Rocket Ryan Newman helped manage inventory for the February 2012 Gun Drive,
We had the Civilian MU, a very special MU that served the nation well. They were completely privately funded. We didn't have deep pocket sponsors then, it was all about the American People, of all political and military associations, making sure the Civ MU could arm its soldiers. We used to buy and Donate Tanks by the hundreds just because, ya know, 'Merica.
Kinda alternating between Grab Bags
(I'm working on that)
and Gun Drives, we citizens kept the Citizens MU weapons program and Interior's Meals On Wheels program running strong.
Today we have the GIMP Program. Unfortunately the only guy who knew what that means wisely retired to the real world last week. But the program is still there and you can read about it at Yui MHCP001's article,
[GIMP] New Management
.
Apply for GIMP and they send you money to reward you for the fighting you were going to do all week anyways. Getting paid encourages you to buy more weapons and fight more.
You get paid for medal hunting. You get paid for 2-clicking.
They track your fighting and pay you accordingly.
They have a huge Budget Line. I have a 5100cc Budget line, GIMP's is 2.5 mil.
They are not short of funding, and they're not asking for this.
Yui is going to make note of what GIMP has now (late Sunday), and will let us know maybe mid-week how we're doing, and I'll collect a final number late Thursday for Friday's Pony Express.
GIMP spends 2.5 Million cc per week.
I want Yui to get that in Donations.
From the American People.
In four days.
The next round of GIMP is on us, because, ya know.. 'Merica.
Donate to Yui directly— cc Cash Only.
Actual Weapons is an inventory nightmare so it's a Cash Only business.
Yui MHCP001 https://www.erepublik.com/en/economy/donate-money/3404889
No prizes, just pride.
We're America, dammit, we're up to our friggin' eyeballs in pride, and still always got room for more.

War Map & Analysis
Press Corps Writer Cthulhu
Greetings to all you humans, interdimensional beings, out there in the eWorld. It's your benevolent squid here, and I have been authorized to give you news from the Ministry of Truth, regarding everything going on in the Ministry of Peace. First,
here's a little mood music for your fevered minds
. 24 positions is pretty impressive, afterall.
Remember perpetual war for perpetual peace. With that in mind, we're just going to review some of the basics. If you are a citizen and you need a safe region for your companies; you are authorized to live in KY, WV, and VA with no papers. However, if you leave the confines of one of these three zones, you will be subject to search and seizure to ensure the safety of all law-abiding citizens.
Next, there are several training wars that continue to enrich and renew our great nation. These are simple maneuvers required to maintain the status quo. Unless otherwise stated, the defender always wins. Remember, you do not need to spill your brother's or sister's blood in these wars. These are for training the young ones. They are our future, citizens.
Bulgaria
Romania
Republic of China (Taiwan)
Ukraine
Canada
Peru
Poland
Japan
United Kingdom
Iran
Republic of Moldova
Sweden
Netherlands
Finland
Lithuania
United Arab Emirates
Portugal
North Macedonia
Latvia
Colombia
Brazil
Israel
India
Indonesia
Paraguay
South Africa
China
Philippines
Australia
It is the duty of every citizen to watch these training wars and ensure the appropriate outcome in each and every one. There are nefarious CODE agents everywhere. They attempt to harm and undermine your great nation at every turn. Remain vigilant citizens.
WAR IS PEACE
FREEDOM IS SLAVERY
IGNORANCE IS STRENGTH

WHPR Repair Yard : Knowledge is Power
Press Corps Writer Pfenix Quinn
The Peoples' Repair Yard is a group -- well, it's one person -- but a group is like a set and a set can have one element right? Heck, a set is still a set even if it's empty. So there! Anyway, The PRY group is proud to announce a series of WPA- and fake-WPA-inspired artwork aimed at inspiring the brave and true E-merican players to step up their game, have more fun, and, of course, be prepared to deal with the threat posed by zombies and werewolves!
Party leaders, players of merit, fighters of reknown and all those who click buttons for an e-living -- make sure your neighbors, allies, noobies, and slacker-buddies know the in's and out's of the game!
An informed player is an active player!

I wrote this for a different President 11 years ago this week.


Oh, by the way, our next Airstrike will be ready in a couple days.
I understand those things are available every 14 days, so.. my lovely eHungarian friends, when you see the flash, mark your calendars for every two weeks hence.
Like clockwork.
No matter what else we're doing, we have our next 12 Airstrikes reserved just for you. And be secure in the knowledge that we can pay for another 12 Airstrikes with pocket change when those are used up. And we will.
Have a nice day.
Kickstart the media. Every keystroke counts.

WHPR 5592: Initiative #2, War Map, Knowledge
https://erepublik.com/en/article/2764699
Your White House Press Corps Writers Today
,
Cthulhu, Phenix Quinn, and Custer.
:::
5592:3920