Day 2,145, 01:13
•
Published in USA
•
by James S. Brady Press Room
WHPR 2145 - War Map; eNPR; Transition; Press Corps; ATO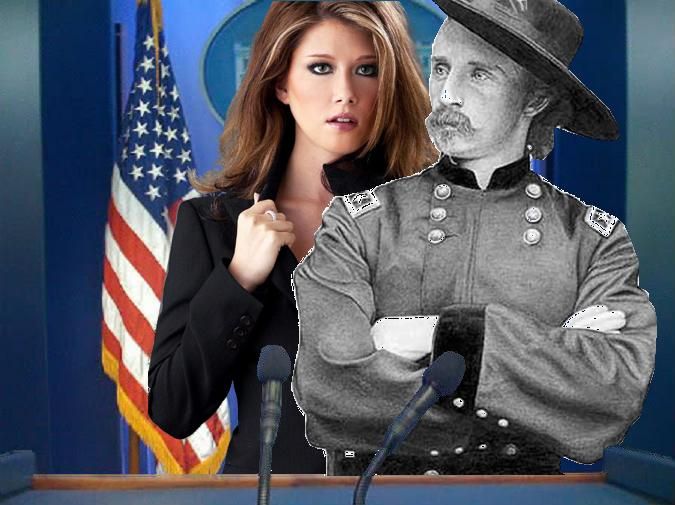 Co-Secretaries of Media Melissa Rose and George Armstrong Custer.
Dateline:
Friday, October 4, 2013 (Day 2,145)
Location:
James S. Brady Press Room, The White House
Today's WHPR:: 1:
War Map
: 2:
eNPR Friday Night!
: 3:
Making the Transition
: 4:
Your Aug/Sept Press Corps
: 5:
Quote Pic
: 6:
POTUS Election ATO
Editors:
George Armstrong Custer and Melissa Rose

War Map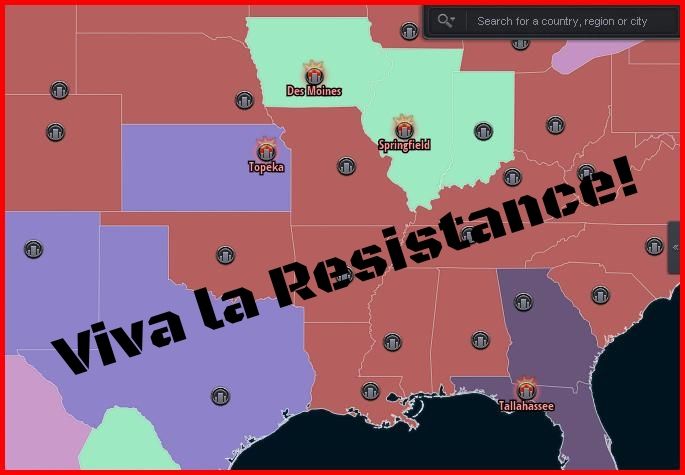 There's strategy happening, here, kiddies. Be sure to follow the Orders of your Military Unit or the Dept of Defense. Don't go off on your own, fighting where you think it makes sense. Let our leaders lead-- they've got this worked out.


eNPR, Your Oval Office Radio
Tonight's eNPR
-- Election Eve-- Talos and Melissa Rose will host the
Bigass POTUS Debate
Grilling Josh Frost Show
. Citizens are asked to submit questions for the presumed President-elect-- post them in the Comments to this article!
This will be the last eNPR of the current term.
Our thanks to former eNPR Director and Host Cerb, current Director Talostastic, and Co-Host of both the Tuesday and Friday night shows, Melissa Rose.
We also thank frequent guests HeapSeppo, Tyler Bubblar, Valiant Thor, Ilphen, and many others who rocked eNPR week in and week out.
We especially wish to thank President Oblige for paying for eNPR on BlogTalkRadio.

Making the Transition
CoSecMed Melissa, with Chief of Staff Israel Stevens

The CoS job is akin to the general manager of a RL company. Rather than being the final decision maker, Their job is to make sure that the stuff that is supposed to get done, gets done. One of those jobs is to make sure that the transition from one CP to the next goes as smoothly as possible.
During a transition the CoS will collect transition packets from all Department heads. The transition packet is essential in making sure the new Director and staff are up to speed on the inner workings of their job as well as any currently uncompleted or on going projects. Each department has a handful of passwords as well as informative GDocs that serve as guide to the new director. In some instances Department heads will stay on as an Advisor, or take a Deputy job, to help the new Secretary get off to a good start.
In our case, former SecMed Civil Anarchy composed a pretty thorough Gdoc, which has been passed down through several generations of Secretaries of Media. In addition to this, our successor will enjoy the benefit of Melissa Rose continuing with the Media Dept. And, as he has for several past SecMeds, Custer will remain available as an Adviser and occasional Contributing Writer.
A new Secretary of Media holds the options of utilizing the same format and graphics for the WHPR, or may remake the newspaper completely. He may continue the Recommended Reading (Pony Express) newspaper, change it, or discontinue it.
A SecMed usually, but not always, also serves as eNPR Director-- responsible for booking guests and developing the agenda for each broadcast, and is usually the main Host. If the SecMed is not the eNPR Director, he'll work closely with his Director, and pick up those responsibilities if necessary.
This Media Team has published the WHPR three times a week, like clockwork, plus Special Editions as needed. We've resurrected the Pony Express as Recommended Reading, to put links to all Official Government newspapers in one convenient place-- twice a week. President Oblige set up
@whitehouse
, available in every IRC room running Sovereign, which gives a quick list of the top Government publications. And, of course, we've put on two eNPR shows a week-- the "straight show" with real news on Tuesday nights, and "the Press Corps runs amok on eNPR" on Friday nights.
"Thanks to both of you for doing such a kickass job. Media is probably the most time intensive department and you guys absolutely killed it." ~~Israel Stevens
"The key to our success has been in teamwork. A good Secretary of Media is a good team builder, and a good manager."
~~Custer

Your August - September Media Team Says...

Starting with the
August POTUS Election Roundup
to date, your WHPR has published
thirty editions
from August 6th to October 5th. We have prided ourselves on delivering a quality product-- a few were total clinkers, but the great majority have been absolutely stellar presentations by talented writers representing a cross-section of eAmerican society.
We've had quite a parade of writers through here these past two months. Some of our Guest Writers became full Press Corps Staff, others contributed but once or twice. The main job of the Secretary of Media is to assemble and manage a good crew--
these are the writers who have made this newspaper great!
Evry:
I contributed? The WHPR must be so awesome that I managed to contribute unknowlingly!
We appropriated one or more of Evry's Executive Roles posts from the eUS forum.
Mourning Star:
Being a part of the WHPR team has just been a dream. It has been informative and fun. Now if only people in the White House would read/vote/shout it.
Mourning Star has elevated our Monday and Friday War Maps segment to new levels, both in unique graphics and insightful analysis.
Melissa Rose:
Working on the WHPR along side Custer has been the most enjoyable experience I have had to date in eREP. It has been an honor and a pleasure to work with all of you.
Melissa Rose was brought in to resurrect the Pony Express as Recommended Reading, and became Co-Secretary of Media in September. Much of the success of this newspaper is due to her extraordinary management skills.
emdoublegee:
I enjoyed writing for the WHPR and the opportunity to work with such great staff!
endoublegee did a "Fast Four" interview with Presidential candidates BigCDizzle and Oblige for the Sept 2 (Day 2133) edition.
Valiant Thor:
This media-team has set high standards regarding activity and quality of content for others to look up to. I salute you o7
Billed as "Special Guest Troll," his How to Beat Poland: POLE DANCING! ranks among the most hilarious bits of propaganda ever.
Alexandrer Coin:
I am grateful to have spent my time with such a wonderful group of excellent writers, and I am really looking forward to continue my journey in writing alongside Custer, and Melissa Rose.
Plucked from the WTP Writers Club, Alexandrer jumped into the deep end with his debut piece by interviewing both the German CP and MoFA.
Kemal Ergenekon:
I would like to thank the WHPR staff for giving me the opportunity to Propagate Plufferist Propaganda.
EC Chairman & SecTreasury Kemal Ergenekon explained the Work Tax in the Sept 16 (Day 2,127) edition.
Malarkey83:
Glad to be a part of this (no idea why other than my IES blurb). Custer has written some of the best WHPR articles I've ever read and actually looked forward to reading quality information during his tenure.
So, instead of you thanking me...I thank you sir!
Malarkey83's IES blurb can be found in the Sept 13 (Day 2124) edition. The Immigration Dept is always looking for good help!
Hale26:
Was a pleasure Custer. You brought me into this, so it's fitting that I went out of it with you xD. Excellent run.
Hale26 totally rocked our War Maps & Analysis through our first term.
John Killah:
As always, writing for the WHPR is one of the best experiences to have in this game, especially alongside such an amazing and dedicated Media Team!
"Raul" Killah joined us to commemorate la Revolución de los Medios, delivering an outstanding post-Congressionals piece in the spirit of la Revolución.
Bucephalus92:
\o/
Bucephalus92 has delivered excellence in the form of War Maps & Analysis in the Wednesday editions during our second term.
Kortanul:
I enjoyed writing propaganda a few times, and I enjoyed reading all the articles WHPR put out. Definitely look forward to reading the special edition you're running up.
Kortanul joined us midway through our first term, his first submission making top story-- he's that good.
Tyler Bubblar:
I'm just a guy that likes to write lulzy articles. I enjoyed having such a big platform to do it from.
Former SecMedia Tyler served as Deputy SecMedia through our first term, and has been a staple personality on eNPR. He's an absolute blast to work with!
HeapSeppo:
It's been fun helping Custer and Melissa with their work in the Media department, media rocks.
In addition to contributing to the WHPR, HeapSeppo also brought his positive drive to eNPR.
HarleyQuinn:
You were very fun to work with Custer. I hope we can work together again sometime
🙂
Harley worked behind the scenes-- first as a spy inside the AFA, then helping us out with proofreading and editing.
Jefferson Locke:
I'm not sure what I did, but I'm glad and honored to have done it.
As Director of Homeland Security; Anti-Take Over Operations, WHPR 2124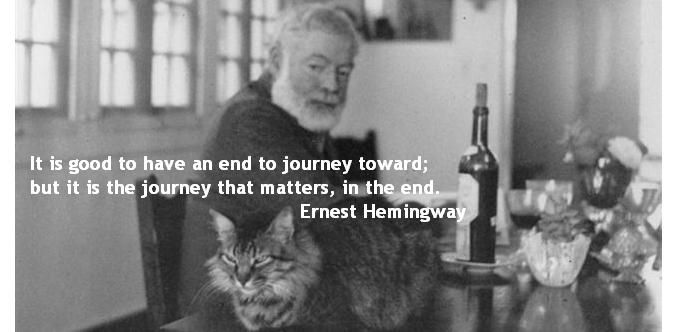 Presidential Election ATO
Tyler Bubblar
CP election day is creeping up on us again. We have Josh Frost and Talostastic on the ballot, and Chopp from the AFA. Frost and Talostastic are legitimate American Leaders who would strive for the betterment of the eUS. The AFA by their own admission want us to become a Serbian-American colony. I urge you to eschew the AFA candidate.



Co SecMeds George Armstrong Custer
and
Melissa Rose
"I would be willing, yes glad, to see a battle every day during my life."




Staff Writers Mourning Star, Bucephalus92, Phoenix Quinn, Talostastic and Kelly J. Brown




Tyler Bubblar, Ludonnar, Irule777, Cerb, Civil Anarchy

Hale26, Kortanul, eCenk Uygur, Donovan Zoi, emdoublegee



Alastor DoUrden, Alexandrer Coin, Valiant Thor, Malarkey83, Kemal Ergenekon




John Killah, HeapSeppo, HarleyQuinn. Special Thanks to Israel Stevens and Oblige.

WHPR Day 2145
http://www.erepublik.com/en/article/2325709/1/20
War Map; eNPR; Transition; Press Corps; ATO
---
Be Sure to check out these Official Government Newspapers for the latest News!
Use @whitehouse in any IRC room running Sovereign to see the latest Government News articles.
3070
:::
Post your comment
What is this?

You are reading an article written by a citizen of eRepublik, an immersive multiplayer strategy game based on real life countries. Create your own character and help your country achieve its glory while establishing yourself as a war hero, renowned publisher or finance guru.