Day 1,933, 10:30
•
Published in Germany
•
by Bundeskanzleramt

Sehr geehrte Bürger Germarks,
viele werden es sicherlich schon wissen, ich bin euer neuer Präsident. Zunächst möchte ich meinen Wählern, aber auch meinem Konkurrenten versuchskaninchen danken, durch den die Wahl zumindest etwas an Brisanz gewonnen hatte, diverse Presseartikel zeugen davon.
Doch nun zu der vor uns liegenden Amtsperiode. Was kann man von meiner Präsidentschaft erwarten?
Das Wichtigste ist meiner Ansicht nach zunächst die weitere Annäherung an die von uns gewünschte Allianz Circle of Trust (CoT). Dazu muss der MPP-Stack erweitert werden, nachdem sich dieses Unterfangen in der zweiten Hälfte des letzten Monats doch als sehr schleppend erwies. Es gab Gespräche mit Chile, Brasilien und Mazedonien, jedoch waren diese gegen Ende der Amtsperiode wenig ertragreich und eine Entscheidung wurde, wie es durchaus üblich ist, in die Hände des nachfolgenden Präsidenten gelegt. Daran muss jetzt also angeknüpft werden, auch im Hinblick auf die nun integrierten Ingame-Allianzen wäre ein Beitritt zu einer solchen sehr erstrebenswert.
Hauptsächlich könnte ein Beitritt aber die seit Wochen herrschende Langeweile in unserem Land bekämpfen, Neutralität hat zwar durchaus ihre Vorteile, wie sich in der Vergangenheit bereits gezeigt hat, lange begeistern wird das allerdings die wenigsten. Ich weiß auch, dass sich viele wieder einmal nach einem Krieg sehnen, denn darum geht es letztlich in Erepublik. Es darf jedoch nicht der Fehler gemacht werden, einen Krieg zu starten, nur um einen Krieg zu haben. Ein Kampf gegen Polen wäre tödlich, deshalb gibt es auch den Deutsch-Polnischen Vertrag, welcher übrigens um einen weiteren Monat verlängert wurde. Auf Grund dessen muss die richtige Gelegenheit zu einem Krieg gegen ein anderes Land abgewartet werden, vielleicht wird sie sich im Laufe meiner Amtszeit ergeben, vielleicht nicht.
Fakt ist jedenfalls, dass auch ich nicht zufrieden bin mit der derzeitigen Situation. So werden weder neue Spieler angelockt, noch Alte zum Dableiben animiert, deshalb werde ich versuchen, den nächsten Monat so spannend und aufregend wie möglich zu gestalten.
o>
BadMax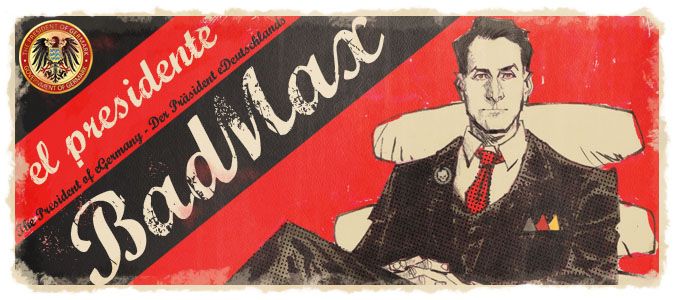 [English Version]

Dear citizens of Germark,
many will surely already know, I am your new president. First I would like to thank my voters, but also my competitor versuchskaninchen, with him the election had at least some levels of incidence how various press articles can testify.
But lets talk about the term ahead. What can you expect from my presidency?
The most important thing in my opinion is to improve the relations with the CoT-Countries. This requires the MPP stack to be extended which did not work out in the second half of last month. There were talks with Chile, Brazil and Macedonia, but these were not successful and a decision was left, as it is quite common, in the hands of the next president. So now this conversations must be repeated, a CoT-Joining is our goal, especially since the now integrated alliance function.
Mainly a CoT-accedence might also fight the boredom which rules in our country for weeks, for sure, neutrality has certainly its advantages, as has been shown in the past, however, it is boring after such a long time. I also know that many yearn once again after a war, because that is what Erepublik at the end is all about. It is important though to not make the mistake of starting a war, just to have a war. A struggle against Poland would be deadly, that is why we have the German-Polish agreement, which was incidentally extended by another month. Because of this, we have to wait until there is the right opportunity for a war against another country, maybe they will arise during my term of office, maybe not.
It's also a fact that even I am not satisfied with the current situation. Thus, neither new players are attracted, nor old encouraged to stick around, so I'll try to make the next month as thrilling and exciting as possible.
o>
BadMax