Hari ke 1,819, 13:04
•
Diterbitkan di Portugal
•
oleh jotapelx

Hello,
It has been a while since I wrote a proper article for this newspaper. I really miss doing this, but this time I'm not presenting just statistics, I'm trying to expose my case regarding a request to the Admins for dropping the cost of the MPPs.
There is a sense in each country "Elite" that the income is really low, but most of the times no one is really paying attention to the fact that it is low for all countries. To understand how really bad is this problem, I've chosen a big group of countries friends and foes of Portugal (39 countries to be exact), and for more than a month I've been monitoring the income of all these countries.
I've decided to extract some statistics for each of the countries like Daily Income, Population, New citizens, Food Bonus, Weapons Bonus, all relevant taxes and regions. The purpose was to understand if any of these variables really affect the Income of each country. I was planning to create rankings, etc. but this time I'll leave it alone. The numbers are here for everyone to see if you wish to do so.
If you wish to dig additional information like patterns you are more than welcome to see the info in this gdoc
https://docs.google.com/spreadsheet/ccc?key=0At56i_YbWewNdDcxSkJkb0M1Q3E3VnpDSFFsbFVOLWc#gid=9
it is automatically updated every day and inside there is a link to each country details, also updated daily.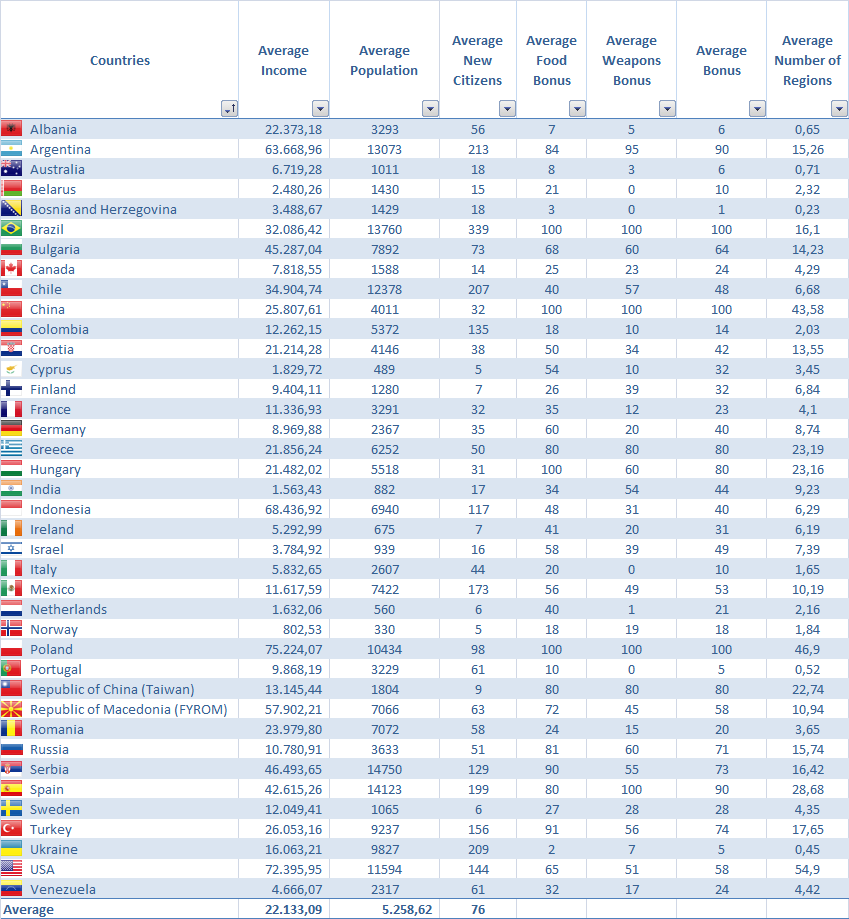 As you can see the overall revenue of each country is considerably low, in some cases like the Netherlands and Norway (I expect that much of the countries missing in this list are also with these values) it's almost impossible to pay for more than 3-4 MPPs at the current MPP cost (10.000 CC) per month. And with the remaining CC it's not even possible to pay for any decent distribution inside each country let alone to mercenaries.
We clearly have a big problem in the economy module, everyone knows that, but right now it is limiting significantly other areas of the game like the military due to the impossibility of self sustainable countries and the social by not allowing the smaller countries to grown their community with decent social projects.
When Gold was at 2000 CC, each MPP would cost 5 gold. Right now, it costs 27.77 gold (at 360 cc rate) we are talking of an inflation of more than 500% for the MPPs. The price of Weapons and Food tried to adjust to the new gold rates (it is still adjusting) but the cost of the MPPs didn't change one cent, so each day it is harder and harder for the countries to be part of Alliances. The cost of war is leaving every country with the only option but to sign a NAP. In a very short term, there will be no wars whatsoever, no country can afford it.
My request to all of you is to sign a ticket to the Admins and request a big drop in the MPP cost. This cost reduction might allow the countries to use that CC in other important areas of their country needs, like distributions, social projects, etc.
http://www.erepublik.com/en/main/ga_track/contact
Please vote this article so that it can reach a wider audience.
Best Regards,
jotapelx

Posting komentar anda
Apa ini ?

Anda sedang membaca artikel yang ditulis warga eRepublik, sebuah game multiplayer berbasis negara di dunia nyata. Buat sendiri karaktermu dan bantu negaramu untuk mencapai kejayaannya sambil membentuk dirimu sebagai pahlawan perang, penulis yang terkenal atau raksasa finansial.