Day 3,111, 01:45
•
Published in USA
•
by USAF Media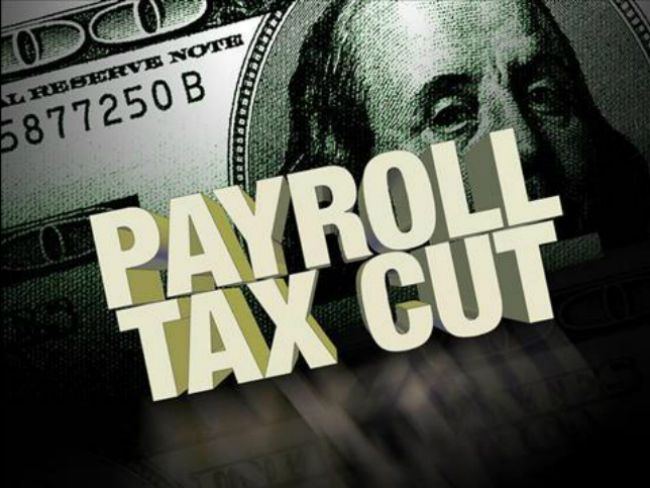 Possibly as low as 1%, ahead of Company Relocations
---
USAF Newsletter - Weekend Edition
---
Dateline:
Friday, May 27, 2016 (Day 3111)Location:
United States Armed Forces
HQ, Denver
In Today's USAF Newsletter:
: 1 :
Congress Considers Massive Tax Drop
: 2 :
Resource Wars Map & Update
: 3 :
USAF Cancels Order for New Q8 Tanks
: 4 :
Recipe for Success: Teamwork
: 5 :
Humor in Uniform - Caption Contest
: 6 :
America at War
: Video :
M1 Abrams
- US Armed Force Main Battle Tank (Documentary)
Editor's Notes:
Monday is Memorial Day in the US, and we'll do a couple of special features to honor soldiers who gave their all in service of their country. If you have a personal story to share, perhaps that of a relative who served and died in war, please do
send that to me
.

Congress Considers Massive Tax Drop
_by Congresswoman Ilene Dover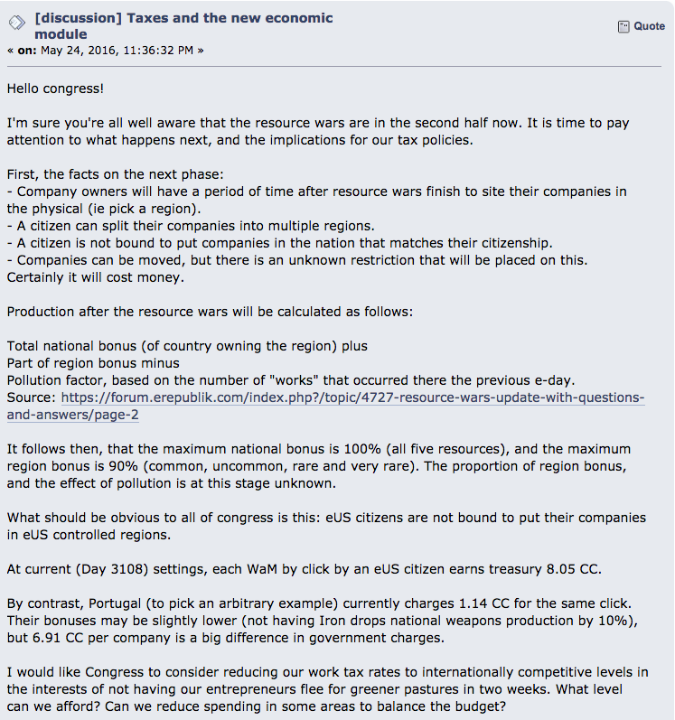 link in article:
https://forum.erepublik.com/index.php?/topic/
4727-resource-wars-update-with-questions-and-answers/page-2
link to forum post:
The Legislative Branch » Public Congressional Proceedings » [discussion]
Taxes and the new economic module
The
Proposal
has been made, and did receive the 10 Approvals to move to a Vote.
As a new batch of Congressmen is being seated, this Vote will likely be delayed until after the initial Sign-In.
Update:
Because a
Proposal/Vote
can't roll over from one session to the next, a new
Proposal
has been made. It's also been asked if the time may be waived so this can go immediately to Vote, even as the initial Sign-In is underway.

Resource Wars
Here's the resources we've gained since our last update, at reset last Monday morning:
Sand (Texas), Saltpeter (Kentucky), Grain (District of Columbia) and Cobalt (Utah)
Resources we don't have: Rubber for Weapons, and Titanium and Neodymium for the Unknown Industry.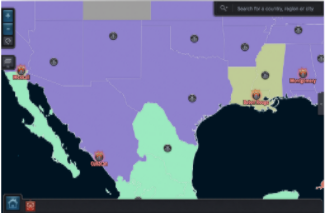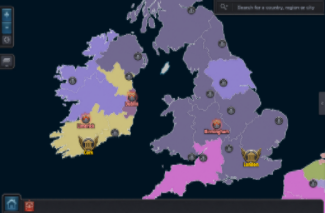 We're hosting Training Wars with Lithuania in our southern states of Alabama, Louisiana and Mississippi, as well as with Mexico in their regions bordering our southwest states. Britain and Ireland host Training Wars in Wales and West Midlands, and Shannon and Mayo.
There are times when we want to win a mini battle, there are times when we want to lose it. Sometimes we just want to accelerate or slow down the rate at which we earn domination points. The only way to be sure, to know that you're fighting in the right place at the right time and on the correct side, thus making the best investment of your valuable Fights, is to follow
DoD Orders
or get into
IRC Rizon #ResourceWars
and let a Battle Manager direct your fire.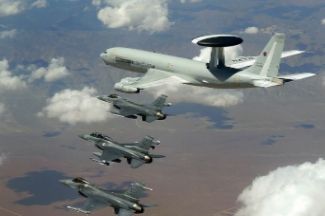 IRC Rizon #Resource Wars is our AWAC, where Battle Managers direct fighters' most effective damage.
At 22:50 Thursday night, Battle Manager Yui1 brought us in right on target and secured Saltpeter.
Then at 05:50, he got Cobalt for us! o7, Yui. OOOh-rah!
Ilene Dover
continues to provide the best Resource Wars analysis, in her
Resource Wars II
series in
The Maiden's Peach
.
An excerpt, from her latest edition:
2. Three quarters of the Unobtanium (rea😨 Neodymium) has been placed. The first went to Pakistan, with the second going to Poland. Japan took the third, in the delightfully named Kinki region. There is just the one Neodymium left! Expect fierce competition for this one, and interference from rivals who can't claim it themselves.

USAF Cancels Order for New Q8 Tanks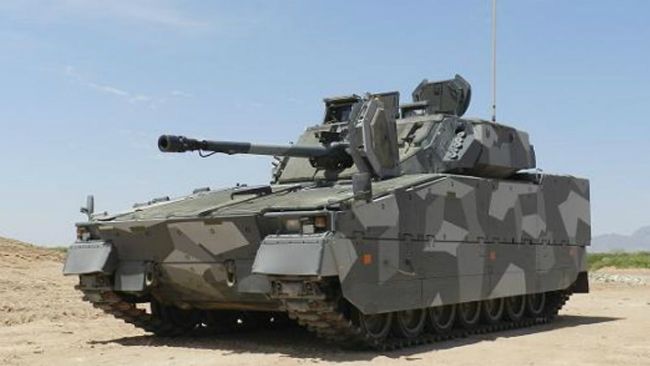 Prototype 84-ton Q8 Ground Combat Infantry Fighting Vehicle
The Q8 GCV was intended to carry troops into battle, replacing the backbone of American battlefield strength, the Q6 Bradley Fighting Vehicle and Q7 M1/A2 Abrams tanks. Critics of the program pointed to additional requirements that caused its weight to balloon above 70 tons, and called for existing armored fighting vehicles made by current Weapons manufacturers to be considered as a cheaper alternative to an all-new vehicle.
The Congressional Budget Office had estimated developing and building more than 1,800 GCVs would cost $29 billion, but a senior USAF official said he would review the existing requirements to reflect changing combat needs, include technology improvements and ensure it was affordable.
Executive Officer Azazel Romanov, head of the Army's ground combat program office, told reporters that this would include reviewing the size and weight, how many troops it could carry and whether the turret-mounted gun was manned. Another upgrade to the Bradley would also be considered.
The USAF Newsletter is currently investigating reports of there being new weapons systems in development, including an electric drive tank carrying a tactical laser system. Watch this space for future reports.

Recipe for Success: Teamwork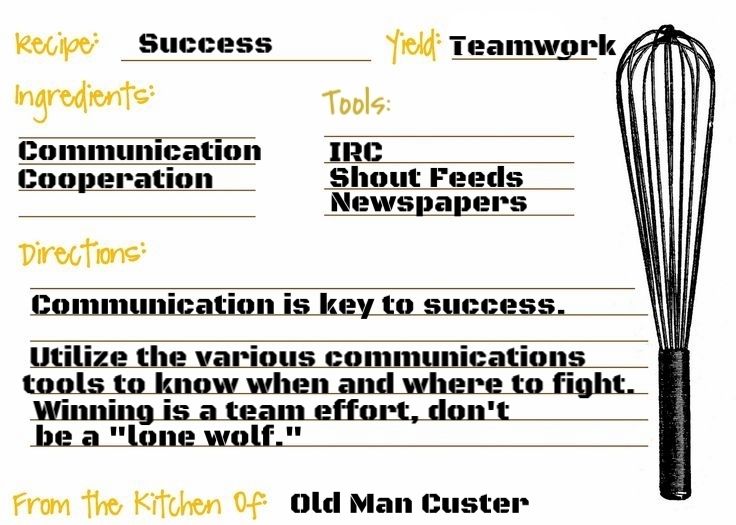 Do you have a Recipe for Success? Use this template, send it to me, and if we use it you'll get fifty bucks!

Humor in Uniform
Caption This
Post your funny caption in the Comments, below.
Readers will Vote their favorites. Multiple Votes are okay.
Be sure to check back later to see more entries. Votes will be tallied late Sunday night.
One winner of One Gold will be announced in the Monday Newsletter.
Your Endorsements support Newsletter contests, so don't be shy-- Click that purple button!

America at War
Your production of Food, Weapons and Houses keeps the War Machine running!

Shout it out, "OOOh-rah!"
USAF members who comment receive 10 q7 weapons!
USAF Weekend Newsletter
www.erepublik.com/en/article/2599173/1/20
Congress To Vote on 1% Tax
USAF Cancels Q8 Tank Order
Recipe for Success: Teamwork

:::
3107:297