Day 1,951, 07:41
•
Published in Serbia
•
by The Milliner
Hi, world!

It is an important day for me today, so I wanted to tell you about it, if you would care to listen to me. I won't be bothering you for too long. I'll be as short as I can, in fact.

I'm a little no-name, so you can call me that. No-name. I am thirteen years old. Thirteen and a bit more, in fact. I should be celebrating my fourteenth birthday in about nine months - by the end of this year. I'm not going to, however. Well, not the way you all do it, at least.

You see, my Mommy and Daddy have always loved each other much, much, much. Fourteen years ago, some time before this day of year, their love became so strong, that they decided to create something that would be theirs to cherish, to pour their mutual love into this creation. So they decided to give birth to a child - to me.

Now, maybe you don't know what this magical word means - "birth"... You see, when Mommy and Daddy love each other as much, they send a letter to Storks. One of them comes, and Mommy and Daddy tell it that they want a baby. Then the Stork flies far, far away, to bring the baby to Mommy and Daddy. And it is so far away that the Stork returns only after whole nine months! And the baby is wrapped in a white sheet, and the Stork takes it with its beak, and flies back. And when the baby is brought to Mommy and Daddy, they are so merry, and they kiss the baby on the cheek and they love each other even more. And that's what birth means.

So my Mommy and Daddy wrote a letter to the Storks. And a Stork came, and flew away and promised to be back with me in nine months.

But, you know, it never did... As it flew high in the sky in a hurry, to bring me to Mommy and Daddy as soon as can be, on this day, fourteen years ago, it flew straight into a dark, scary angel, called Merciful Angel.

Maybe you don't know what "merciful" means, either. Neither do I, but I think it means that someone doesn't like babies and stops the Storks from bringing them to Mommy and Daddy. Because, this scary angel made my Stork vanish. He also did that to my Mommy and Daddy. And I could hear it laughing from far, far away, where I waited for my Stork that never came. And it was an evil laugh. You know how scary it sounds when the lightning strikes? That is just the way it sounded. And it echoed with many, many screams and crying. And this Merciful Angel thought and still thinks that it prevented me from reaching my Mommy and Daddy. But... Hey... Come closer. I need to whisper something in your ear. Don't tell it: the evil angel does not know that even if it stopped me from coming to my Mommy and Daddy, it sent them to me, instead. And we are together. With all the other children whose Storks never came. And we are preparing for my fourteenth birthday already.

Thank you for listening to me. I am doing great, I am happy. I just wanted you to remember me. Me, and my Mommy, and my Daddy. And all my little friends. May your own angels watch over you, and keep you safe from the harm the evil Merciful Angel brings. Farewell! I love you all!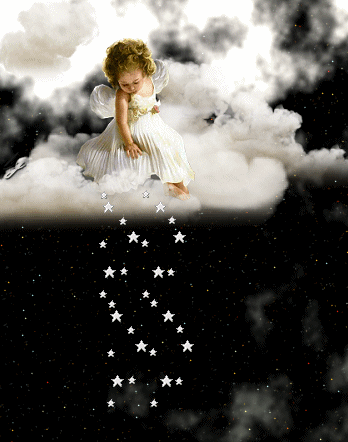 Edit: For those of you who don't understand the text and are not familiar with the term "Merciful Angel" - fourteen years ago, in 1999, NATO alliance ran a bombing operation codenamed "Noble Anvil" or "Allied Force", unofficially named "Merciful Angel", that started on 24th of March. The target - my country. The operation was deemed controversial in many ways, but I won't elaborate further, since flaming is definitely not my intention. It's just that this is an important day to us here, we want to honor those who perished and to remember them on this day. That's all. Before you click that report button, remember that all of you have your own 24th of March, be it September 11th, or some other date. Thanks.
Edit2: Since one of the readers asked what country did this operation take place in - it was in former Federal Republic of Yugoslavia, comprising present-day Serbia and Montenegro.
Post your comment
What is this?

You are reading an article written by a citizen of eRepublik, an immersive multiplayer strategy game based on real life countries. Create your own character and help your country achieve its glory while establishing yourself as a war hero, renowned publisher or finance guru.