Day 3,145, 02:24
•
Published in USA
•
by eUSA Congress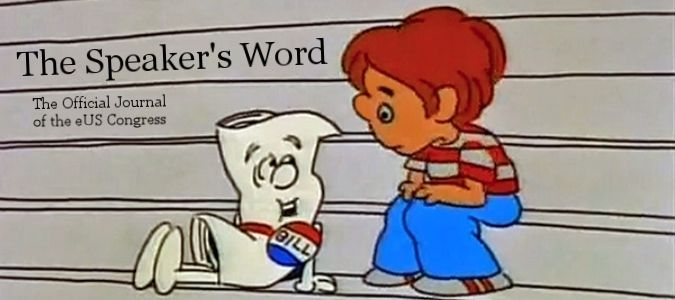 ---
Welcome to THE SPEAKER'S WOR😨 The Official Journal of the eUSA Congress.
---
Dateline:
Thursday, June 29 (Day 3145)
Location:
103rd Session of Congress
Editor:
OMFG Staff and Speaker AlexJ1890
Video :The Word of the Day:: 1 :
Getting Caught Up
: 2 :
This Week's Congressional Activity
Editor's Note:
This is the final Speaker's Word of AlexJ's term as Speaker. I've had fun doing the Word this past month, and hope the new Speaker will have me continue serving you.
~~Custer

Follow-up to Previous Congressional Activity
There was little constructive activity in Public Congress during the last week of the 102nd. In Private Congress, the current War against Spain was discussed, and appropriate actions were approved.

Congressional Activity Since June 23

The 103rd Congress Gets Started
After the initial
Sign-In
was completed, campaigning for Speaker of the House led to the
Nominations
(currently in progress). At press time, Wooky Jack has accepted nomination; Pfeiffer has the needed five nominations but has not yet accepted; Tenshibo and Arrden have nominations but not the five required.
A little known early-term action is that the Congressional Librarian moves all of the previous month's forum activity to an
Archive section
.
---
July Budget
The
original post
which shows the Budget adopted just weeks ago, in mid-June, asks for reports from line holders and proposes that "
we should go ahead with Budget talks and can revisit the matter later in the month if necessary, or collect the month of changing data to consider for the August Budget.
"
Rather than discuss the merits of the Budget itself, Congress debated whether or not to discuss it.
---
Subsidies for Holding Companies
President Yui had brought this up in the PDBs and in other talks about the new Economy, and has now brought it to Congress as a
Discussion topic
. The idea is, basically, that the eUS should seek to both attract foreign and reward domestic players for setting up Holding Companies in the eUS.
Starting just two days before Admins' implementation of Holding Companies, Congress has been unable to clearly define parameters of a program or its funding.

---
Please promote this edition of The Speaker's Word by using this Shout
The Speaker's Word Day 3145
www.erepublik.com/en/article/2603979/1/20
The Official Journal of the eUS Congress
---
---

:::
3145:717