Day 1,930, 13:00
•
Published in United Kingdom
•
by Matthew.Cox
The results for the poll I (attempted) to carry out have been analysed, but before I reveal what the results are, I'd like to point out some errors that have compromised the accuracy of the poll:
- It was obvious that somebody had been putting Blue and Evil as an option repeatedly, so I took out entries that appeared within about 45 seconds of each other. This issue has been resolved and will not happen in future polls.
- Only 25 people took part in the poll, meaning it's not exactly a fair representation of the eUK as a whole. This isn't something I can resolve myself, despite many people doing a great job spreading the links, etc.
So, as the title suggests, two candidates came out of the poll with similar numbers of votes, whilst one came out with none. I've put the results into a pretty little graph: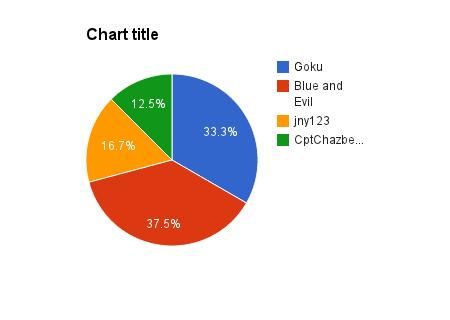 Blue and Evil is just ahead in the poll, with Goku close behind. Jny123 and the... interesting CptChazbeard roughly equal with William Mariner on zero. Again, this could all be down to the poll not being completed by enough people so next time I hope to do it much further in advance with far more advertising.
Post your comment
What is this?

You are reading an article written by a citizen of eRepublik, an immersive multiplayer strategy game based on real life countries. Create your own character and help your country achieve its glory while establishing yourself as a war hero, renowned publisher or finance guru.