Day 1,884, 15:17
•
Published in Spain
•
by Vihesito
WEAH! Renuevo mi periódico.Disclaimer:
Todo lo publicado en este peridócio corresponde única y exclusivamente a Vihesito. Vihesito es un individuo, no un grupo. Izquierda Federal no es Vihesito:
Hay veces que las llamas, por muy bellas que seamos, impedimos ver el bosque. Un bosque de pluralidad de árboles, aunque ninguna tan bello ni con tanta lana como yo, dicho sea de paso.
Posdata:
Que sepáis que todos los contextualistas sois unos desaprensivos, unos antidemócratas, unos nasis y oléis a culo.
Nota del redactor:
Mi Media Mogul me ha salido GRATIS. He spameado a diestro y siniestro pidiendo subscribers, y me la he sacado. Nunca he dicho que quisiese ir de legal, me tomo el juego como me sale de la lana y si crees que no la merezco, deja tu bilis en los comentarios y te mandaré un pan.
Me pongo con el artículo en sí.
---
Los cuatro primeros puntos hacen referencia al histórico patriotismo de la eFalange y su lucha por los intereses de eEspaña, bajo cualquier circunstancia.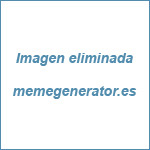 El punto 5 es en defensa de la democracia por la que tanto claman.
Vihesito acatando las nuevas normas de eFalange
Me tengo que ir.
Besis a todos y besis especiales a Medusa, que me divertí mucho con su programa y a los eFalangistas, el mes que viene recuperáis el partido, suerte pa' entonces.
With love, Vihesito.
Post your comment
What is this?

You are reading an article written by a citizen of eRepublik, an immersive multiplayer strategy game based on real life countries. Create your own character and help your country achieve its glory while establishing yourself as a war hero, renowned publisher or finance guru.