Day 1,906, 12:59
•
Published in India
•
by Death and Taxes
Hello there. As promised here is my second article on Congress. The last one conversed about the basic functions a congressman has, and what they shouldn't do. It will come as no surprise that one or two congressmen jumped the gun and did exactly that. So from pretty much Day 1 we had the following things occur: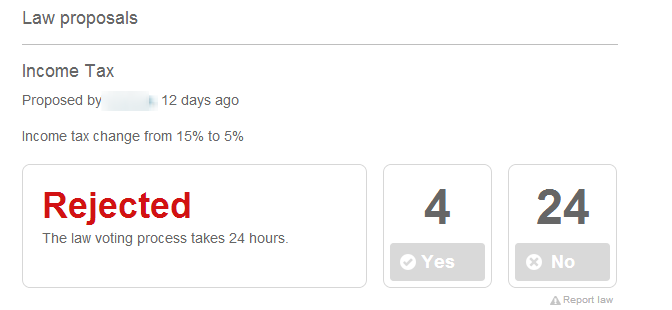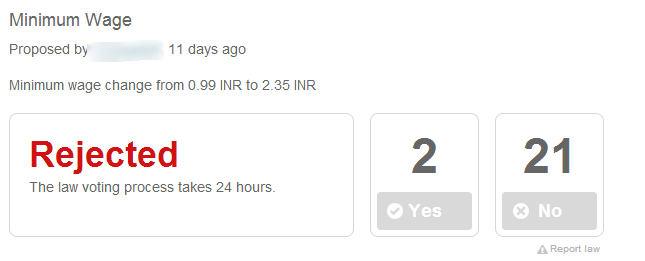 All of this is bad. It's bad not because any of this had a chance in hell of getting through, it's bad because it indicates that people are being elected to congress who are not communicating at, or communicating to their party beforehand. In normal circumstances, this would be disappointing, but when we have a congress that must make critical decisions this term with only 30 members, it's profoundly depressing.

Worse still, we now have two new unauthorised citizens in India, neither of which has been pre-approved by the government or congress here:




But look, it's a case of the needle and the damage done. Both citizens are still here, and seem to be contributing to the country - at least in damage - so let's just leave it at this. All PP's who compile a list of congress candidates must ensure that those they put on the list understand and respect the laws of congress.

Our first task was choosing a new head of congress congress. In this we had two candidates, cadfan and Dinesh Raju

Congratulations to cadfan - if congratulations are the word because it is a thankless task. Anyway, cadfan has been hard at work with his first efforts being a new citizen request form here: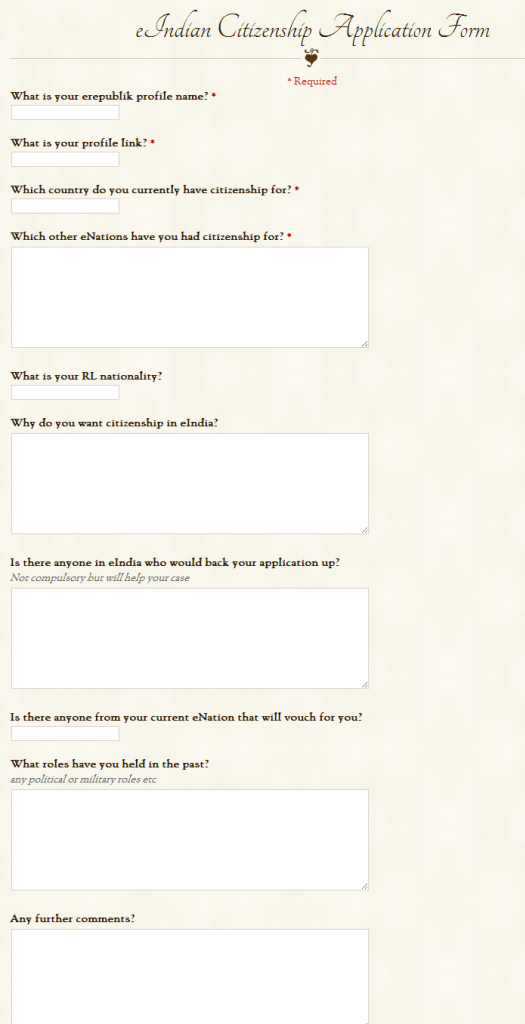 Good start don't you think?

At this stage, with Congress elected and starting to be bedded in, there's a lot of CP's that tend to go to sleep feeling that they've done their term. So I was very pleased to see xordin continue on his good work by consulting with congress and establishing a consensus on new MPP's to be renewed.

MPP's are now a very expensive business with the decline of the economic module. As a consequence, the decision was to retain MPP's with CoT countries that were strategically important, and hence the following MPP's were signed: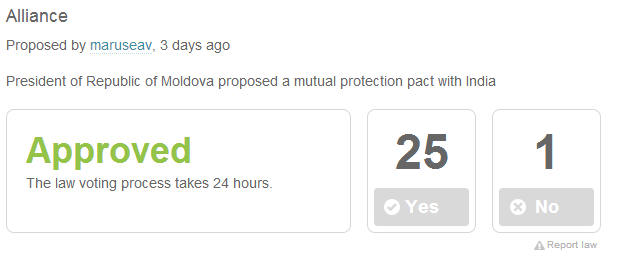 Three MPP's for 10,000 is pretty good going, and we would like to take this opportunity to thank our friends in CoT for being so accommodating. So with xordin being re-elected we now come to the nitty-gritty of this congress term.

There will be two main proposals to be discussed and voted upon. The first is our widely known intention of joining CoT. This is a vote that will take place in congress only. Personally I don't believe this is right, I personally believe that this is a vote that all eIndian citizens should participate in. But, having spoken my objection, let's move on and have this discussion and vote afterwards.

The second vote will be on taxation. I'm sure there will be articles about this later, it's not my business to discuss this further.

Finally, I will comment on a CS request prompted in IRC where the CP asked me to accept a 'known eIndian citizen' Apparently there is a rule that 'known eIndians' do not need to go through the usual screening to become citizens.

While I understand this rule, I should point out that the person who gives the CS pass is the one responsible for the future conduct of the citizen. As I don't know the individual in question, I had to balance up the request from xordin, whom I trust, and what information I could glean about the individual. So here is CS request....





In which case, declined temporarily until discussed in congress.

Thanks for your time, back next week
Post your comment
What is this?

You are reading an article written by a citizen of eRepublik, an immersive multiplayer strategy game based on real life countries. Create your own character and help your country achieve its glory while establishing yourself as a war hero, renowned publisher or finance guru.