Day 1,781, 01:33
•
Published in USA
•
by George Armstrong Custer
Click the image for music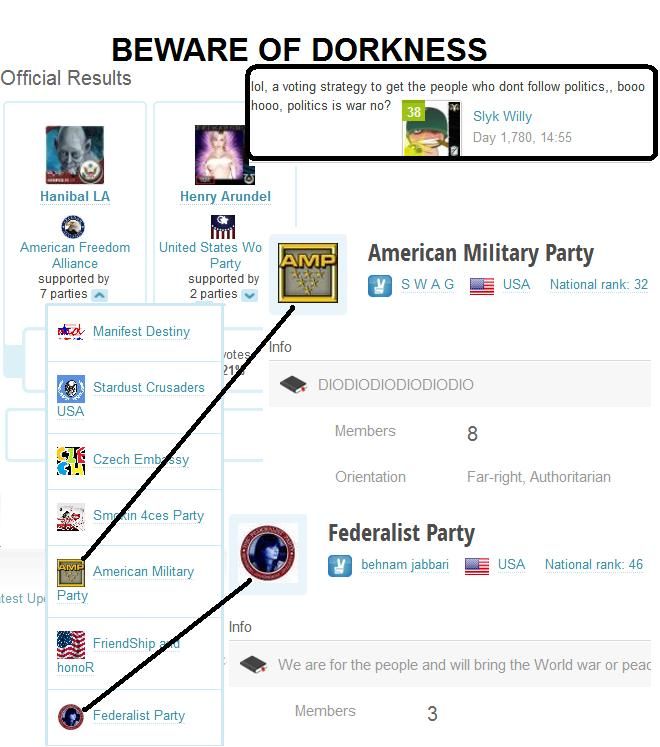 Things are not always what they seem.
:: These Parties are fakes. These guys bought small low ranked Parties and changed their names
to fool you
. Look at these fake Parties' rankings and membership numbers.
::: They've spelled "Military" in AMP as "m
iii
tary" so the middle capital I looks like a lower case L
::: Same thing in the spelling of Federalist-- that's an upper case I looking like a lower case L.
:: They outright stole the real AMP and Feds' Party avatars
to further deceive you
.
:: Look at the
fake AMP
and
fake Feds
Parties' pages yourself. Compare with the
real AMP
and
real Feds
Party pages.
:: The
real AMP and Feds
support the Unity candidate.
Dateline:
Friday October 5, 2012 (Day 1,781)
Location:
At home, at peace, at one with the world
Reporter:
George Armstrong "Old Man" Custer

Is It Really Such a Tough Call?
Okay, so the pre-election selection of a Unity candidate should have been handled better.
And the Unity candidate is really not a likable guy.
But election day is here, and this is what we have.
Vote for Pfeiffer, or vote for the people who are so arrogant as to lie right to your face on election day.
Join the cadre of whiney punkass malcontents who support these liars, and hand America over to a coalition of enemies.
Go ahead, reach behind you with your right hand, push the shiny little lever, and flush America down the crapper.
Because liars are so much better than a guy who's a well qualified jerk.




George Armstrong "Old Man" Custer
:::
Beware of Dorkness
http://www.erepublik.com/en/article/2132926/1/20
They'll Do Anything to Win
:::
547
Post your comment
What is this?

You are reading an article written by a citizen of eRepublik, an immersive multiplayer strategy game based on real life countries. Create your own character and help your country achieve its glory while establishing yourself as a war hero, renowned publisher or finance guru.