Day 2,008, 21:47
•
Published in Japan
•
by Aister Pendragon
In this issue:
1.
"Raldessia Chronicles" Promo
2.
YamiBou Licensed
3.
"Little Witch Academia" Blu-ray
4.
FF7 International
5.
"Attack on Titan" Blu-ray Cover
---
Animated "Raldessia Chronicles" Mobile Game Promo
Monster fighting game hyped for this summer
Ready or not, here comes another monster fighting game for the Mobage mobile social game platform. Ahead of a summer launch, parent company DeNA has gotten the ball rolling on Raldessia Chronicles with an animated promo.
See if it gets you excited...
http://www.youtube.com/watch?v=95roOEqRzbc&feature=player_embedded
Source:
CrunchyRoll
---
Media Blasters Licenses "Yami to Boushi to Hon no Tabibito" Anime
Media Blasters heard that you like yuri. So, they've licensed Yami to Boushi to Hon no Tabibito aka YamiBou.
The 2003 Studio Deen anime loosely adapts an adult visual novel published in December 2002 by Root. Unlike the game, which had a male player protagonist, the anime follows Hazuki Azuma, a tall, brooding high-school girl, as she searches for her adopted older sister and love interest, Hatsumi, in many different "book worlds".
They mention that they have no word yet on English dub plans.
http://www.youtube.com/watch?feature=player_embedded&v=X71uDrKg-4Y
Source:
CrunchyRoll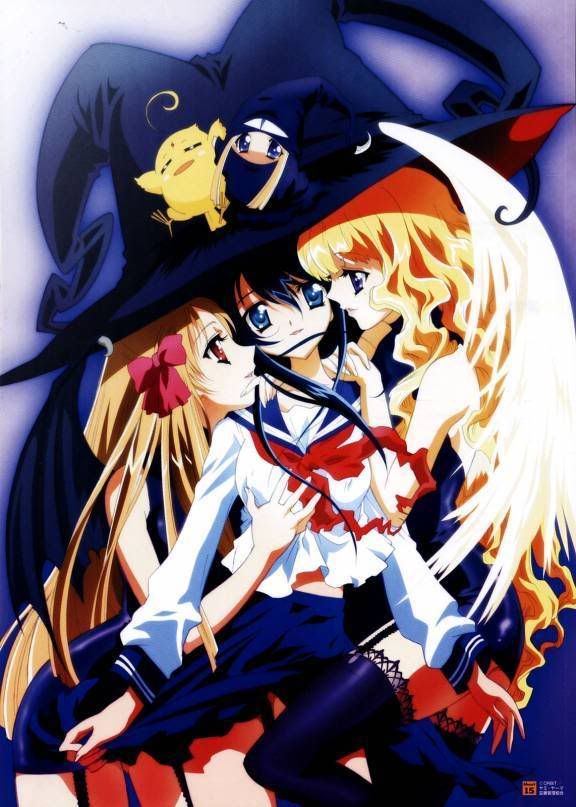 ---
"Little Witch Academia" Blu-ray Plans Revealed
Anime studio Trigger has revealed on Twitter "due to the many requests, Little Witch Academia will be available on Blu-Ray this summer!" They went on to confirm, "yes the Blu-Ray will have subtitles. And, sadly no plans for the Inferno Cop pillow case."
Panty and Stocking's Yô Yoshinari directed the anime short entry in the government funded Anime Mirai Young Animator Training Project. Megumi Han (Hunter x Hunter's Gon), Fumiko Orikasa (Bleach's Rukia), Michiyo Murase and Yoko Hikasa (Nobara Yukinokoji from Inu x Boku SS) provided the voices.
Source:
CrunchyRoll
---
An HD Look at "Final Fantasy VII International"
Last weekend, the PC port of FFVII finally hit Japan as Final Fantasy VII International, available through Square Enix's eStore with the introductory prize of 1000 yen. The port, which now supports 1920x1080 displays, is the first time that the game has been available on Japanese PCs.
http://www.youtube.com/watch?v=Ao1S-fFVzG4&feature=player_embedded
http://www.youtube.com/watch?v=uPXLH8b1nA4&feature=player_embedded
Source:
CrunchyRoll
---
"Attack on Titan" Japanese Blu-ray Cover and Packaged Visual Novel Plans Revealed
Some interesting plans are being put together for the Japanese home video release of Attack on Titan. The first volume, shipping July 17th, will feature a 64 page protoype manga that author Hajime Isayama created at age 19. It also features sleeve case drawn by character designer/animator Kyoji Asano, illustrated card by Flowers of Evil's Shuzo Oshimi, and 12-page color booklet.
Then, volumes 3 and 6 will feature mini-visual novels by Steins;Gate's Nitroplus, with Isayama supervising and Namaniku ATK providing character art.
Volume three, due September 18th, will feature anime writer Hiroshi Seko's Mikasa story "Lost in a Cruel World" and the prologue to Nitroplus writer Gan Saaku's Levi and Erwin story "A Choice With No Regrets."
The latter is picked up in December 18th's volume six, along with Jin Haganeya's story about the characters and a second Hiroshi Seko story about Annie.
Source:
CrunchyRoll
Post your comment
What is this?

You are reading an article written by a citizen of eRepublik, an immersive multiplayer strategy game based on real life countries. Create your own character and help your country achieve its glory while establishing yourself as a war hero, renowned publisher or finance guru.