Day 741, 11:44
•
Published in USA
•
by Jewitt
<a id="Top">
</a>
<a href="#1">Russians Hack</a> | <a href="#BALKAN">Balkan Bulletin</a> | <a href="#Headline">Headline Story</a> | <a href="#Honest">Keeping Them Honest</a> | <a href="#List">To do List</a>

30 November, 2009, Day 741 of the New World - A battle in the Balkans over the weekend has spurred a new section for the next few weeks, as well as some hackers, a new addition to the ranks of EDEN, and Jewitt's not-so-surprising announcement about December 5th. Oh, and awesome formatting a few journalists like to steal. That and more in today's issue of The Report!


<a> </a>Russians Hack

According to news reports, a few Russians have abused system exploits over the weekend. This comes nearly a month after Russian citizens allegedly hacked into United States citizen accounts. On the list of the accused was an unknown to the American public, keks-n, a military tactician. Within hours, self proclaimed &quot;Emperor of Russia&quot; parter was also found with abnormal wellness.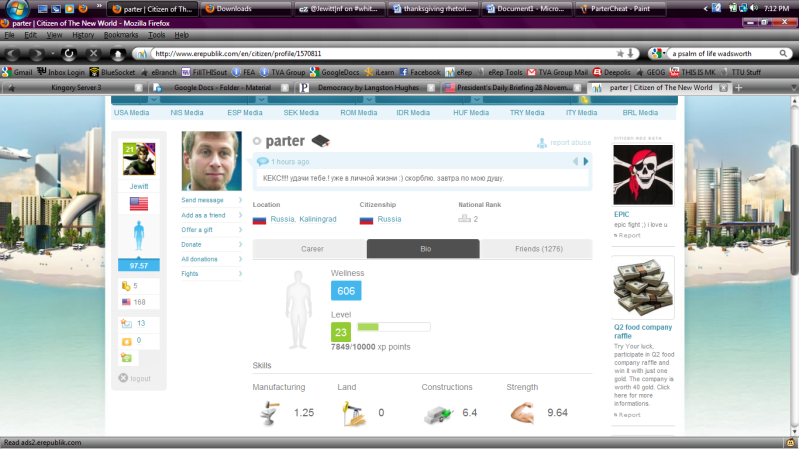 His wellness is just 60 digits away from a number my parents insist I represent.

All of the known hackers have been rightly banned permanently. Some Russian citizens have started an Open Letter claiming that there is nothing wrong with purposely manipulating the game because the Terms and Conditions do not specifically prohibit the manipulation that was used. As Apnea noted, "It really shows how different our cultures are. To those in the West we think in the 'spirit' of the law, while in the East they think of the 'word' of the law. If the law says 'do not murder,' those in Belarus would think that all instances are illegal. While in Canada if you killed a man in self defense of you and your family, we may make a precedent for an exception."

Regardless, these bans should not be overturned and the Russian citizenry signing the petition will cry "adminfail." Readers are encouraged to participate in the eUS Forum thread on this subject.
<a href="#Top">Jump to top of page</a>

<a id="BALKAN">

</a>
Now ain't that awesome? New section!

It seems like every other day there's a battle in the Balkans where Hungary, Serbia, and a random puppet state attacks a Croatian region. Both sides scream &quot;THIS IS IT!&quot; and generally a lot of money is spent. So, we have decided to dedicate an entire section of The Report on this ongoing crisis.

Late last week, with much of the United States preoccupied with Thanksgiving festivities, some interesting things were happening around the globe. Indonesia was pushing into Malaysia, Argentina and Brazil doing a wipe of the PTO'ed Peruvian nation, and the United Kingdom randomly attacking the United States. All were very odd looking, especially with Russia launching attacks into Scandinavia. Then late Friday night, a two-pronged attack by Serbian and Hungarian forces occurred into Croatia right before turnover. Within an hour, just ten minutes before the server turnover, the region of Slavonia was in the underground for the first time in eRepublik history. It looked grim, but the Allied Forces and EDEN, with the United States now a member, took charge the next day.



Croatian forces celebrating victory on a defeated Serbian tank.

Tanks rolled, paratroopers dropped, fighters shot tracers across the sky and terrain, and ultimately the smoke cleared with a Croatian flag proudly waving at the end of the battle - battle torn and scarred with ashes. The conflict in Croatia is being mirrored across the Balkans as Slovakia launched an assault on Hungarian-controlled Bratislava on Saturday. Slovakia seems to be reclaiming its occupied lands while Hungarians recover from over-fighting in the Croatian battles.

Regardless, the Balkans will be the site of some interesting news in the coming weeks.
<a href="#Top">Jump to top of page</a>

<a id="Headline">

</a>
Jewitt on Dec. 5th

With last month's breakthrough platform, many expected no less to come from The Report with respect to Jewitt's run for the Presidency in December. Unfortunately, we just do not have that. It is not due to lack of time, nor is it due to lack of interest of motivation. What it is, is that Jewitt is making a one time promise. Jewitt will continue to work towards what he outlined in his previous platform, with one amendment: Within three days of taking office he will press the button to attack the United Kingdom if elected.

When asked about this turnaround from a more neutral and diplomatic policy, Jewitt said, &quot;Honestly, I want Battle Hero of London.&quot; Surprising to few, he continued, &quot;that and last I heard they had some awesome literature. The world always says the United States is full of arrogant idiots, why not add some good poetry and plays to the collection of American works?&quot;
Do note, this is completely for fun. Do you honestly think Jewitt is an idiot to tell the enemy when he'll attack? Let alone let the enemy know he's attacking xD


Several random folks headed to the bar after Jewitt's speech on Sunday afternoon

Some find this controversial, others say "it's about damn time!", as vSkyzv, the founder of the I STAND READY TO KILL REDCOATS movement, so abruptly phrased it.

Add to this the previous 10,000 Fists Campaign and diplomatic goals, it is still a promising run despite the low publicity this month around. Rumors already exist that this is just a glimpse of what could be expected in January.
<a href="#Top">Jump to top of page</a>

<a id="Honest">

</a>
» A new Speaker of the House has been elected by the 24th Congress, Serendipitous (AAP - AL). He won after his opponent, Jude Connors (HIPP - IE), conceded from their neck-and-neck race.

» A Mutual Protection Pact has been proposed and passed from Paraguay, a former PEACE G.C. nation and upstanding social ally of Spain.

» The United States has officially decided to join the eRepublik Defense and Economic Network organization, better known as EDEN.
<a href="#Top">Jump to top of page</a>
<a id="List">

</a>
_______________________________________
» Check out The Report on Air - showing now every Tuesday at 10:00 PM Eastern Standard Time, 9:00 PM Central (19:00 eRepublik Time). Topics addressed are the world's current events as well as any questions or commentary from call-in viewers. To call-in when live, just follow the link. Also, every Thursday is Open Mic Night at the same time to answer any questions and talk about anything.

» The Coast Guard is going through a major restructuring process, working on instructional material and other items for new recruits. If you are interested in being a commanding officer and mentor to the new recruits, join the forums and state your intent. We are looking for some interested individuals that are motivated to help teach newer players.

» Here's your Moment of Zen.


Written and Edited By,
-Jewitt, Chief Editor
-WahooBob, Multimedia Manager
-Michael Hunt, Senior Correspondent

<a href="#Top">Jump to top of page</a>