Day 4,668, 21:35
•
Published in USA
•
by Department of State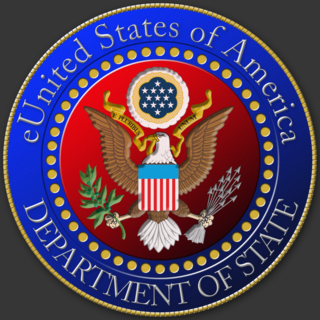 Ladies and Gentlemen, citizens of the eUSA, you have probably already read the news that I am about to share through a couple of articles in the top 5 rated articles for our beloved eCountry via Yui and his wonderful piece found
here
, or through Krapis
article
where he will once again run for Country President and make sure to take care of all our needs and desires.
What I am about to share, took countless days and nights. Negotiations were ongoing, while real life vacations and hangovers got in the way of working with numbers that changed on the daily based on averages. During these time, you somehow always learn something new when it comes to the mechanics of the game, well because, you never know what wrench the developers throw at it to make it work.
(International Bridge, Ontario/Michigan)
Thedillpickl booked us travel arrangements to the city of Sault Ste. Marie. The first couple nights, we were on the Ontario side, but zRTx felt we were in Canada for way too long, so we decided to move things to the Michigan side of things to finish off the last of the agreements.
Mann551 brought his calculator, and his excellent accounting skills to make sure we were breaking down the numbers to ensure the feasibility of it all.
Krapis and Chochi made negotiations as smooth as silk, which had it been a resource in the game, it might have been conceeded as well. I was grateful for all the parties involved.
There was talk about Polar Bears, Beavers, Bacon among other things but lets talk about what we actually landed on:
(There is a first time for everything)
1. 100% bonuses across all Industries. A eUSA first.
We sent Blueberries (which is our national fruit) to Canada so they could have 100% bonus in Food production for Neodymium, to help us build Magnets for our Aircraft Industry to also achieve 100% bonus.
The vote for Fruit passed
27-6
on the American side,
26-2
on the Canadian side
The vote for Neodymium passed
29-3
on the American side,
28-3
on the Canadian side
I looked, and can't find any other country with 100% bonuses in all 4 industries. (The closest I could find was Spain with 100/100/100/70) - Please fact check me.
(Money that needs to be moved to CBO for National programs like GIMP, CRAP and other goodies)
2. Allowing eUSA access to funds quicker.
The eUSA has been trying to find a partner for some time now to have the ability to swap resources with someone who was trust worthy and be able to move money from the country treasury to the CBO quicker than what the game mechanics allow. We came to an agreement and were able to swap the American Red Maple in exchange for Canadian Spruce and pass through roughly ~6 million cc through Canada back to the CBO. An agreement the renews monthly, and should last about 6 months, where we would be caught up and can handle the donations ourselves.
Credit: Vincent Garibaldi suggested this in our discussions and we are grateful that we could execute it.
The first Vote Passed
27-3
on the American side,
23-3
on the Canadian side
The second vote is currently being held by the Canadian Congress first
here.
Some thoughts from our Congressman:
Dmjohnston,
Congressman of the USWP and CBO director on the importance of moving money from the treasury to the CBO
:
"When you have as much tax revenue coming in as we do, the mechanical limitations of the game prevent us from using it effectively. This is going to help us get more our tax revenue into the hands of Congress to apply it to programs, or defense, or anything. When it sits in the treasury, it's virtually useless."
Vincent Garibaldi,
Congressman of the BSP on the benefits of this agreement with Canada
:
"I think that the swap will allow us more flexibility with government spending by increasing our monthly budget and I also think that establishing a mutually beneficial agreement based on trust will certainly help to improve and maintain good relations between our two countries. Especially if both countries can agree to maintain some form of the agreement in the months to come."
shiloh13,
Party President and Congressman of the SFP on his thoughts on our relationship with our northern partners
:
"I am very happy about this agreement between our two eNations. It is a long time coming, but it is way past time that we and our eCanadians friends can work together in a positive way. The rough times are behind us. We will now move forward together, as comrades into a brighter future"
Molly Emma,
Speaker of the House and Congress(wo)man of the Feds on the history between our two countries and the hope for additional resources
:
"It was such a great rivalry that I'm sorry to see us getting along better. Mostly, I am disappointed by the lack of baby seal pelts in the deal. On the other hand, it will be nice to have unhindered access to Canadian whiskey and maple syrup again. Feels like kissing your brother, but I guess we can get along. For now...
❤
😉
"
Wilker Nath,
Spokesman and Congressman of WTP on his thoughts after his absence from the game and looking for other opportunities
:
"I came back after a very long eDeath in April, and was surprised to see people consider Canada to be such an enemy to us. Asteria aside, I'm glad to see us on better ground with them. The fruit/neody deal was a long time in the making, and it's good that we got it to pass."
"I love the extra money in CBO. We have quite a few duplicate resources, and I think another swap deal or concession-for-CBO-funds deal is possible somewhere. I'd like to see it explored more."
The executive team wants to thank Canada as well as the 152nd / 153rd Congress for helping us make this happen and we hope our citizens are happy with what we accomplished here.
Please note, we are looking for more ways of improving your eLife and hope this executive team can continue to serve you in the same capacity next month.
Thank you,
Carlos3k
eUSA MoFA