Day 1,923, 15:11
•
Published in USA
•
by John Killah
You ever get the feeling we should be over here, and not over there
How are you America? Todays quote – You got a bit of red on ya.
If you can get the quote (Don't google ya cheats), post what the film is in the comments, and you might just win some cash :3
The Ambassador Program
So, you always hear of this program needs your help, that program needs your help. In truthfulness, every program we run usually needs more people, not just because we're always in need of people, but because new players bring in new ideas and new motivation to the department they join. So I thought for this article, I'd highlight a department that is ALWAYS in need of new blood.
The Ambassadors program has returned with a vengeance this term after languishing last month under an inactive director. Under Black Baroness's stewardship, the program has gradually revived itself with ambassadors from our great nation spanning the world to all manner of countries to help our ties and to learn more about how that country operates and what their people are concerned about at the moment.
I do believe Israel Stevens put it best when he described it –
Join the Ambassador program, meet hot chicks!
. Just think of all those Russian women the US Ambassador to Russia must meet day in and day out … wouldn't you like that to be you?!
All joking aside, a lot of people who have had ambitions to get ahead further politically in this game and have done so … they've had at least one term as an Ambassador and they've always looked back on it and said they enjoyed it immensely! And why wouldn't they when you get to meet so many new people from different cultures! I'm going to be honest, I haven't been an ambassador and it's a regret for me … Maybe I'll go do a month or two of it in a few months time when I've recovered from PotUS.
Now, admittedly, there's the chance you won't get the nation you would like, but don't let that get you down! There are plenty of other lovely nations out there that you should consider! – Why not visit the Taj Mahal of India while eating a Chicken Tikka Masala? Or how about climbing the mountainous terrain of Peru? Maybe try some Shiraz from the Chilean Vineyard (I'm drinking some right now, absolutely fantastic wine).
So how can you get involved? Simple – Message
Black Baroness
and let her know you're interested in becoming an Ambassador. What can go wrong!?
Last chance saloon for Operation Gangnam Style?
I'm going to be brutally honest, this is looking like the last shot for this operation. Since the campaign began last month under Fingerguns, we expected things to be a walkover … Couple of weeks, have South Korea and Japan free and whole … Job well done, pat ourselves on the back. Oh how wrong we were, how much we underestimated the ferocity we'd be facing.
We're now 37 days into the campaign (over a month already?) and we have very little to show for it. We've been beaten back quite a few times … out-manouvered constantly by Taiwan as they hide behind SK to prevent us for advancing … It's frustrating to everyone, I know I certainly hate losing the latest "NE Race" (The nation that proposes the NE first will get initiative if it passes) by a mere
7 Seconds
.
There is only so much the nation can take and we're already tipping back into the state of boredom because of the losses. So it comes down to this … Do we make this our final push? Are we all that sick of the battle that another loss here would be the end of the operation because it's too much hassle? I know how you feel.
So how 'bout it America? Do we make this one last show of force? Or do we give it everything we've got, and show Taiwan how to really fight like men instead of winning a battle and going into hiding because they're too scared to wage a real war? I know I'm willing to drain every ounce of energy I have to win, will you?
ATO Tiem!
Congress Elections are just around the corner, and it's the same as ever – The AFA are going to try and seek a dominance in our elections. It's never an easy battle and it's always a downright dirty fight … as you can see by the AFA moving people to The Shoe Party (formally known as the EAU) in order to knock out the #5 party (Which happens to be AMP at the moment because of all the people we've moved).
But first, there is still the issue of the AMP being knocked out of the Top 5 by EAU, giving the PTOers a HUGE advantage. Now, this isn't about me being worried about my party being knocked out, this is about me being worried about a legitimate Top 5 party being taken out and replaced by another PTO party. I'd be feeling this same worry if it was the USWP or the WTP.
So I appeal to you all – If you can, please move to whichever party is in danger (#5 party) and keep them above the Shoe People. And tomorrow, remember to vote for either The Federalists, The USWP, The WTP or The AMP!
Just not the AFA
.
And with this article, we swiftly approach the end of my term. I know that several detractors have questions on my term, and why I'm not doing this or that, and why am I so British?
The last week has, quite frankly, been pretty terrible for me and the administration. It has not been helped by the fact my work week tripled in hours so that was less time I could spend, I could give you all reasons and excuses as to why the term has been failing, but lets face it, the simple fact is I've not worked hard enough and shit has piled up.
So what has been the next move? Step my game up. Ask any cabinet member or advisor … I received a lovely kick up the ass and I've been reacting to it. Everyone's been put to task and will continue to do so, even myself. No more slacking from this cabinet.
Keep it chillin eAmerica!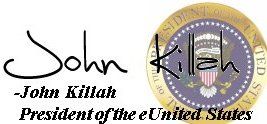 Post your comment
What is this?

You are reading an article written by a citizen of eRepublik, an immersive multiplayer strategy game based on real life countries. Create your own character and help your country achieve its glory while establishing yourself as a war hero, renowned publisher or finance guru.