Day 3,517, 21:42
•
Published in Portugal
•
by Ministerio da Educacao ePT
 Saudações a todos! Iniciamos agora mais um mandato do MoE, e como a equipa é de continuidade do mandato anterior, sem mais delongas iremos para o nosso artigo!
 Boas, pessoal, hoje temos uma nova entrevista realizada pelo MoE, e desta vez o entrevistado é o jogador
Jimkats1
da Grécia, organizador do Eurovisão 2017 do eRepublik. Vamos à entrevista!

---
VERSÃO EM PORTUGUÊS
English version below
MoE
: Quem é Jimkats1?! Há alguma razão especial para teres escolhido este nick? E como e porque escolheste jogar este jogo?  
Jimkats1
: Sou grego, tenho quase 25 anos, estudo ciências da computação, gosto de jogar e da Eurovision! O meu nick é
jimkats
mas já estava ocupado, escolhi
jimkats1
, pelo menos era para ser, mas no momento do registo, a primeira letra do nick ficou em letra grande de forma automática. Obrigado Plato...
 O nick deriva do meu nome real e já o uso desde 2005. E sim, tentei construir uma carreira online com este nome
😛
.
 Até janeiro de 2013 era bastante activo, em todas vertentes do jogo. Depois parei 1 mês, mas regressei outra vez. Comecei como 2 cliker. Pode-se dizer ainda sou
2-clicker+
, mesmo que apareça online quase todo o dia, resolvendo alguns assuntos, e ser Ministro da Imprensa por 3 meses seguidos
😛
. Também não considerando ser o admin no forum eGreece e mod no eGreece's Discord
😛
.
 No geral, jogo por lazer e não para "ganhar medalhas", porque sei que é difícil. Tento ganhar o possivel, por exemplo, nunca ando à caça da BH, por isso é que tenho poucas.  
MoE
: Tiveste alguma dificuldade no começo? De que tipo?  
Jimkats1
: Mesmo nunca ter jogado algum jogo parecido, não foi difícil perceber o que fazer. Nessa altura havia muitos jogadores activos, logo era mais fácil obter ajuda em fóruns ou no chat (i.e. IRC, que era o mais usado).
 Nas primeiras batalhas cometi aquele tipo de erros que os jogos novatos fazem, gastar gold em medical kits. Felizmente não me causou grandes problemas à posteriori.  
MoE
: Foste CP da Grécia por uma vez. Qual foi a tua maior conquista? Alguma situação engraçada ou marcante que queiras partilhar?  
Jimkats1
: Não queria muito falar desse assunto (os meus compatriotas gregos sabem porquê), apenas posso dizer que foi um mau periodo para mim irl e para o meu país.
 Desiludi algumas pessoas, dadas às más circunstâncias da altura. Permaneci como CP por uma semana, mas entreguei o cargo ao segundo classificado
Apostolos6
.
 Se fosse noutra qualquer altura, tinha quase de certeza completado a minha presidência.
 Lembro-me nessa altura estarmos prestes a sair da EDEN e a discutir futuras alianças. Tive algumas conversações com a Albânia para juntos criar uma nova aliança. Mas dado ao que relatei, acabou por não acontecer.
 Nem sei o que o meu sucessor fez, porque deixei o jogo.  
MoE
: A Grécia está a viver um momento difícil, sendo invadida pela Macedónia e pela Bulgária. Qual é o sentimento dos gregos no momento? Sentes que a comunidade grega está unida para recuperar o país num futuro próximo?  
Jimkats1
: Esta guerra é apenas para os 3 países passarem o tempo entretidos, Não é uma guerra verdadeira. Acontece porque há cada vez menos jogadores activos e pela perda de interesse. É como antigamente. Guerras planeadas para durar meses, especialmente no verão, que é considerada período de férias para muita gente.  
MoE
: Porque é que a eGrécia não pertence actualmente a nenhuma aliança? E como vês as relações entre eGrécia e ePortugal?  
Jimkats1
: Porque as alianças estão a mudar outra vez, acontece a cada dois anos. Velhas alianças são destruídas, novas nascem das cinza. No momento estamos à procura de aliados para uma nova aliança. Já temos alguns aliados comprometidos.
 Não sei qual como estão as relações entre Portugal e Grécia. Poderei dizer que são satisfatórias. Espero claro que melhorem. Penso que de momento Portugal não foi falado para se tornar um futuro aliado. Mas veremos. Agora é verão, mas acredito que a nova aliança surja em setembro.  
MoE
: Foste um dos responsáveis pela organização da Festival Eurovisão do Erepublik. Ficaste satisfeito com o nível de participação e com o resultado deste ano? E como um fã do Festival da Eurovisão na RL, o que achaste da vitória do cantor português, Salvador Sobral?  
Jimkats1
: Apesar das dificuldades e dos problemas que ocorreram, principalmente no período do televoto, tudo correu bem. Superamos a participação de 2015. E isso deixa-me feliz
😃
. Sabias que eu ( e talvez o
Gwom
, não tenho a certeza, fomos os únicos jogadores que participaram nas 3 edicões do Festival? Se não fosse eu a Grécia nunca tinha participado, e talvez não tinha decorrido o Eurovisão 2017. Não é para me gabar, mas é verdade. Bem, tínhamos os representantes já com experiência das edições passadas, portanto não foi muito difícil para mim voltar a organizar o festival.
 Tentei implementar algumas novas features neste edição, mas poucas foram conseguidas. Ao menos fiz um trailer decente, uma scoreboard apelativa para os jogadores dos paises não-participantes pudessem votar e foi atribuído um prémio monetário ao país vencedor. O que gostaria mesmo de fazer era fazer a apresentação das canções em stream, bem como transmitir os resultados de televoto, isto para se tornar mais realista e parecido ao verdadeiro Eurovisão
😛
, Mas a minha Internet não vale nada...
 Desde o primeiro dia que a música ganhou o Festival da canção, eu não gostei muito da música. E ainda não gosto, desculpem
😃
. Mas gostei que tivesse ganho o Festival ( E temos menos um país que nunca tinha ganho o concurso
😛
). No geral, acho que este ano houve pouca qualidade musical, comparado a outros anos mesmo comparado a 2015 que estava cheio de baladas. Mas agora estou muito curioso em ver como Portugal vai acolher o concurso em 2018. Desde o primeiro dia que ganharam a RTP começou os preparativos e agora com a ajuda do manual do Jon Ola San (Supervisor Executivo do Eurovision Song Contest) e o resto do Reference Group (linkar:
https://eurovision.tv/about/organisers/reference-group/
), a RTP vai tentar organizar o melhor Festival Mediterrânico (bem, Atlantico
😃
) de sempre.  
MoE
: O que nos podes contar da verdadeira Grécia? Um local para visitar, algo para comer, enfim, algo único que vos distingue das outras culturas?  
Jimkats1
: Todos os países têm a sua beleza própria, todos os lugares tem os seus encantos. É um bocado difícil sugerir onde ir, são demasiados sítios
😃
. Apenas posso dizer aonde NÃO ir
😛
. Por exemplo, Atenas, é recomendável apenas pelos edifícios históricos e algumas outras aéreas especificas, mas em geral Atenas não é espectacular.
 Eu recomendaria fortemente Thessaloniki. Se quiserem cidades pequenas e/ou natureza, eu recomendo Nafpaktos (onde estou a estudar), uma boa combinação entre mar e montanhas, a meia hora da cidade de Patras, cruzando a ponte Rio-Antirrio.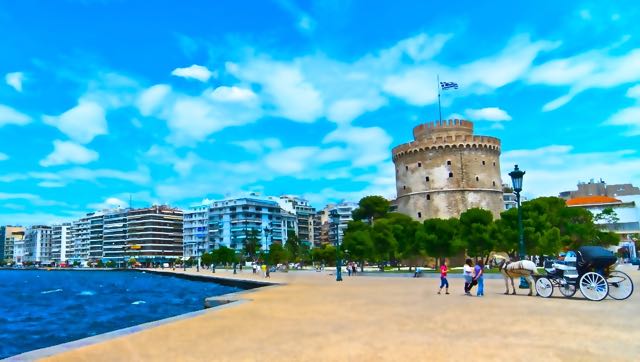 Thessaloniki
Nafpaktos
Ponte Rio-Antirrio
 O que nos faz de diferentes? Feta, ouzo, tsipouro, a beleza da lingua grega, etc. XD.  
MoE
: Grécia, tal como Portugal viveu não há muito tempo uma temporada difícil devido à crise económica. Como estão as coisas actualmente por aí? Algumas melhorias?  
Jimkats1
: Individualmente ainda existem muitas dificuldades, os preços das coisas básicas, como a comida e bens de saúde, aumentaram, e os salários baixaram e tudo por causa dos governos e das pessoas que suportam esses governos... apesar de tudo, melhorias existem algumas na inovação e isso inclui a Internet das coisas (IoT). Isso é um acontecimento global, não apenas local, mas mesmo assim...
 Encorajam as pessoas contra o mal, apoiem o bem.  
MoE
: Alguma dica ou mensagem encorajadora para os novatos?  
Jimkats1
: Continuem a jogar, não receiem se estiverem perante dificuldades
não estás sozinho
. Adicionem amigos, juntem-se a Unidades Militares, e irão encontrar em apoio e um cenário amigável.
 Partidos políticos não são tão recomendáveis, visto que não serem tão activos como as MUs, este jogo é maioritariamente para campanhas militares.
 Divirtam-se
🙂
.
---
ENGLISH VERSION
 Hello, folks! Today we are interviewing
Jimkats1
from eGreece, the organizer of the recent eEurovision 2017. So, let's go!

MoE
: Who is Jimkats1?! Is there a special reason for you to choose this nick? And why and how you choose to play this game?  
Jimkats1
: I'm almost 25 years-old, from Greece, studying computer sciense, playing games, listening to Eurovision...you know, typical stuff xD.
 Truly my nick is
jimkats
, but when it's occupied, I choose
jimkats1
. This was the occasion as well, but somehow when I registered it auto-capsed the first letter. Thanks Plato... It derives from my real name and I use it since 2005 approximately. Yes, I try to build an online career for this name
😛
.
 Till January 2013 I was very active at the game, at almost every aspect of the game. Then I stopped for 1 month and since I returned again, I started being 2-clicker. You could say I'm
2-clicker+
now, even though you may see me almost all day in-game and dealing with stuff, such as being Minister of Press for 3 months in a row
😛
. Also not considering I'm admin at eGreece's forum and mod at eGreece's Discord
😛
.
 In general, I play this game for fun and not to achieve great in-game stuff, because I know it's difficult to achieve them. Whenever I can though, I try to achieve what I can. For example, I almost never hunt for BH, that's why I have so few BHs.  
MoE
: Did you have any difficult in the beginning? What kind of difficulty?  
Jimkats1
: Even though I never played a similar game before, it wasn't that difficult to understand what to do. Back then there were also many active players, so it was easy to ask for help in-game, at forums or in chat (i.e. IRC, which was always used more than TS).
 At the first battles, I did the mistake many new players do: spending gold for medical kits. Thankfully it didn't cause me any big troubles afterwards.  
MoE
: You were Greece CP for one time, what were your greatest achievement? Any funny or remarkable situation?  
Jimkats1
: I don't really want to discuss about it (Greeks of that period know why), so I will just say it was a really bad period for me irl and for the country. I let my people down due to bad conjuncture... I remained CP for 1 week before I handover the presidency to the runner-up,
Apostolos6
. If it was any other period, I would stay for sure and even complete my presidency.
 I remember that period was near EDEN's ending and we were discussing about future alliances. I was having small conversations with Albania to go together at a new alliance. Of course as stated above, nothing was completed. I don't know what my successor did, as I left the game.  
MoE
: Greece is living at the moment a rough time, invaded by Macedonia and Bulgaria. What is the feeling of Greek population nowadays. Do you feel that your community is united to conquer the liberation in near future?  
Jimkats1
: These wars are just for all three countries to spend their time, it's not actual war. That's mostly because there are few active players and lack of interest from many. It's like the old days. Wars scheduled to last for months, especially for summer as it's considered vacation period for most of the players.
 In my opinion, Greek citizens are determined to fight for Greece and especially for the core regions, no matter what the government is thinking about each battle. So, you could say our community is not fully united at the moment. But worry not fellas, we shall survive.  
MoE
: Why is the reason that Greece don't belong to any alliance? And how do you see Portugal & Greece relations ingame?  
Jimkats1
: Because alliances are changing again, as it happens almost every 2 years. Old are destroyed, new are borning from the ashes. At the moment, we search for allies for new alliance. We already have some allies locked in.
 I don't know the exact relations of Portugal and Greece, but I would say they are decent. I hope of course for the best. I think so far Portugal wasn't discussed for future ally. But we shall see. It's summer now, so I guess the new alliance will come from September.  
MoE
: You also were responsible for the organization of Erepublik Eurovision. Are you satisfied with the participation and results this year? And as an Eurovision fan in RL, how do you saw the victory of Portuguese singer Salvador Sobral?  
Jimkats1
: Besides the difficulties and the issues that were occurred, mostly during the televoting period, everything went pretty good. We reached a bit better level by participation than in 2015. And that made me happy
😃
. Did you know that me (and maybe
Gwom
as well, don't remember) are the only players who participated in all 3 editions of the contest? If it wasn't for me, Greece would never participate and maybe there wouldn't be 2017's eEurovision. I'm not boasting, that's the truth. Well, I've got online song contests' hosting experience from before, so it wasn't that difficult for me to do anything
😃
.
 I tried to implement many features in the contest that weren't before, but few things couldn't occur. At least I did a decent trailer, a good looking scoreboard, allowed players for non-participating countries to vote and there was a money prize for the winning country. What I wanted to do also was to stream the songs presentation and the televoting results, so to make it more realistic like the real Eurovision
😛
, but my Internet sucks...
 From the first day the song won Festival da Cancao, I didn't really like the song. Still don't, sorry
😃
. But I like that it won the contest (and we have one country less left to win the contest
😛
). In general this year's contest had a low music level than other years, even from 2015 which was full of ballads... But now I'm really curious to see how Portugal will host the contest in 2018. From the first day you won, RTP started the procedures and now with the help from Jon Ola Sand's manual and the rest of the Reference Group, RTP is going to make Mediterranean (well, Atlantic
😃
) great again for Eurovision hosting.  
MoE
: What can you tell us of the real Greece? A place to visit, something to eat, something that make you different from all cultures?  
Jimkats1
: Every country has its own beauty, every place has its own stuff to show, it's a bit difficult to suggest where to go if you give me such a big range to select from
😃
. But I can say where NOT to go
😛
. For example, Athens is good only for the historical buildings and some other areas, but in general Athens isn't that great. I would fully suggest though Thessaloniki. If you want small towns and/or nature, I would suggest Nafpaktos (the place I study) with a cool combination of sea and mountains, half an hour from the city of Patras, crossing the bridge of Rio-Antirrio.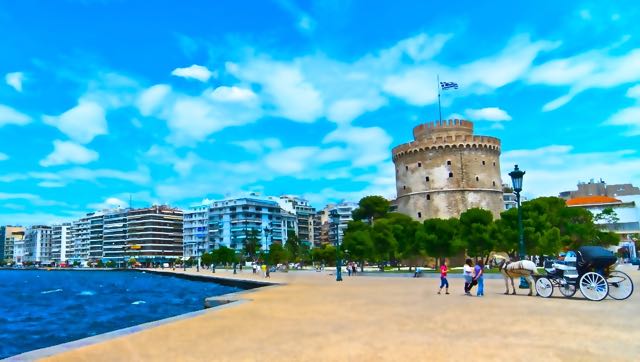 Thessaloniki
Nafpaktos
Bridge of Rio-Antirrio
 What makes us different? Feta, ouzo, tsipouro, the beauty of the Greek language, etc. xD.  
MoE
: Greece, like Portugal, lived, not a long time ago a difficult situation with the economic crisis. How are the things currently there, any improvements?  
Jimkats1
: Individually there are still many difficulties, as prices for basic stuff such as food and health went up, the income went down and all of that because of the governments and of the people who still support the governments...anyway, improvements there are somehow at innovation and especially when it includes Internet of Things (IoT). That's more global though and not only local, but still...
 Rise people against the wrong, support the right.  
MoE
: Any tip or encouraging message to the newbies in Erepublik?  
Jimkats1
: Stay in the game, don't be afraid if you face the game with difficulty,
you are not alone
. Add friends, join any Military Unit and you will find yourself in some friendly situation. Political parties are not suggested, mostly because they are less active than MUs, so more chances to find active players in a MU, as the game is mostly for military campaigns.
 Have fun
🙂
.
---
 Como sempre, agradecemos ao nosso entrevistado e esperamos que tenham gostado da entrevista. Até a próxima, malta!  
Créditos: Entrevista por ReaverPT, e formatação e revisão por Pony do Inferno
Entrevistas publicadas anteriormente:
1 ) IDEIAS
1.1 ) IDEIAS (in English)
2 ) Marx.Descartes
3 ) teXou
4 ) Passos Coelho
5 ) Bitorino
6 ) Pisco Soares
7 ) Exalted Druid (Português / English)
8 ) Stiltonerinowww9
9 ) nunopeb1
10 ) Atena Stark (DiaLana)
11 ) Andre3567
12 ) Sheldon C. (Português / Español)
13 ) Heisenberg II
14 ) Nenods (Português / English)
15 ) Silent Warrior (Português / English)
16 ) Blackbeard00 (Português / English)
17 ) Kekco (Português / English)
18 ) VycArg (Português / English)
19 ) Madvieri
20 ) Wild Owl (Português / English)
21 ) vladb (Português / English)
22 ) AC40
23 ) Kazoany
24 ) MelkorPT
25 ) Lucifel
26 ) Profeta Eric (Português / Español)
27 ) Old7 (Português / English)
28 ) ExtremeDestructer
29 ) Raima (Português / English)
30 ) Manegorio
ATENÇÃO
:
confira toda a série de Tutoriais do eRepublik publicados pelo MoE aqui!
 P.s.: em breve retomaremos a Liga FAeP de Batalhas Aéreas após uma readequação das regras e dos requisitos.
Cumprimentos,
Equipa do Ministério da Educação de ePortugal  
Pony do Inferno
- Ministro da Educação  
ReaverPT
- Secretário de Estado do Ministério da Educação  
Mithras Reloaded
- Estagiário do Ministério da Educação