Day 1,881, 11:20
•
Published in United Kingdom
•
by Ministry of Defence
Greetings!
After releasing the taster shot earlier this week, I am writing to formally introduce the Military Unit Premier League!
How it will work
Each update the table will consist of the top
15
Military Units at the time of each release. There are 3 categories to choose from that will decide where each MU sits in the table:
Overall Damage, Fighters and Percentage Active
.
The positions are calculated like so:
Overall Damage x Fighters x Percentage Active / 5000000 = Total Scored.
Thanks to Count Drakula for doing the calculations in the first place o7
The categories have been chosen carefully to try and benefit both larger and smaller MU's. i.e. a unit with
100
members but with
10
active will equal the same percentage as a unit with only
10
members but
1
active, because the percentage active would be the same. This is also why the Overall Damage hasnt been included as it would swing more in the favour of larger Military Units.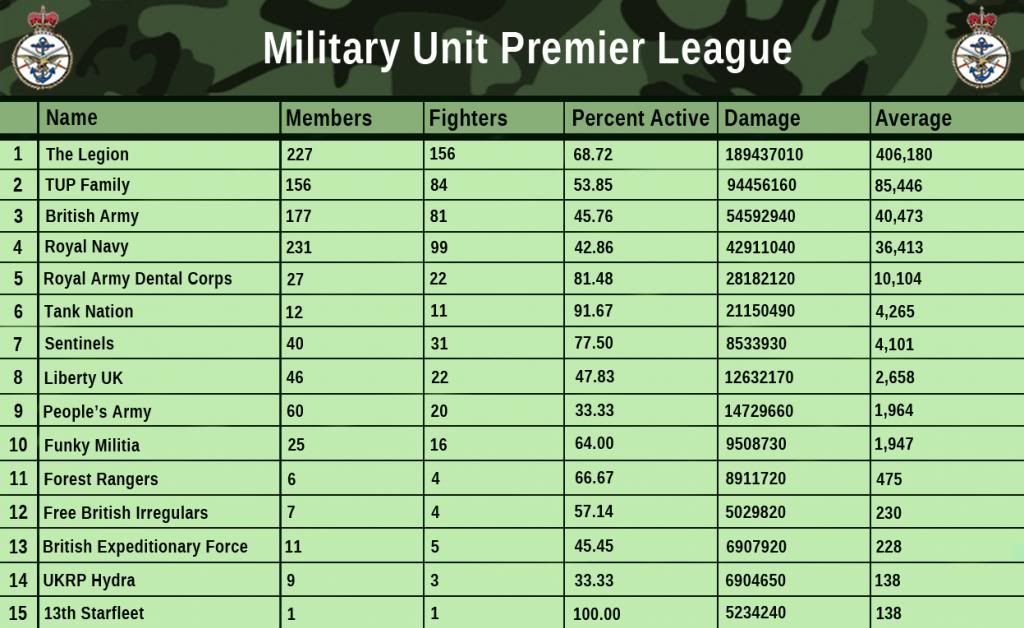 The taster table from last article, this table will be updated every 3-4 days.
Points System
Alongside each release will be a points table which will work as follows:
1st =
18
Points
2nd =
16
points
3rd =
14
points
4th =
12
points
5th =
10
points
6th =
8
points
7th =
6
points
8th =
4
points
9th =
2
points
10th =
1
point
Points will keep on rolling until the end of the current term when a prize will be given out to the winning Military Unit overall, a few more prizes will be decided nearer the time so keep checking for more updates.
If you want to see your unit climb the table make sure you try and keep your unit's as active as possible for a chance to win!
~ MoD Team
Post your comment
What is this?

You are reading an article written by a citizen of eRepublik, an immersive multiplayer strategy game based on real life countries. Create your own character and help your country achieve its glory while establishing yourself as a war hero, renowned publisher or finance guru.