Day 1,811, 06:51
•
Published in France
•
by J35000
Scroll down for english version
**Version Française**
Bonjour à tous et à toutes,
On se retrouve aujourd'hui pour le premier vrai article de mon journal nouvelle version.
Aujourd'hui au sommaire :
1- Europe du Nord
2- Proche et Moyen Orient
3- CTRL et vous
4- La pensée du jour
1-Europe du Nord
Ce que l'on remarque à première vue, c'est qu'on a eu des échanges de couleur à tous les endroits.
Après une courte TW (
T
raining
W
ar ) avec l'Allemagne, le Royaume Uni se rend compte qu'il se fait bien chier et part visiter le pays des frites, nouveau membre de CoT.
Ensuite, si on avance un peu vers l'est on se rend compte que le Danemark a disparu au profit de l'Allemagne
Au nord, en général, les pays se font chier. Pas cette semaine.
Les Pays Bas, ne pouvant rivaliser avec la Pologne, décident de partir visiter le voisin norvégien, seule perspective d'avenir à l'heure actuelle pour les néerlandais, forcés de s'exiler.
Autre bordel monstre encore plus à l'est, c'est le trio Pologne-Suède-Lettonie. Cette dernière était partie en campagne contre la Suède. Le 4 novembre, aujourd'hui, la Lettonie a délaissé les territoires centraux de la Suède pour s'en servir comme "tampon" contre la menaçante Pologne qui arrive au sud. Hey, pas cons les lettons.
La Pologne part ainsi faire de nouvelles conquêtes pour étendre son empire vers le nord et assouvir encore un peu plus cette outrageuse domination en Europe. Lors de la derniers analyse, j'avais présenté la Lituanie comme le pays balte le plus puissant. On assiste donc à un changement de leadership : la Lettonie prend la tête.
Pendant ce temps, le voisin estonien se fait raser par la Finlande et la Russie. La Lithuanie, quant à elle, voit son territoire grandement diminué après la reconquête de ses terres par la Biélorussie, ex membre d'EDEN. Cette dernière peut peut-être essayer de conquérir les territoires lituaniens et se venger.
En conclusion, des frontières largement remaniées en Europe du Nord cette semaine.
Voilà, c'est tout pour le nord de l'Europe, on part maintenant dans des contrées plus exotiques. Direction le Proche et le Moyen Orient.
2-Proche et Moyen Orient
Ici, il se passe tellement rien que les découpages des pays c'est n'importe quoi. La Turquie, en difficulté diplomatique avec une petite poignée de MPP, réussit quand même à s'imposer dans cette partie de l'eMonde. Comme quoi..Même les pays de là bas ont aussi une masse violette qui les envahit.
L'Arabie Saoudite disparaît au profit de Chypre et de la Grèce. A l'est, le Pakistan s'est fait écrasé par la Chine. En fait sur le point géographique y'a pas grand chose à dire ici si ce n'est qu'on remarque trois pays dominants : la Grèce, la Turquie et la Chine.
Bref, passons tout de suite à une mini présentation de CTRL.
3- CTRL et vous ( et plus )
CTRL était une alliance comprenant quatres des plus grandes puissances de l'eMonde : Les Etats-Unis, le Brésil, l'Espagne et la Pologne. Tout le monde était en droit de craindre cette alliance composée de puissances majeures.
Un jour, les Etats Unis demandent à la Pologne de résilier leur MPP avec la Serbie alors en conflit avec la Chine. La Pologne refuse et les USA leur promette un calvaire. C'est alors le début de la fin.
S'en suit une tripotée de conflits diplomatiques qui mèneront à la fin de CTRL. Les pays se séparent mais immédiatement après, la Pologne affirme son amitié avec l'Espagne, la Hongrie et la Serbie. Vous croyez que c'est fini ? Et bien non.
Prophet009, candidat à la présidence polonaise, annonce que si il est élu, il veut définitivement tourner la page de CTRL et créer l'alliance du nom de TWO. Oui, TWO, comme la suite de ONE. Cette alliance serait composée de la Pologne, de l'Espagne, de la Hongrie et de la Serbie. Tiens tiens, les même pays que j'ai cité plus haut. Voilà une alliance que nous pouvons craindre encore plus puisque trois de ces quatres pays sont frontaliers ou alors plus très loin de l'être.
Plus de détails ici-même si vous parlez polonais
4- La pensée du jour
Qui dit nouveau journal dit nouvelle rubrique. A chaque article, je mettrai une image ou une phrase que vous pourrez, si vous le désirez, méditer.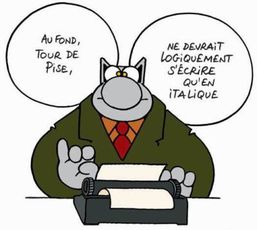 Voilà c'est tout pour cet article. J'espère qu'il vous aura plu. Déposez vos critiques ou vos compliments en commentaire. N'oubliez pas de voter l'article et de vous abonner. Eventuellement, vous pouvez le partager autour de vous.
Bye bye,
J35000
**English Version**
Hello everybody,
We find ourselves today for the first real article of the new version of my newspaper.
Today to the contents:
1- The Northern Europe
2- The Middle East
3-CTRL and you
4-The day thought
1-North Europe
What we notice at first sight, it is that we had exchanges of color in all the places.
After a short TW (
T
raining
W
ar) against Germany, United Kingdom realizes that it well pisses off and leaves visiting the country of chips.
Then, if we move forward a little eastward we realize that Denmark disappeared in profit of Germany.
In the North, generally, countries piss off. Not this week.
The Netherlands, not being able to compete with Poland, decides to leave visiting the Norwegian neighbor.
Other complete mess still more in the East, it is the trio Pologne-Suède-Lettonie. The latter was launched a campaign against Sweden. On November 4th, today, Latvia abandoned the central territories of Sweden to use Sweden to protect them against threatening Poland. Hey, not idiots Lettish. Poland so leaves making new conquests to extend its empire northward and quench still a little more this extravagant domination in Europe. During the last ones analysis, I had presented Lithuania as the most powerful Baltic country. We thus attend a change of leadership: Latvia takes the head.
Meanwhile, the Estonian neighbor is shaved by Finland and Russia. Lithuania, as for it, sees its territory largely decreased after the reconquest of its lands by Belarus, former member of EDEN. Belarus can maybe try to conquer the Lithuanian territories and to take revenge.
Well, it is everything for the North of Europe, we leave now in more exotic parts of the country. Hop, let's go to the Middle East.
2- The Middle East
Here, there is so nothing that the cutting of countries are very stranges. Turkey, in trouble diplomatic with a short list of MPP, manages all the same to stand out in this part of the eWorld. Which just goes to show that.. Even countries from there low also have a purple mass which invades them.
Saudi Arabia disappears for the benefit of Cyprus and of Greece. In the East, Pakistan made crushed by China. In fact on the geographical point not much has to say there here except that we notice three dominant countries: Greece, Turkey and China.
In brief, let us pass at once at a mini presentation of CTRL.
3- CTRL & you
CTRL was an alliance including four most major powers of the eWorld: The United States, Brazil, Spain and Poland. Everybody was entitled to be afraid of this alliance consisted of major powers.
One day, United States asked Poland to cancel their MPP with Serbia (in conflict with China). Poland refused and the USA promised them a calvary. It was the beginning of the end.
A large number of diplomatic conflicts follows itself which will lead to the end of CTRL. Countries part but right after that, Poland asserts her friendship with Spain, Hungary and Serbia. You believe that it is finished? You're wrong.
Prophet009, candidate for the Polish presidency, announce that if he is elected, he definitively wants to turn the page of CTRL and create the alliance of the name of TWO. Yes, TWO, as the suite of ONE. This alliance would consist of Poland, Spain, Hungary and Serbia. Yes, the same country as I quoted higher.
For more informations, you can read this
4- Day thought
Who says new newspaper say new section. In every article, I shall put an image or a sentence which you can, if you wish it, meditate.
Tower of Pisa, logically, we should write it only in italics.
by P.Geluck
This is the end of the article. I hope that it will have pleased you. Deposit your critics or your compliments in comment. Don't forget to vote this article and suscribe at my newspaper. Possibly, you can share it around you.
Bye Bye
J35000
Post your comment
What is this?

You are reading an article written by a citizen of eRepublik, an immersive multiplayer strategy game based on real life countries. Create your own character and help your country achieve its glory while establishing yourself as a war hero, renowned publisher or finance guru.