Day 1,822, 01:55
•
Published in Estonia
•
by Prabu Gatotkaca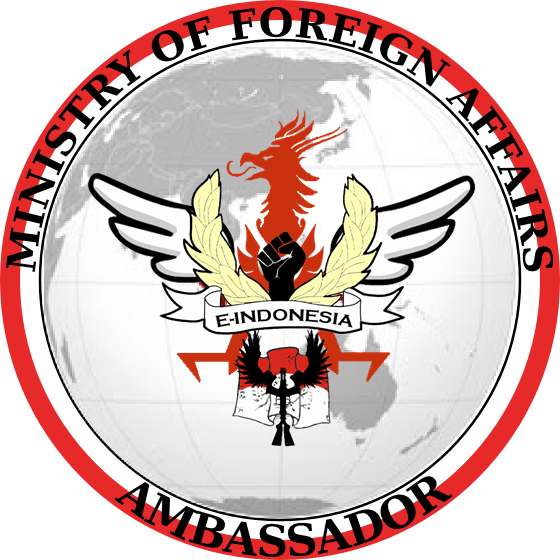 HAIL eINDONESIA
Greetings From eIndonesia !
First of all, I would like to congratulate ALL the newly elected presidents and their cabinets to our allies, our Friends and our Brother countries, and to our opponents.
And on behalf of our entire people I wish a successful month to all the friendly governments, and I have no doubt that our good relations will continue to grow as they have until now.

I'm
Prabu Gatotkaca
, the eIndonesian ambassador for eEstonia.
As an Ambassador I'll have 5 major things I'll be doing:
1) Creating new Dialogue options for the Executive Branch of the Government of eIndonesia, by getting to know other members of the country that I'm assigned to;
2) Reporting on major events happening in eEstonia regularly, even events of a moderate nature that maybe interesting to know.
3) Reporting in an Office on the eIndonesian MoFA Room (IRC server Rizon) those events, to my Deputy Chairman in order to see what eIndonesia will do regarding the situation.
4) Help CP and Governoor in eEstonia if they need help and always keep in touch with them at IRC room, PM, or Forum.
5) as a communication bridge between the government of eIndonesia and the government of eEstonia.

Primary goal from eIndonesian embassy For eEstonia in this month is to bring back the old friendship that has begun to stretch, making the continuation of our foreign policy. Also we will always try to help the alliance and a close friend of us both in military and economic, and if need we will help bilateral politic between another country even in very difficult situations. We will also maintain MPP with friendly countries which have a long association with us, are also continuing our efforts to create a new MPP with the countries that recently in cooperation with our country.
With this we call for all of our friends to come back over and work together with eIndonesia, we open wide the doors to our friends and alliance .

HAIL eEstonia
in conclusion, We call all our people, friends and everyone involved to remain strong, sturdy, and unite against all the challenges we will face later.
Let us show the world that the brotherhood of our unwavering and also remain focused on our goal really is. we are confident that we can do this!.
PS :
for ALL of our alliance that needs help, we are ready to help you anytime, anywhere. we will help you as much as possible even in difficult circumstances.
Best regards,
Prabu Gatotkaca
eIndonesian ambassador for eEstonia
Post your comment
What is this?

You are reading an article written by a citizen of eRepublik, an immersive multiplayer strategy game based on real life countries. Create your own character and help your country achieve its glory while establishing yourself as a war hero, renowned publisher or finance guru.