Day 1,880, 07:52
•
Published in Australia
•
by eAus Department of Information
Another wild week in eAustralia wraps up today and we're here to give you the reports and behind the scenes answers on the Aussie Cabinet and government. This edition will cover a range of topics from the upcoming PP elections to the (Potential) Indonesian invasion.
Indonesian NE
On Friday Indonesia proposed Australia as their Natural Enemy in hopes of receiving Western Australia from us. Australia and Indonesia have been engulfed in negotiations regarding the idea and have been working to come to an agreement that benefits both parties. Australia has been pushing for a region in return or some form of rent (or at least an MPP) while Indonesia has been more leaning towards them getting Western Australia for free as a favor to a potential ally.
Australia has been very much trying to reach this agreement peacefully so we can all learn to work together more and start better relations for the future and we've certainly made some progress in the right steps. After negotiations, it was more clear that Indonesia didn't want to pay in any sort, and we weren't too happy with losing the region for nothing, so on Friday the Indonesian CP instructed congress members to vote no to the NE. Due to this, it did not succeed today in the Indonesian congress and the NE Motion failed (lucky for us).
We're currently negotiating with Indonesia and our Senate a deal that makes both parties happy so that we can come up with a land swap that will work. Indonesia and Australia have come a long way from our warring days and are happy to be able to peacefully negotiate something for both of us. TWO is also on board with signing off on any deal we reach. Remember that Western Australia is a double resource for us so we'd benefit off a land swap with Indo by getting another resource, congress seats, and better income.
TWO and the Situation
TWO has been pushing for a solution to this problem as well especially with us now being allied to the United Kingdom through a new MPP (recently passed by both congress's). TWO essentially has been very cooperative in terms of who we want to ally with and MPPing TWO nations. Some potential MPP partners asked the TWO Secretary of Foreign Affairs to help us come to a peaceful solution with Indonesia and TWO has been very helpful in the negotiations and ending of this problem. We'd like to thank TWO and Indonesia for a good resolution to this situation and hopefully we can work out a better land swap deal. TWO is on board with signing off on whatever Australia and Indonesia are able to come up with.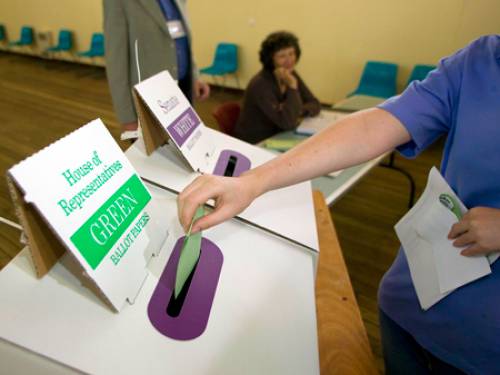 Party President Elections
Party President elections are back upon us again as that time of the month approaches. This month we've seen no massive PTO threats as of yet but we will be watching over the next few days and we urge ALL party members to consult well known Australian's and/or party members before you cast your ballot and to pay attention to the media and messages. We'll be sure to let you know who the viable candidates are if a threat does arise. Otherwise, good luck to all the candidates and we wish you guys a fun and democratic election.
Australia and Chile Non Aggression Pact
As per the Aus and Chile NAP, our nations have signed a MPP as of January 10th/11th of 2013. We will be continuing to negotiate additions and amendments over the following weeks and are happy to continue on the path to friendship with Chile. The treaty will continue to be in effect and we will be following it. Coming up next on the treaty will be the return of our $200,000 deposit on the 15th of this month.
Treaty of Non Aggression
o/ Australia
o/ Chile
Deputy of Information
This month we've had the resignation of Jeff and as such, I, Irule777 will be Minister of Information for the rest of this term and am looking forward to serving. We're going to be releasing articles once or twice every three days or so and will be continuing to keep you updated as well as possible. I'm currently looking for a deputy to work with me so anyone interested please shoot me a message. Easy job, easy time, no pay. Welcome to the cabinet
😛
----
Minister of Information:
Irule777
Post your comment
What is this?

You are reading an article written by a citizen of eRepublik, an immersive multiplayer strategy game based on real life countries. Create your own character and help your country achieve its glory while establishing yourself as a war hero, renowned publisher or finance guru.