Day 2,032, 23:43
•
Published in USA
•
by Ronald Gipper Reagan
Help a brother out?
Join the American Freedom Alliance
Join the American Eagle Division
My Fellow Americans and Dear Friends,
Firstly, the above game is one of the greatest ever made, and if you have never played it, you should. As many of you know, I intended for this to be my last term as Party President, but with the threat of domestic terrorism looming ever larger in our party and country, many of you have urged me to stay on as we declare a national state of PTO emergency. The Election on
Saturday, June 15th will be pivotal.
It will decide whether enough Americans say no to bullying to have a ripple effect as we move forward, or whether the forces of tyranny gain ground once again.
Remember that the enemies of America who have about as much right to rule our country as Joffrey has to sit on the Iron Throne will stop at nothing to accomplish their goals. We must be vigilant, and we must be strong.
Make sure you vote! Every last one will count!
If you are one of our international friends who sympathize with our plight and want to come help, let me know. Our enemies are burning through their citizenship passes like they are going out of style, so we might as well try to match them as much as we can.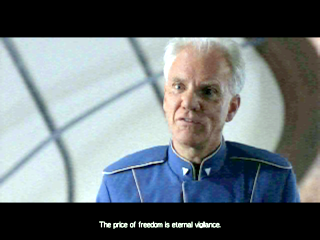 This conflict has dragged on for a long time, and it must end the RIGHT way. Those of us who have struggled for our freedom and have stood as firm and unwavering as a rock must continue to do so. There are those who wish to ""end unity" by destroying all opposition. They just don't get it, do they? They have one of two choices. Firstly, they can start treating the rest of us(yes, even yours truly) like human beings, or we can wipe them off the face of the eEarth. Since they will certainly never be wise enough to do the first, we are left with the latter. I want you all to know that we will not rest and we will not waver until this country is in the hands of good, responsible, patriotic people, not the thugs who have usurped it. Our values as Americans are not and will NEVER be theirs to take. We are not expendable.
We are Americans!
On this Party Presidential Election day, we must be aggressive. I urge all of you to shout like crazy, get all your friends out to vote, and do absolutely everything you can. This is a monumental showdown and we must all unite for victory. Remember that our misguided lifeless opponents on the other side will dedicate the next several days of their lives towards inflicting maximum damage. It is perhaps telling that Americans who off of the game are concerned by the very troubling state of our nation, and almost every foreign group around the world(with the exception of two in particular which are fueled by irrelevant hatred) either support our cause, or do not actively act against us.
We represent the disenfranchised, the persecuted, the lovers of liberty who in an age of despotism are singled out and threatened in every conceivable way. I say this to you my fellow Americans and to all the world.
We are all Americans.
We have had members in AFA from six continents, maybe seven(sorry if I forgot a former Penguinian-American). The AFA is a party built on brotherhood and trust. Those of you who think that the American way is to single out and eliminate all opposition need to take a serious look in the mirror and think of what you are doing by following people fueled by nothing but their own personal vendettas.
Finally, to Pfeiffer and friends. Watch your backs. We're coming for you.
and an old proverb from our dear friends across the narrow sea...
.
Ко другоме јаму копа сам у њу пада.
Ronald Gipper Reagan
AFA Party President
AED Commander ******
Post your comment
What is this?

You are reading an article written by a citizen of eRepublik, an immersive multiplayer strategy game based on real life countries. Create your own character and help your country achieve its glory while establishing yourself as a war hero, renowned publisher or finance guru.