Day 1,892, 18:28
•
by Presidencia de Colombia
Saludos a todos los ecolombianos.
Este es un informe para presentar la entrega de los dineros en la Administración Bord0, los cuales fueron entregados por Clorofila hace unos días.
Fueron presentados al congreso y ahora a todos los Ecolombianos para que todas las cosas sean claras para todos sobre la Administracion anterior.
Aqui documento para que lo vean


Los screens de los dineros recibidos


Los screens de las armas recibidas por Seolano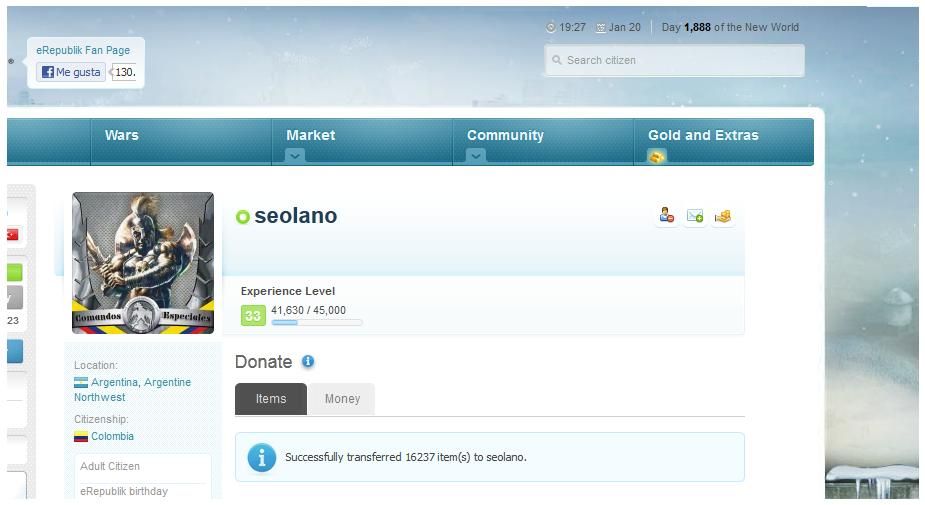 Ahora debemos concentrarnos en lo importante que es la unión de toda Ecolombia para conseguir todas nuestras metas.
Agradecido por su atencion,

Alberto Jesus Adrian(R)Presidente de Ecolombia.mitu15 - Darwin Giraldo Giraldo
Ministerio de Comunicaciones de eCol
Post your comment
What is this?

You are reading an article written by a citizen of eRepublik, an immersive multiplayer strategy game based on real life countries. Create your own character and help your country achieve its glory while establishing yourself as a war hero, renowned publisher or finance guru.