Day 1,823, 20:58
•
Published in Mexico
•
by Paco Morales 75
Esta es la segunda entrega de noviembre, se presentan las efemérides mas importantes de la segunda quincena de noviembre.
16
1519 - Fundación de la Habana, Cuba.


17
1869 - Se inaugura el Canal de Suez.
18
1825 - El fuerte de San Juan de Ulúa se rinde a los mexicanos.

19
1811 - Nace en San Luis Potosí el ideólogo Ponciano Arriaga.
20
1910 - Inicia la Revolución Mexicana.


1922 - Muere en una prisión norteamericana el revolucionario Ricardo Flores Magón.
21
1831 - Por decreto, se ordena la fundación del Museo Nacional de Historia
22
1896 - Muere el general Vicente Riva Palacio.
23
1855 - Se promulga la "Ley Juarez".
24
1885 - Nace Fray Junipero Serra, explorador de California.
1957 - Muere Diego Rivera, genio mexicano de la pintura.


25
1562 - Nace el laureado escritor español Lope de Vega .

26
1919 - Es fusilado Felipe Angeles, revolucionario que apoyó a Madero y se oponía a Carranza.
27
1520 - Fernando de Magallanes cruza el estrecho que lleva su nombre.
1895 - Muere Alejandro Dumas hijo, autor de la célebre novela "La dama de las Camelias".
28
1504 - Muere Isabel la Católica , reina de España.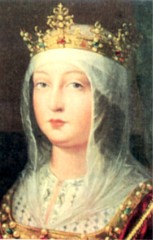 1895 - Tiene verificativo la primera carrera de automóviles en Chicago.
29
1927 - Se inaugura el servicio telefónico entre México y Canada.
30
1789 - Nace Andrés Quintana Roo.
1874 - Nace Winston Churchill , quien fuera primer ministro de Gran Bretaña.

Post your comment
What is this?

You are reading an article written by a citizen of eRepublik, an immersive multiplayer strategy game based on real life countries. Create your own character and help your country achieve its glory while establishing yourself as a war hero, renowned publisher or finance guru.