Day 1,993, 17:29
•
Published in Malaysia
•
by RyuYuki
eMalaysia sangat menarik!!
Pada eRepublik day 1992 telah berlansung majlis Anugerah Pingat Darjah Kebesaran eMalaysia.
Di majlis ini aku telah dianugerahkan beberapa darjah kebesaran. Berikut merupakan anugerah yang diperolehi oleh aku.
1. DARJAH-DARJAH YANG MULIA PANGKUAN NEGARA
KESATRIA MANGKU NEGARA (K.M.N.)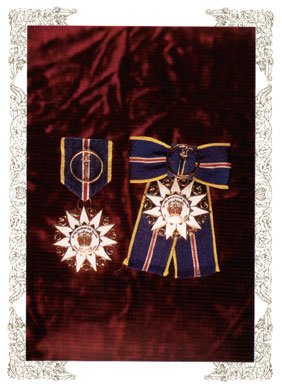 Merupakan Darjah Yang Mulia Pangkuan Negara Pangkat Keempat. Yang di sebelah kiri ialah Bintang Kebesaran yang dikurniakan untuk kaum lelaki manakala di kanannya untuk dikurniakan kepada kaum perempuan. Jumlah penyandang tidak terhad.
2. DARJAH-DARJAH YANG AMAT DIHORMATI SETIA DIRAJAJOHAN SETIA DIRAJA (J.S.D.)
3. DARJAH-DARJAH GAGAH PERKASAJASA PERKASA PERSEKUTUAN (J.P.P.)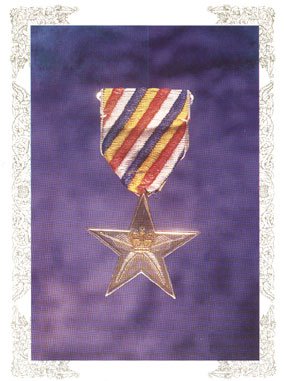 Juga dikurniakan kepada mereka yang telah menunjukkan kegagahan dan keberanian yang luar biasa di luar medan peperangan.
---
Pingat yang diterima bukan untuk aku berbangga atau takbur, tapi ia adalah menyuntik semangat kepada aku untuk berjuang mempertahankan kedaulatan negara eMalaysia.
Kepada pemain-pemain baru, ayuh kita bersama menggalas tanggungjawab mempertahankan kedaulatan eMalaysia. eMalayasia tidak lah sekecil yang disangkakan kerana komuniti eMalaysia memperjuangkan semangat setiakawan yang tinggi.
Aku sunggguh terharu dengan pencapaian aku yang tak seberapa, kerajaan eMalaysia masih mengiktiraf dan menganugerahkan pingat kepada aku. Berikut merupakan pencapaian prestasi aku setakat eRepublik day 1993 :
Rujukan :
Majlis Anugreah Pingkat Darjah Kebesaran eMalaysia
Post your comment
What is this?

You are reading an article written by a citizen of eRepublik, an immersive multiplayer strategy game based on real life countries. Create your own character and help your country achieve its glory while establishing yourself as a war hero, renowned publisher or finance guru.