Day 1,901, 13:59
•
Published in Slovenia
•
by Vlada Republike Slovenije
Pozdravljeni državljani in državljanke eSlovenije!
Današnji članek malo zamuja zaradi moje zadržanosti v RL pa tudi dogaja se trenutno nič kaj posebnega v eSloveniji iz vladne strani. So pa nekatere izjeme, ki jih je skoraj nujno objaviti v vladnem članku in to je podpis MPPja z Rusijo.
DANAŠNJI NAPOVEDNIK
1./ Podpis MPPja z Rusijo
1./ Splošne novice
1./ Podpis MPPja z Rusijo
V preteklih dneh sta se naš MOfA
SmoothZiga
ter Ruski CP
Antropophag
dobila na sestanku na katerem sta ''izboljšavala'' odnose med eSlovenijo in eRusijo. Sestanek je bil uspešen in 3 dni nazaj smo kongresniki že sprejeli MPP z eRusijo.
Slovenija je tako dobila še eno zelo močno zaveznico, katera nam bo v kriznih trenutkih tudi z veseljem priskočila na pomoč!
Rusija bo sčasoma vrjetno podpisala MPP z vsemi članicami CoT in TWO, ker bi rada postala proCoTWO država.
1./ Splošne novice
Kot izkupiček iz pretekle trening vojne z eItalijo si lahko pripišemo regijo Abruzzo. Regija je bila zavzeta proti koncu vojne in tako je ostala v naših rokah.
*na novo zavzeta regija Abruzzo*
---
Dobili smo tudi 40 novih kongresnikov katerim celotna vlada želi veliko uspešnosti in strpnosti pri opravljanju svojega dela!
Pomoč novincem
6 x q3 tanki do vključno lvl. 25
do lvl. 29
do lvl. 22 - za paket zaprosite tako da oddate komentar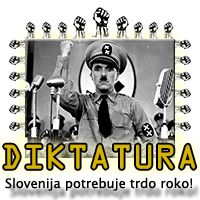 Lep pozdrav do naslednjič!
Ministrstvo za informiranje
Mr.CaCkO
Post your comment
What is this?

You are reading an article written by a citizen of eRepublik, an immersive multiplayer strategy game based on real life countries. Create your own character and help your country achieve its glory while establishing yourself as a war hero, renowned publisher or finance guru.