Day 1,892, 16:43
•
Published in Argentina
•
by Ga.brik

El Honorable Partido Republicano se complace en anunciar a través del siguiente comunicado la lista de sus candidatos para las elecciones a Congresistas para el periodo de Enero 2013.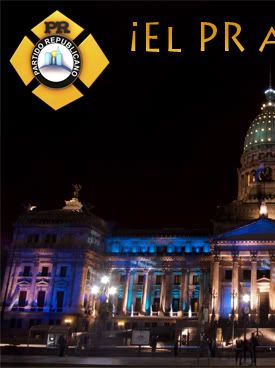 Fue larga y difícil la búsqueda de candidatos para tal preciada labor, pero siempre nos esforzamos por enviar a la gente mejor capacitada y con mejor predisposición para trabajar en el Congreso de la Nación.
El Partido Republicano presenta a su equipo de trabajo para tal honor en el Poder Legislativo de la Nación:
DiegoooG
Wizardarg

EDICION 25/01/2013 9.43
Les pedimos encarecidamente que
NO VOTEN a UMA
en estas elecciones. La lista está bugueada y no se pudo reordenar la misma, dandole a nuestros candidatos la posiciones que debían tener.
Se ruega desviar votos a cualquier otro partido para evitar que gente indeseada o que pueda hacer daño a nuestro país obtenga una banca en el Congreso.
Cualquier duda, me avisan por IRC

Saludos!
Gko.
Secretaría de Difusión.
Post your comment
What is this?

You are reading an article written by a citizen of eRepublik, an immersive multiplayer strategy game based on real life countries. Create your own character and help your country achieve its glory while establishing yourself as a war hero, renowned publisher or finance guru.