Day 2,034, 08:00
•
Published in Lithuania
•
by Naujoku Ministerija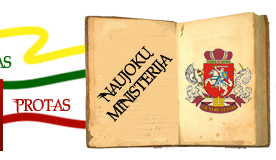 Norėdami vykdyti misiją, VISŲ PIRMA turite jai užsiregistruoti paspaudę raudoną mygtuką "REGISTRACIJA MISIJAI". Vieną misiją galima vykdyti tik vieną kartą. Misijas žaidėjai gali rinktis kokias nori – nėra būtina jų visų atlikti. Jei norite, galite atlikti ir visas ar tik pageidaujamas. Atlikus misiją spaudžiate geltoną mygtuką "PRANEŠIMAS APIE MISIJOS ĮVYKDYMĄ" ir parašote laišką nurodytam asmeniui.
Apdovanojimas išduodamas per 5 dienas
parašius laišką, kuriame yra nurodytas užduoties numeris ir pavadinimas.

Projekto idėjos autorius ir iniciatorius
Bimbagalvis
Naujokų Ministerija neskatina žaidėjų kaupti ir kelti patirties taškus (XP). Geriau turėti DAUGIAU JĖGOS, NEI PATIRTIES. Tad rinkitės misijas atsakingai.Pagarbiai
NM komanda

AKTUALI INFORMACIJA NAUJOKAMS
Post your comment
What is this?

You are reading an article written by a citizen of eRepublik, an immersive multiplayer strategy game based on real life countries. Create your own character and help your country achieve its glory while establishing yourself as a war hero, renowned publisher or finance guru.