Day 1,983, 00:55
•
Published in Portugal
•
by Ministerio da Defesa ePT
Atenção : Links das batalhas colocados nos prints da Mapa !


Saudações a todos,
O Plugin do MoD já se encontra actualizado.
Para instalar o Plugin do MoD e para teres acesso a tutoriais uteis :
Prioridade 1
:
Lutar por Portugal em Alentejo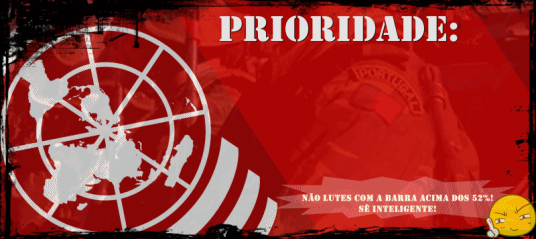 Porquê?
Campanha "Portugal vs México" :
Conforme o nosso plano vamos continuar a recuperar os territórios nas RW's. Como podem ver a batalha esta renhida por isso precisamos de todos os Portugueses !
Peço a todos para fazerem shout's do artigo para ter o máximo de visibilidade , seja em Portugal ou no estrangeiro , obrigado a todos.
Fiquem atentos às ordens, estas poderão ser alteradas ao longo do dia.
Para não desperdiçar dano escuta a bolinha amarela:
Mais novidades em breve,
a equipa do MoD
Post your comment
What is this?

You are reading an article written by a citizen of eRepublik, an immersive multiplayer strategy game based on real life countries. Create your own character and help your country achieve its glory while establishing yourself as a war hero, renowned publisher or finance guru.