Day 1,739, 00:32
•
by sorihun
Üdvözlet minden Légiósnak és Szimpatizánsnak!
Szokás szerint a 25-ei nap a Választások Napja. Ne felejtsetek el szavazni, és ha már szavaztok, a legjobb helyre adjátok a szavazataitokat!
A Magyar Légió Párt most is több régióban is megméretteti magát, hogy minél jobban képviselhesse a TI érdekeiteket.
Jelöltjeink: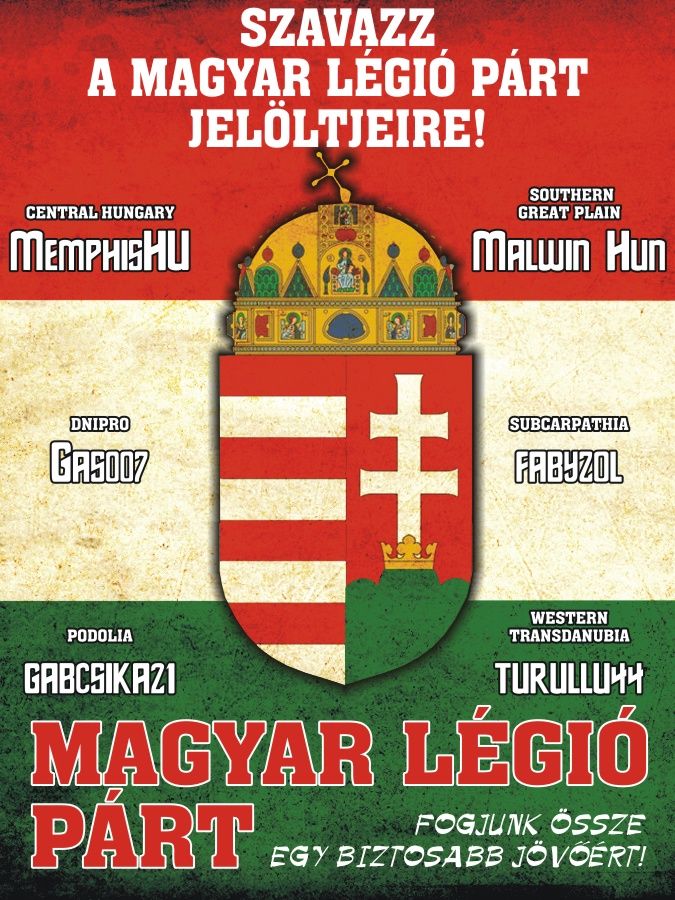 Minden Légióst kérünk, hogy a Magyar Légió Párt jelöltjeire szavazzon! A táblatartókra ne adjatok le szavazatokat!

A Választás Napja folyamán az üzenőfalon és a chat-en (#legio szoba) folyamatos eligazítást kaptok, a minél hatékonyabb szavazás érdekében.

Hajrá Légió!
Szép néni:
Post your comment
What is this?

You are reading an article written by a citizen of eRepublik, an immersive multiplayer strategy game based on real life countries. Create your own character and help your country achieve its glory while establishing yourself as a war hero, renowned publisher or finance guru.