Day 1,391, 13:59
•
by Moritz von Sachsen
Sorry to my international readership, this article is espescially written for my friends in Germany.
Liebe eDeutsche Mitbürger,
Noch ist eDeutschland nicht wieder auf der Karte zu finden (dies hat sich mittlerweile geändert), aber es werden alle Hebel in Bewegung gesetzt, um genau dies zu erreichen. Und so hat sich auch das KSK4 heute Abend zu einem gemeinsamen Schlag gegen die polnischen Besetzer unserer eHeimat verabredet.
12 Mitglieder
unserer Militäreinheit traten am späteren Abend an und erzielten bei der 7.
Schlacht um Bayern
, dank einer
Spende der Bundesbank über 127 Tanks
, einen
Einfluss von 1,56 Mio Punkten
. Auf dem Weg zum Erreichen der 2 Mio Punkte fehlte somit nicht mehr viel und wäre bei Teilnahme von weiteren Mitgliedern des KSK4 auch problemlos möglich gewesen.
Zwei unserer tapferen Recken belegten die ersten beiden Plätze und sicherten damit dem KSK4 die
BattleHero-Medaille
.
Am Ende ging dieser Kampf zugunsten eDeutschlands aus.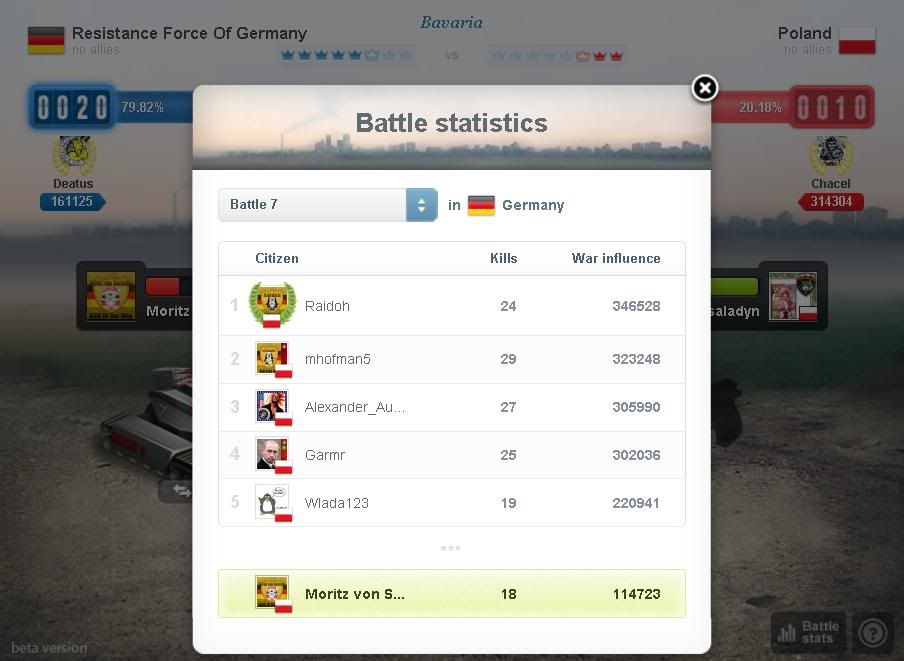 Die neue Bundeswehr befindet sich gerade erst wieder im Aufbau und das KSK4 wird ein fester Bestandteil sein. Wenn wir uns noch besser organisieren, muss man auf den Schlachtfeldern wieder mit uns rechnen.
Euer KSK4 The Win
gez. Moritz von Sachsen
beauftragt durch Raidoh (Kommandant KSK4)
Post your comment
What is this?

You are reading an article written by a citizen of eRepublik, an immersive multiplayer strategy game based on real life countries. Create your own character and help your country achieve its glory while establishing yourself as a war hero, renowned publisher or finance guru.