Day 1,710, 18:30
•
by Elle Roslin
We all know that there are tons of free things available for new players. From free food on forums, to free NHS stuff, to individual support from parties and MU's, there is a literal bonanza of free stuff for people just taking their first steps.
But what happens when you get a little older? The message usually is 'hey it's a tough e-world out there, get off your fanny and git yerself a job!'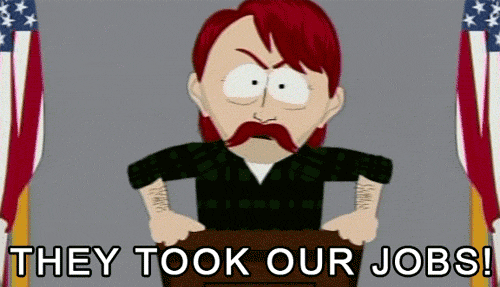 Dey took errrr jerbs!
Well guess what Division 2 players? I've got some FREE STUFF for you! ESO doesn't forget you, and I don't either! So let me introduce you to the ESO Star Awards, Part 2 (
the Roz strikes Back?
)
...Star Awards....What the?
So what is this?
The Star Awards are roughly based on initiatives run in the past by the MoHA - the Forum Awards. Here I will be rewarding the Division 2 players of ESO with lovely prizes for accomplishing select 'achievements' that I have set as targets. The purpose of this is to give some recognition to rapidly maturing players and to help you progress through the ranks more quickly by giving you the support and supplies to do so.
Who is eligible?
Division 2 encompasses players that are level 25 - 29. If you are a) in ESO, and b) between those levels congratulations! You are eligible!
The challenges:
Patriot Games
Task: Earn 3 or more True Patriot medals
Reward: 5 Q6 tanks
You are Promoted!
Task: Hit level 30
Reward: 10 Q6 tanks
A Real UK Hero
Task: Earn a BH Medal
Reward: 10 Q6 tanks

A Funny Thing Happened on the Way to the Forum
Task: Join the eUK forums (accessed via
this link
)
Reward: 5 Q6 tanks
Community Building
Task: Befriend 5 ESO players under level 25 - 500 health
Reward: 500 health
A Good Laugh
Task: Send me
Elle Roslin
your favourite link/image/gif
Reward: 5 tanks
Befriend Roz
Task: Be on my friends list (
Elle Roslin
)
Reward: 5 tanks (plus the joys of my witty banter and occasional shouts!)

*note: If you have already accomplished these tasks you may still claim them so long as you are between levels 25-29, with the exception of the You are Promoted! challenge.
How to Claim
Just post on this article or send me a message detailing which challenges you have accomplished. I will check for authenticity and then send you your just rewards!
So there you have it friends - easy as pie! All of us in ESO are thrilled to have so many ambitious and progressing members. So let us give you support and free things to help you on your way - 500 health and 40 tanks can be yours just for completing these challenges!
Roz
ESO Party President
Hugs?
Where to look for more info:
eUK Forums
NHS MU
ESO Party
ESO Legion
eUK Channel (#euk)
ESO Channel (#eso)
Post your comment
What is this?

You are reading an article written by a citizen of eRepublik, an immersive multiplayer strategy game based on real life countries. Create your own character and help your country achieve its glory while establishing yourself as a war hero, renowned publisher or finance guru.