Dita 1,846, 11:48
•
E Publikuar në Norway
•
nga Evleos
Every player needs food every day. But which quality level ought one to buy? This is going to be a regular article series providing you with that answer.

Without any further ado, let's take a look at the numbers.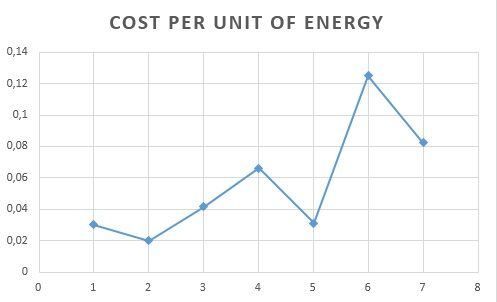 On the X-axis we have the cost pr unit of energy, while on the Y axis we have the different quality levels of food, ranging from Q1 to Q7. The numbers were collected this evening.

As you can see, Q2 gives you, as of present, the most bang for the buck, with Q1 and Q5 being the runner-ups respectively. Mind what food you're eating; Q4 is, as of present, three times as expensive as Q2 on a pr-energy basis, while Q6 and Q7 are even even more expensive.
Postoni komentin tënd
Çfarë është kjo?

Ju jeni duke e lexuar një artikull që është shkruar nga një qytetar i eRepublik-ës, një lojë e veçantë strategjike ku luajnë shumë lojtarë dhe që është e bazuar në vende të jetës reale.Krijo karakterin tuaj dhe ndihmoje vendin tuaj për të arritur lavdinë e saj përderisa ju mund të bëheni hero i luftës, botues i njohur ose një këshilltar i financave.