Dan 1,819, 11:00
•
Published in USA
•
s strani James S. Brady Press Room
White House Press Room - Day 1819: War. War Never Changes.
President Cerb on a visit to the Australian Front
Dateline:
Friday, November 9th, 2012 (Day 1,816)
Location:
James S. Brady Press Room, The White House
Today's WHPR:Music: Flight Of The Conchords - Mermaids1:
Department Change: Homeland Security
2:
Department Update: Chief Technology Officer
3:
War Map & Analysis
4:
Web-Comic of the Day
eNPR:
Show Schedule and Links
Editor's Notes:
Today's WHPR is a full Media Team effort, with Secretary of Media NewAzazel playing Lead Editor for this edition.

Department Change: Homeland Security
Secretary of Media NewAzazel
We at the Cerb Administration have some distressing news to present. During a raid against one of AFA's recruitment camps on the eUS border, DHS Secretary Slade Cash sustained heavy injury. This occurred while he was saving several DHS agents and rigging the charges to blow. While Slade Cash will live, his recovery will take some time, and at present he is residing at Walter Reed for the remainder of the term.
Thankfully, we have found another capable DHS Secretary to lead in his absence.
Kemal Ergenekon
, a cabinet official in several administrations and one of the main promoters of the DHS, will be taking over as Secretary of Homeland Security. Kemal is intelligent, dedicated, and will perform this job to the fullest of his capabilities. We hope that all Americans wish him luck in his performance, and for the quick recovery of Slade Cash. The smooth transition of this Department continues to show the strength and flexibility of this administration when dealing with crisis.
APPLY FOR GOVERNMENT JOBS
Cabinet Deputies and Staff:
Please click here.
State Dept Ambassadors:
Please click here

Department Update: Chief Technology Officer
Deputy Secretary of Media EnterAwesome
I have had the pleasure of working with
MikeOntry
and finding out a little about himself and about the department he runs. Amazingly, Mike has had no experience whatsoever in government, yet he was given a role as charge of an entire department. In fact, the Technology Department is a brand new department just like the DHS brought on by POTUS Cerb. Mike Ontry goes on to explain, "This is my first job. I believe my in game poll system helped to get me this job."
The main focus of the Technology Department has a lot to do with coding various programs. The work is highly varied as literally this department works in tandem with every other department that needs to have programs coded for their specific needs. Mike and his team also specializes in tech support in case one of the programs malfunctions, or just for general questions that technology un-savvy government officials may not know the answers to.
I asked Mike,
"What are your goals for this term?"
However he was quite secretive and couldn't reveal much. So he just wants to say something simple to everyone and goes on to state that his "goal is to simplify some select tasks needed by certain government departments." However, he faces one challenge that he told me would be difficult that is very interesting. One of the big problems right now is finding a way to locate and contact newborn eUSA citizens in an efficient manner, right now nothing really exists. Mike is going to have to persevere on that one.
For the future we can count on the Technology department to step things up. One thing they are focusing for the near future is an in-game poll for "6th parties". Mike explains,
"I support fingerguns' idea of letting the top 4 do their own polls like they have been doing them and setting up an in game poll for all the 6th parties and unaffiliated citizens to vote in. Her article is here."

War Map & Analysis
Press Corps Staff Writer Hale26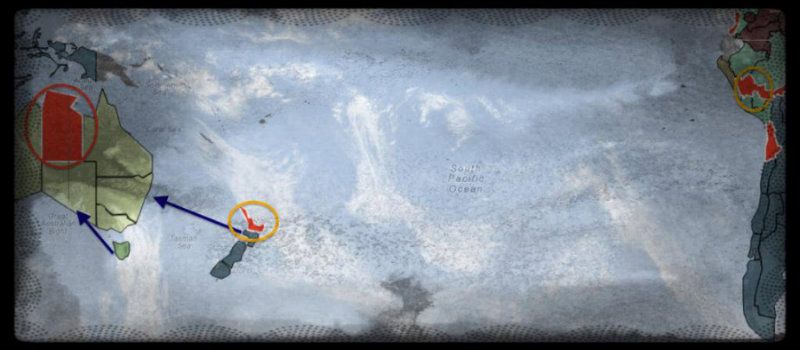 Good news everyone-
Hawaii is back in American hands.
After a clean-sweep win for America, Hawaii has successfully re-entered the union and given
Argentina the initiative in their war on Chile.
(As explained last issue.) Though we've lost our NE against Chile,
we can still fight them through our MPPs with Argentina and Australia.
This being where we will be fighting for the next few days, I'll do a quick report on the state of those fronts.
TASMAN FRONT
On the main front of this war we have
Argentina and Australia fighting Chile.
Both these nations have launched NE attacks against Chile in New South Wales and Southern Australia (respectively) which were very hard fought. Despite best allied efforts,
both these nations lost their battles against Chile.
This means that Chile now has the initiative on both Argentina and Australia, so
counter-attacks are expected in coming hours.
(If not already underway)
At present there are
2 RWs underway
while we wait for Chile to attack Australia and Argentina. The first one,
an allied assault
, is a RW in Northern Territory (Chile.)
Australia is losing this battle
29-15
at present.
The second RW,
an enemy assault
, is a RW in Auckland (Argentina.) This
RW could cost Argentina a 20% food bonus if successful
. Thankfully, Kiwi rebels are losing the battle
61-16
.
EMPIRE FRONT
This front is in the "Argentine Empire" as this writer fondly calls it. Argentina, being the power it is,
has annexed parts of Bolivia, Chile and Peru in S.A.
Meaning that the nation has to fight numerous battles at home when stepping out abroad. (America had this problem during Glove's war on Indo)
Multiple fronts make it hard for Argentina to keep all of its territories.
That being said, the Empire State has been doing very well as of late. First capturing
50% of Paraguay after the nation declared war
(Presumably to help its Chilean allies), and fending off numerous RWs.

Web-Comic of the Day
Coming in with our webcomic of the day, today we have one from
xkcd.com
. Hope you enjoy some more internet culture: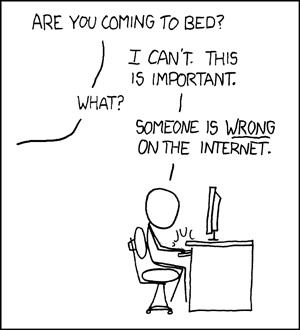 New eNPR Schedule:
eNPR Oval Office Radio
airs live every Tuesday and Friday night, at 18:00 eRep (9pm Eastern, 6pm Pacific). Tune in to the radio show, join the text chat at #eNPR (on the Rizon server), and call in!
Friday's Show:
eNPR Friday 11-9-2012
Join eNPR host fingerguns and Co-host Dr Luis Sentieiro for their first show of Cerb's presidential term. Cabinet officials will be regular guests on the show as fingerguns and Dr Luis Sentieiro discuss the issues.
Tuesday's Show:
eNPR Tuesday 11-13-2012
Join eNPR host fingerguns and Co-host Dr Luis Sentieiro for their second show of Cerb's presidential term. Cabinet officials will be regular guests on the show as fingerguns and Dr Luis Sentieiro discuss the issues.
If you miss any live radio show, you can listen at your leisure, at
eNPR Oval Office Radio
.

Recommended Reading:Education Today
By the eUS Department of Education:
[DoE] A Look at the Legislative Branch
Stark Raving Mad Tribune
By TerminalHunter:
ALL GLORY TO OUR LOVING EMPEROR [A Beginner's Guide to Propaganda]
| The President's Newspaper | Speaker's Word | DoD Civilian Orders | Dept of Education | Dept of Interior |
| White House Press Room | Pony Express | eNPR Radio |

Join a Military or Militia:
😉
eRebuglik now breaks links to Google Docs. If your link is broken, please contact this Org with a TinyURL or similar shortcut.
| US Civilian MU | Air Force Flight Training | Special Forces | Rogue Squadron | Ultramarines | SEAL Team 6 | OWLs |
| EZ Company |The Higher Calling | Sons of Liberty | Bear Cavalry | Pickle's Patriots |
| eUS Training Corps | National Guard | Mobile Infantry | eUS Army | Airborne | Marine Corps |
| Avengers | The ICA | The Chosen Ones| Cannon Cockers |


NewAzazel
, Secretary of Media
"It is not enough to understand, or to see clearly. The future will be shaped in the arena of human activity, by those willing to commit their minds and their bodies to the task." - Robert Kennedy
Look for new editions of WHPR on Monday and Wednesday.
:::
Shout It!
:::
WHPR 1819: War. War Never Changes.
http://www.erepublik.com/en/article/whpr-1819-war-war-never-changes--2155873/1/20
Keep Up the Fight



2476
Objavi komentar
Kaj je to?

Prebirate članek, ki ga je napisal državljan eRepublika, izjemne večigralske strateške igre, ki temelji na državah iz resničnega življenja. Ustvarite svoj značaj in pomagajte vaši državi doseči slavo medtem ko se uveljavljate kot vojni junak, znan založnik ali finančni mogotec.