Dan 1,816, 08:30
•
Published in USA
•
s strani James S. Brady Press Room
White House Press Room - Day 1816: Keep Moving, Aim High, Create
President Cerb hard at work aboard Air Force One
Dateline:
Friday, November 9th, 2012 (Day 1,816)
Location:
James S. Brady Press Room, The White House
Today's WHPR:Music: Paul Simon - You Can Call Me Al1:
Department Update: Homeland Security
2:
MU Highlight: Air Force
3:
Media Highlight
4:
War Map & Analysis
5:
Web-comic of the Day
eNPR:
Show Schedule and Links
Editor's Notes:
Today's WHPR is a full Media Team effort, with Secretary of Media NewAzazel playing Lead Editor for this edition.

Department Update: Homeland Security
Deputy Secretary of Media EnterAwesome
What exactly does the Department of Homeland Security (DHS) do? They have some important goals that are stressed which include handling the PTO and better communication. There has been strong resistance against the PTO thus far and the DHS will continue working to control the threat. Slade Cash expresses concern about "providing more formal platforms for communication between other eUS entities that are concerned with security, particularly the CIA." Lastly, the DHS is working on implementing systems to avoid situations like the PTO to happen in the future for a safer America.
Slade Cash began his work the IES as an agent, working his way up to Deputy Director and then the head of the IES for the past three months. Working with him has been great, it is not a secret that he is an eCitizen who isn't afraid to work hard. We are lucky to have him represent our DHS! He joined the game in January and got started in the Bastards of Liberty where he was Party Liason for a long time. That opened doors to him for meeting people in the eUSA. Slade Cash became the Director of the IES because he was good at his job. He thought it was important and did his job diligently everyday even though it is a "thankless job". As Slade Cash says, "being asked to head the DHS is a direct result of that and improvements I've been trying to make to IES, and the DHS is a culmination of the work and brainstorms from many different people."
A lot of challenges face him, he seems to be really focusing on infrastructure and getting the DHS set up while overviewing the work of his cabinet members. What is really interesting are the branches that have been set up along with a whole new department as a whole. These branches focus upon Detection of incoming threats, Enforcement for publicizing country threats, and Investigation for tracking threats. It shows the the eUSA government is an organic structure that can change rapidly to the country's needs.
Obviously Mr. Slade couldn't give us too much detail how the department is run because of security reasons. But we can expect stronger Anti-PTO precautions, resistance against the AFA and working towards it's demise, and overall safer eUSA for citizens because of the DHS.
"The infiltrating enemies of America gained a lot of ground this year. A month or two ago, some of them might have thought they saw a light at the end of the tunnel--a grand reward for their persistence. Well I'm here to tell them that the light at the end of the tunnel is a train. That train is DHS, and the American people are its fuel."
- Slade Cash
Thanks to
Slade Cash
for taking time to conduct an interview with us.
Apply For Cerb's Administration
Both the Executive and State Dept are accepting applications.
If you would like to join this administration and help run the country, use these Forms:
Cabinet Deputies and Staff:
Please click here.
State Dept and Diplomatic Corps:
Please click here

MU Highlight: Air Force
Deputy Secretary of Media DokJon
The
Air Force
is the first created, main branch of the United States Armed Forces. The Air Force was set up by the order of the former POTUS Emerick after the US Congress unanimously voted in the bill titled
Redoing the Military Appendix to the Constitution
. Basically, when JCS and Army split from the government, AF was born to fill in the gap.
American Air Force rules the sky.
Air Force has had some rough times in the last couple of months. Starting with resignation of the old CO and some officers, AF had many leaders move on from the unit. Ever since, new talented officers have emerged. Filled with new blood, the Officer Corps led AF through the difficult times. Air Force would not be where it is now without the sweat of all of its officers.
Right now AF has around 140 members split up over 3 wings. The three Wing Commanders are
Dr Luis Sentieiro
,
John NWP
, and
Arrden
, and they have 2-4 squadrons each under them. These three men in charge, and their junior officers work hard to make sure everything runs smoothly in their daily operations.
"With the budget cuts we've had to tighten our belts a little bit, but we are still able to supply all of our members and get them out on the front lines to defend this eNation and all that it stands for. As long as Air Force exists, we will continue to 'Aim High' and do our part alongside the other members of the USAF and this country."
-
emdoublegee
, the Commanding Officer of Air Force

Media Highlight
Press Corps Staff Writer Aeroner
There are a few of us in eRepublik, believe it or not, who don't care about the military module. Indeed, these social elites have more important things to worry about than the state of Aquitaine or the powder keg that is the Balkans. These individuals are those eloquent, sophisticated-types at your local tail-gate party who stand off to the side, slowly drinking their generic-brand fruit punch because they can't afford much else. And while the other "normal' players discuss the military and all its glorious exploits, these people cannot seem to get in on the conversation. They become nervous and sweaty. No, these people are useless in a discussion about mutual-protection-pacts. What they're interested in is the media module, and it alone.
And while most of you more mainstream folks might think of the media module as the domain of tired jokes or those once-in-a-lifetime lotteries, in reality, the Media Module is a beautiful thing. Writers who previous did not have an outlet for their expression now have an audience of thousands, instantaneously. And although it has been perverted by the numerous bought votes, the integrity of the module still stands. I do not know of another platform that lets me get out of my ideas to a large and quite attractive looking audience, if I do say so myself.
So go on, you writers.
Write. Don't be afraid, don't assume it's futile.
We need your expression, we need your prose.
We want it, we thrive on it.
This game only survives on community, and what is community without its art? Without it's poetry?
I assume you all are now rock-hard from the previous three paragraphs, so I'll leave end this before someone makes a mess of their keyboard.
I ask you, no, I challenge you, to write. To create.
Only good can come from it. There is no other place where you will have such a willing audience.
Don't lose out on the opportunity.

War Map & Analysis
Press Corps Staff Writer Hale26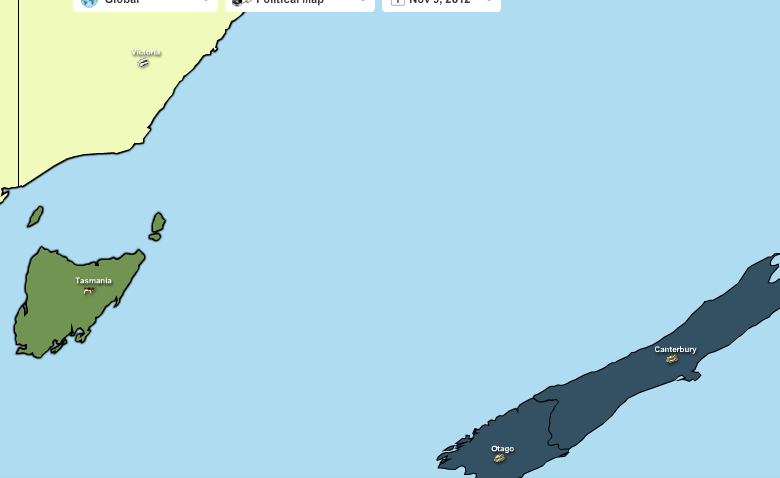 Good news America- We have defended California!!
The battle was fairly close in the first few rounds, but we managed to pull through them and go forward to win many easier rounds after that. On behalf of the U.S.A President Cerb would like to
thank The American people, Brazil, Croatia, Argentina and the rest of EDEN forces for this victory over Chile.
Though
Chile wasn't trying to win the battle
, any allied support is welcome.
Now down to the more serious matters.
Firstly, we will defeat Chile in Hawaii VIA RW. This means that we will lose our NE against the Chileans and the Chileans will lose their NE against us.
This will free up Chile to attack our ally Argentina
, who has recently gained a border with Chile VIA waging an easy (until the battle in Otago) war on the Kiwis. This is why Cerb ordered that we lose a few rounds tonight against Chile because we..
A. Don't need the rounds.
B. Can stall Chile's chance of NEing Argentina first.
Argentina is looking like they will win Otago, so once that region is gone they can NE Chile. That is IF Australia defends Tasmania, which it looks like they will not. However, stalling the rounds will push this battle into the night time. Most of Chile's congressmen will be asleep at this time, so one could hope that Chile would not NE Argentina even though they could.
Then if Argentina can somehow turn around the Aussie battle or attack NZ at night and pray for European support to fight for them while they sleep, they may be able to NE Chile by the time they wake up. Now, all of this might fail.
Of coure, it still screws with Chile's NE a bit.
Which is helpful.

Web-Comic of the Day
Coming in with our webcomic of the day, today we have one from
xkcd.com
. Hope you enjoy some more internet culture: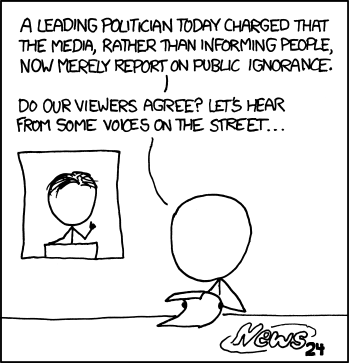 Hopefully eUS media isn't this bad.

New eNPR Schedule:
eNPR Oval Office Radio
airs live every Tuesday and Friday night, at 18:00 eRep (9pm Eastern, 6pm Pacific). Tune in to the radio show, join the text chat at #eNPR (on the Rizon server), and call in!
Tuesday's Show:
eNPR Tuesday 11-6-2012
Join eNPR host fingerguns and Co-host Dr Luis Sentieiro for their first show of Cerb's presidential term. Cabinet officials will be regular guests on the show as fingerguns and Dr Luis Sentieiro discuss the issues.
Tonights's Show:
eNPR Friday 11-9-2012
Join eNPR host fingerguns and Co-host Dr Luis Sentieiro for their second show of Cerb's presidential term. Cabinet officials will be regular guests on the show as fingerguns and Dr Luis Sentieiro discuss the issues.
If you miss any live radio show, you can listen at your leisure, at
eNPR Oval Office Radio
.

Recommended Reading:Globe Guide
By George Griffin:
Diplomatic Assignment - Ambassadors
Bro paper
By Bucephalus92:
eWorld Warfare Update
| The President's Newspaper | Speaker's Word | DoD Civilian Orders | Dept of Education | Dept of Interior |
| White House Press Room | Pony Express | eNPR Radio |

Join a Military or Militia:
😉
eRebuglik now breaks links to Google Docs. If your link is broken, please contact this Org with a TinyURL or similar shortcut.
| US Civilian MU | Air Force Flight Training | Special Forces | Rogue Squadron | Ultramarines | SEAL Team 6 | OWLs |
| EZ Company |The Higher Calling | Sons of Liberty | Bear Cavalry | Pickle's Patriots |
| eUS Training Corps | National Guard | Mobile Infantry | eUS Army | Airborne | Marine Corps |
| Avengers | The ICA | The Chosen Ones| Cannon Cockers |


NewAzazel
, Secretary of Media
"It is not enough to understand, or to see clearly. The future will be shaped in the arena of human activity, by those willing to commit their minds and their bodies to the task." - Robert Kennedy
Look for new editions of WHPR on Monday and Wednesday.
:::
Shout It!
:::
WHPR 1816: Keep Moving, Aim High, Create
http://www.erepublik.com/en/article/whpr-1816-keep-moving-aim-high-create-2154095/1/20
Administration Rolling Along



2469
Objavi komentar
Kaj je to?

Prebirate članek, ki ga je napisal državljan eRepublika, izjemne večigralske strateške igre, ki temelji na državah iz resničnega življenja. Ustvarite svoj značaj in pomagajte vaši državi doseči slavo medtem ko se uveljavljate kot vojni junak, znan založnik ali finančni mogotec.