Dia 1,899, 16:13
•
Publicado em USA
•
por seeker1
by Colonel Ruthain

With the new map being rolled out soon I thought I'd take one last opportunity to use the old map one more time and take a quick look at the fighting going on around the world today.





The Americas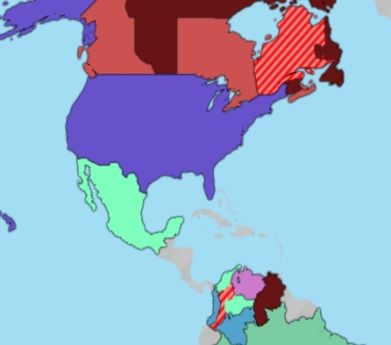 In the early hours of day 1899 a Canadian resistance war for Quebec was repelled easily by Spain 36-85.

Meanwhile in South America an attack by Colombia on their original territory of Andina was brushed aside 3-85 by Mexico.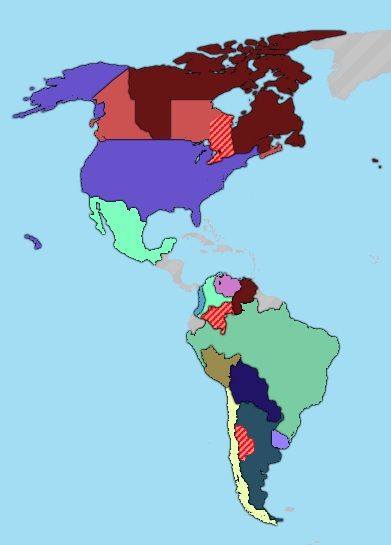 This evening Spain continue their push into Canada with an attack on their capital Ontario, currently 77-0 to Spain.

Meanwhile Mexico keep pushing Colombia by attacking Amazonica. If successful Colombia will be down to 1 region, their capital Pacifica. It currently stands at 33-0 to Mexico.

Moving further south Chile attacked Argentina at Cuyo and are 33-33 as we speak.






Europe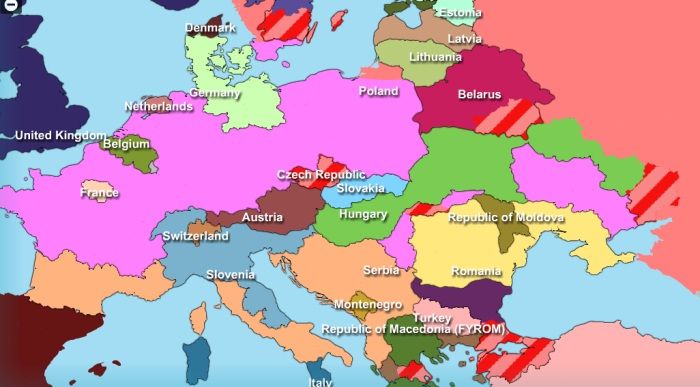 This morning in Europe
Czech Republic have been wiped as Austria took their capital in Moravia 83-15.

Sweden easily defended an attack on Smaland by Latvia but a resistance war in Gotland was brushed aside by Latvia.

Hungary attacked Belarus in Homelskaya and look to be cruising to victory.

Wiped Ukraine started a resistance war in Bukovina but was won 85-31 by Poland, however a fresh battle sees them 55-0 up in the same region.

Macedonia attacked and captured Thessaly from Greece 89-21.

Bulgarian forces held off Turkish resistance fighters at Marmara 84-19




Evening in Europe
Czech Republic look to get back on the map with a resistance war against Poland in Northern Bohemia, currently 33-0 down.

Estonia attacked Finland at Laane-Eesti and are winning 11-0.

Germany look to wipe Denmark by taking their capital Nordjylland, currently 11-0 while also fighting a resistance war against Poland in Saxony, currently 32-1 down.

Romania are holding off a Ukrainian resistance war in Bessarabia 24-9, although they lost 88-0 to Hungary earlier in Donbas. They are currently winning a resistance war against Poland in Maramures 53-35.

Meanwhile Serbia are facing six resistance wars in Montenegrin Coast against Montenegro,
France in Aquitaine, Albania in Tirana, currently 37-7 up in the first two and losing 31-16 in Tirana, 31-17 up against Croatia in Istria and Kvarner, 24-9 down in Beersheba South District against Isreal and 27-14 up in Al Jawf against Saudi Arabia.

Bulgarian resistance fighters are currently 40-4 down against Turkey.

Sweden look set to lose Smaland after all with Poland winning 52-0 there.





The rest of the World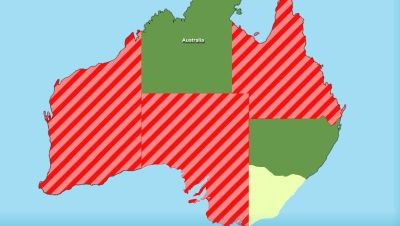 Australia lost two regions in Western Australia to Indonesia and Queensland to Chile while also losing a resistance war in South Australia to Chile. Northern Territory has just been attacked by Indonesia.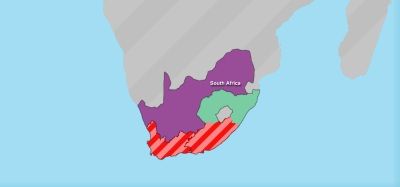 South Africa lost Eastern Cape to Brazil and are currently losing 21-12 in Western Cape to Uruguay.




Japanese resistance forces currently losing 51-15 to Republic of China (Taiwan).
Thailand lead by 54-1 in Peninsular Malaysia against Malaysia and finally The Philippines have started a resistance war against Spain in Mindanao, still in the first round.




Before I go I want to give a big shout out to Airbornes newest GOW Merle Corey. Now we all see new gods of war every day but I think he is one of the first to get the rank without getting one battle hero medal. That to me says it all about this man, a totally selfless team player. o7 Merle Corey






If you want to become a full member of an active community, travel the eworld and do things many never do in this game, you should honestly start thinking about joining the Airborne. We are a fun and active community protecting the eUnited States of America. Heres a little info on our eUS Military branch and how to join today!

Airborne minimum requirements are Division 3 or 4

Apply Here

Not strong enough for the Airborne yet or have no experience with a military group?
Then join the eUS Training Corps!
Publicar comentário
O que é isso?

Estás a ler um artigo escrito por um cidadão do eRepublik, um imersivo jogo de estratégia baseado nos países do mundo real. Cria uma personagem e ajuda o teu país a alcançar a glória, enquanto te tornas num herói de guerra, num editor reconhecido ou num guru das finanças.