Dia 1,902, 05:22
•
Publicado em Japan
•
por Kitsune Usureki
Tomorrow will be the day of the Country President elections, and it seems the final list of candidates has been set. I am honored to be supported by 2 major and 1 minor parties of eJapan, and I will do my best to prove my competence.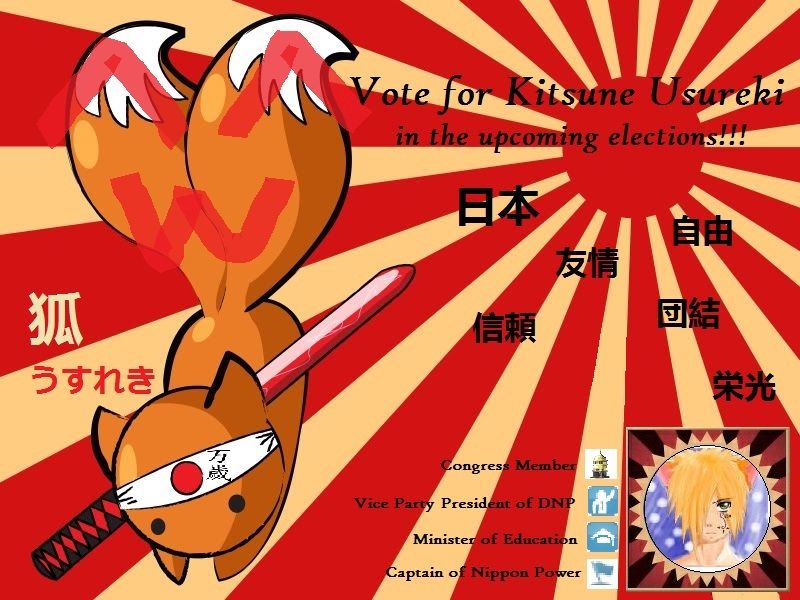 I have already described some things in my previous article (read
here
) but some of you demanded further descriptions about my policies. To tell you the truth, I am wasting my time here. The DNP/CtG coalition will support me without an article like this, and ISP/SoS/SSG faction made its decision aswell. People from ULJ will still support Akki, and Hiza-chan is running again despite of the lack of chance to win. But in chase anyone reads it, here are my plans :
The bicameral political and voting system
The first change is needed in the political methods itself. If we do not know how to agree then we will not be able to do so. The current system which includes the forum discussion is very slow and ineffective - look at the number of approved and practiced law. Yes, it is
zero.
I was working for an effective but democratic solution which requires activity - so I dreamed a bicameral system.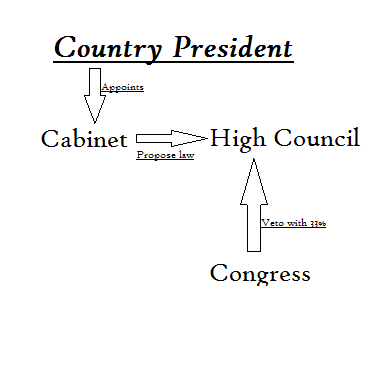 The Country President appoints the members of the cabinet, and starts a discussion thread with the ministers IG. The CP leads the conversation and oversee the work of the cabinet. In my cabinet, every minister would be ought to appoint a Vice Minister of his or her Ministry in chase of unplanned inactivity. The High Council would have 5 Daimyo - one-one from top 5 parties - and the daimyo shall represent the will and power of votes of his or her party. A daimyo's voting power would be equal to the daimyo's party's number of congress members. The cabinet may propose a law to the high council after reconciliation, and open an IG article where the proposition is written down, and everyone may comment under it. A law may not be accepted before 24 hours after publishing of the article. After the 24 hours, the daimyos will have 48 hours to make the decision and discuss with the party he or she belongs to. If 33% of the congress disagrees with accepting or rejecting a law, then a full congress voting shall be declared on the eJapanese
National Forums.
With a voting system like this, we would make voting faster and smoother because of the centralization, but we would not lose democracy because the veto power of the congress. The work of the high council would be public, thus there is no chance of shady bussines or misunderstanding, and everyone would have the chance to see the processes of the government, and announce his or her thoughts about the topic,
without
an external webpage.
---
The Immigration Law
This thing has the second priority - but without a new voting system, there is no chance of agreeing on such law. My personal opinion is that the Immigration Law shall be liberal. If the congressman wants the best for his e-country, then the congressman will not approve dangerous citizenship approvals - but on the other hand, the ones who wants to ruin eJapan will not care for any Immigration Law. There are many good thoughts on the forums, but I am planning to restart the discussion about the topic with the cabinet, and when we will have an acceptable proposal, then we will propose it to the high council. This propose will be surely familiar to people who followed the arguments on the forums, because almost every possible variation of such a law has been written there already, and I think some of them will worthy enough to use them as refference of a
New Immigration Law
.
Cabinet and other stuffPrime Minister :
Geezus
Governor :
Darshu
Minister of Deffense :
Ceda
Minister of Education :
Lucifel
Minister of Foreign Affairs :
Squibeel
We will have to rethink our foreign tactics - we have many useless MPPs and they are very expensive to maintain. Thus we should use money for different purposes; MU and program supply for example.
---
This will be an interesting election - I think everyone is interested in who will win this time. In any chase, let us hope that Amaterasu will bless us with a Second Golden Era with the next term!
Hail eJapan!Kitsune Usureki
Day 1,904 of the New World
くろにしび
Publicar comentário
O que é isso?

Estás a ler um artigo escrito por um cidadão do eRepublik, um imersivo jogo de estratégia baseado nos países do mundo real. Cria uma personagem e ajuda o teu país a alcançar a glória, enquanto te tornas num herói de guerra, num editor reconhecido ou num guru das finanças.