Dia 1,788, 02:30
•
Publicado em USA
•
por Artela
I see a lot of articles which could be improved just by basic grammar and spell checking. The spell checking I can't do much about in an article like this, however the common grammar mistakes can be corrected easily if people think about the context of the word they are using and change accordingly.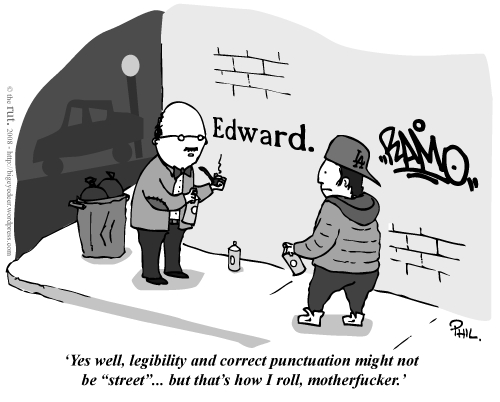 Common basic grammar problems
There / Their / They're
There – this is the one to use if you mean something is somewhere, not here but there
Their – this is the one to use if you mean "belonging to someone", it is their word
They're – this is a contraction of "they are" and should only be used where "they are" would make sense
Your / You're
Your – use this one for the context of "it belongs to you"
You're – this is a contraction of "you are" and should only be used where "you are" would make sense
Its / It's
Its – belonging to it
It's – contraction of "it is"
You should be getting the hang of it by this point…
This short informational snippet brought to you by the 'Society of Pedants Against Cruelty to the English Language'! Join today! We have Cake!
All the best
Artela's wiki
It is traditional for me to end my articles with a bunch of links for you, hopefully with information you'll find useful...

Get the latest news from the White House Press Office

Citizen orders for daily fighting - vote them up!

Keep informed. Get educated. Play the game.

Make sure you join the official USA forums!

Click here to join the Armed ForcesOther useful articles and news links from elsewhere:
Our President's newspaper
The Pony Express
eNPR - the nation's radio station
Publicar comentário
O que é isso?

Estás a ler um artigo escrito por um cidadão do eRepublik, um imersivo jogo de estratégia baseado nos países do mundo real. Cria uma personagem e ajuda o teu país a alcançar a glória, enquanto te tornas num herói de guerra, num editor reconhecido ou num guru das finanças.