Giorno 1,943, 10:54
•
Pubblicato in USA
•
da Duncan Crowe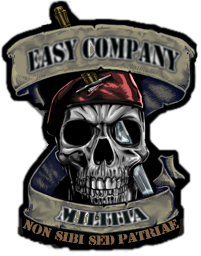 "Death is not the greatest loss in life. The greatest loss is what dies inside us while we live."
When I joined Easy Company, roughly 5 months ago, I had full confidence that their leadership would be able to lead me throughout my eRepublik life and that I would never have to worry about them making the wrong decision, or anything of that sort.
So, when I woke up this morning, I was shocked to learn that EZC had
declared
their independence and that Gnilraps already had an
article
up about the issue.
As many of you might know, I am a bit of a Fed. forum spammer and a very active member of the Federalist leadership. So, wouldn't it be logical that I would know of this before it happened?? Well, the truth is that I had no idea that this could ever happen in the near future, and I'm sure almost everyone in EZC and the Feds shares my opinion.
Because
no article
was raised beforehand.
Because
no forum topic
was raised beforehand.
Because
no EZC Command member talked
to me about it beforehand.
Because there were
no poals
beforehand.
To be honest, I expected more from the EZC Command team and expected them to actually value the opinions of Fed and EZC members. But, to be brutally honest, this was a
decision purely by the EZC Command
.
The fact that they couldn't be satified staying
Fed.party
affiliated and recruiting Feds. saddens me. EZC Command wants more power to recruit everyone, and refused to inform anyone of their intentions beforehand. And that's a MU I can no longer be in. Note that I hold no hard feelings towards EZC members and wish them the best of luck. But I cannot be in a MU led by this type of command team, regardless of who made the decision.
It's not the fact that they left.
It's the fact that wanted more, and didn't care about the opinions of their members in the process.
So, somberly, I will consider leaving the EZC as soon as I find a viable option. I wish them the best of luck .
Respectfully yours,

Lascia il tuo commento
Cos'è questo?

Stai leggendo un articolo scritto da un cittadino di eRepublik, un coinvolgente gioco di strategia multiplayer basato su paesi della vita reale. Crea il tuo account e aiuta la tua nazione a ottenere la gloria mentre diventi un eroe di guerra, un famoso editore o un guru della finanza.