Hari ke 1,937, 23:47
•
Diterbitkan di USA
•
oleh Ronald Gipper Reagan
Join the American Freedom Alliance
Join the American Eagle Division
I am deeply honored to be the sole person singled out by this months Pfeifferist puppet, Vanek26. In recent months I have had to share this distinction with several other fine American Patriots, but this time I get to be the only person in the new citizens message. It is just fantastic to know I am still getting under the skin of the elites, and to the extent where they feel like I am the only person they should mention in their automated propaganda message. On behalf of all free Americans, I will deliver this message to the PTOers who seek to keep our nation in slavery and to oppress those of us who stand together united in the desire to be free.
We all know that this story repeats itself throughout history. We are still not in the majority, this is true, but a tyranny of the majority is still a tyranny nonetheless. One day we will be victorious because we have truth and honor on our side. We have a red badge of courage and a willingness to defend our country as long as it takes and as hard as it takes. Myself, the AFA, and its allies will continue to stand up for what we believe in. When our CP candidate congratulated his opponent(far more grace than I would have in the same position) he was met with several expletives. The same thing happened when our PP congratulated him. So ask yourselves, who is more American, the people with class or the ones without?
Speaking my mind and refusing to compromise on my principles, be they real life or on eRepublik is a cross I have always chosen to bear. We must have the courage to say we want a free nation where no citizen can be persecuted and denied their rights. No one should be harassed with mean-spirited and threatening messages. No one who wishes to fight for our nation should be denied citizenship. No one should be introduced to this game with being told to hate a huge group of Americans who love their country. No one should be bullied or intimidated in a way that goes way beyond gameplay as those who oppose us have done. I live my life by a strict code of honor, one I would die before violating. I love this country, WE love this country, and we will keep on storming the beaches until we liberate our homeland from tyranny.
Semper Fi! o7
Ronald Gipper Reagan
AFA Congressman
AFA 2-Term Party President
AED Commander ******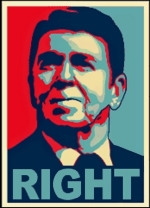 Posting komentar anda
Apa ini ?

Anda sedang membaca artikel yang ditulis warga eRepublik, sebuah game multiplayer berbasis negara di dunia nyata. Buat sendiri karaktermu dan bantu negaramu untuk mencapai kejayaannya sambil membentuk dirimu sebagai pahlawan perang, penulis yang terkenal atau raksasa finansial.