Dan 1,897, 02:32
•
Objavljeno u USA
•
od Bia Pandora
Day 1,897 ~ January 29, 2013
If you logged in yesterday, you no doubt saw shouts and
articles
about the real life deaths of a player named
eTomislav,
his wife,
Perunika
and their 4 year old son.
You might have seen players from all over the eWorld wearing this avatar to honor this family: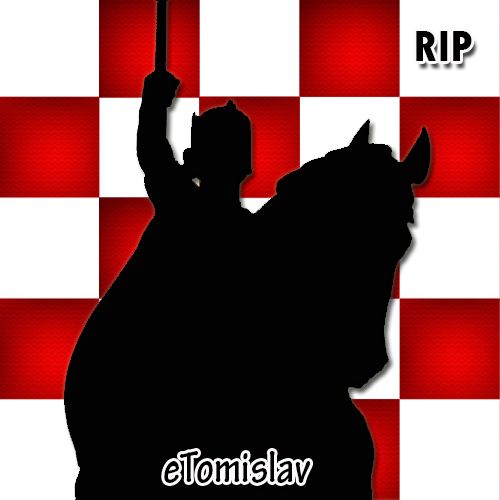 My sincerest condolences to their family and friends, out there in the world or in this game. I am deeply sorry for your loss.
The whole situation got me to thinking about how little we know about each other. This IS supposed to be a "social strategy" game. We come here knowing from the start that we will be socializing with other players, and that we need that socialization to "win". We spend time daily interacting with each other. It might be as brief as reading an article in the media, or as intensive as spending hours a day on IRC and on forums.
How much do we really know about each other?
I don't know about you but I fight harder for the people I know and care about. Why don't we know each other better?
Some might say that they don't care to know about the people behind the avatars. That's cool, I can understand that. I say that I am here because I want to game with other people and I like to know who is behind the monitor.
So...in an effort to learn a bit more about YOU, I have decided to share a little bit about me first. Nothing too personal or identifiable, as most of us know there are some pretty creepy stalkers roaming around, who sit for hours hoping someone will give him real life information that he can terrorize and stalk them with...
Ewwwwwwwww, creepy creeper is creepy
Bia Fact #1
I grew up in the "projects" of Brooklyn, New York. I played under water streaming from fire hydrants, and my mom used to throw money out the apartment window wrapped in tin foil for the ice cream truck, just like in the
Eddie Murphy skit
. The ice cream man's name was Johnnie. He died when I was in my 20's. Felt like Santa was dying or something. We'd melt crayons into bottle caps and play
Skelly
on the concrete. Good times.
Bia Fact #2
When I was 18 I went to work in 1 World Trade Center. I worked for a Japanese international banking corporation. They borrowed and loaned MILLIONS of dollars at a pop at different interest rates. I worked on the 88th floor. My desk was 15 feet from the window, and the building used to sway in the breeze. You want to talk about freaky...sitting there and feeling that sway and wondering when the building was going to just...fall over.
Sadly it finally did, as we all know. From where I sat I would have watched the first terrorist plane hit three floors below me, on September 11. Fortunately, I was already living in Iowa at the time. Watching it all on CNN that day was surreal. It still is really. I keep two framed photographs of the New York skyline before that day, so that my children can view the landscape that I grew up with. I'll never forget.
Bia Fact #3
I started out gaming online with CounterStrike 1.5, back before STEAM. My boyfriend at the time played it daily, and in an effort to do something he enjoyed with him, I learned to play alongside him. He belonged to a badass clan back then, and I wasn't allowed in it until I could clear 25 kills on a full map. I finally did it on Office, my favorite map. I can't tell you how many hundreds of times I blinded my whole team throwing a flashy through that front window, lol, until I finally got it right. I still don't think I've felt as proud gaming as I did that day that I made the clan. No hax, no exploits, no aimbot...just sheer force of will. Knifing woosie AWPer spawn campers was my favorite thing to do. We have players like that here. They oughta thank the admingods that I can't pick up a knife.
😉
Weapons of choice: M4 & Desert Eagle. Always a CT if I could help it. God, I hate terrorists.
I got WoWnapped for two years as a main healer/guild leader/raid leader. What a waste of life that was. It's crack. Just...don't...do...it. You wake up one day and realize you don't remember most of the time that has passed since you bought it. Seriously. Just don't.
Bia Fact #4
Yep. That's me, smiling at you. I was a little younger and my hair is a bit whiter now, but it wasn't too long ago. I figure it's already out there and has been on the forums so creepy creeper has already seen it, I'm sure.
Hi.
🙂
Will you share something about you with the rest of us? I'd really like to know who you are!
Love & Hugs,
Bia
Objavi svoj komentar
Što je ovo?

Čitaš članak koji je napisao građanin eRepublika, virtualne strateške igre za više igrača koja se temelji na stvarnim državama. Kreiraj svoj vlastiti lik i pomogni svojoj državi da stekne slavu, dok se ti dokazuješ u ulozi ratnog junaka, renomiranog izdavača ili financijskog stručnjaka.