1,915 jour, 05:09
•
Published in Belgium
•
de Tony Clifford
My beloved Belgian readers, here you are the usual biweekly update on the eWorld's MPPs!
Last article: http://www.erepublik.com/en/article/-tbre-alliances-of-the-eworld-day-1900-2207692/1/20

The number of MPPs continues again to go down.
In day 1914, the number of MPPs is 328, 24 MPPs less than in day 1900

Day 1914 MPPs situation




On the left there are CoT (light blue), TWO (violet) countries and ex-CTRL (red) countries, with some other countries.
On the right we have EDEN (dark green), Asgard (yellow) ex-TERRA (light green) and ex-EDEN (orange) countries, and some others.
4 small nations remains without MPPs: Belarus, North Korea, Saudi Arabia and Denmark (which is in union with Germany)

Two weeks ago, we saw Russia moving from the right to the center of the playground, where it remains in these days. The Russian war against Iran, helping Macedonia, has put its damage on the CoTWO side.

Two weeks ago, except for Russia, the only MPP connecting the two sides was that of the USA with Albania. This week, the number of cross-MPPs raised: Germany signed a MPP with the USA and Malaysia with China. That made these two countries to move away from their former cluster, and to join the middle of the playground.

Day 1900 MPPs situation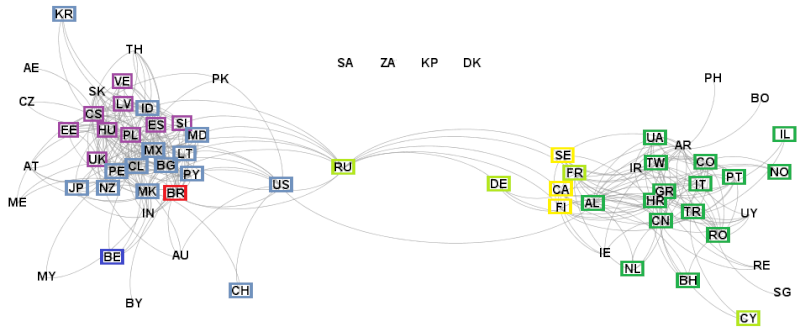 _________________________________________________________________________

The Alliances Bar
Thanks to aVie, who fixed the egov4you.info site, after one month, the alliances bar is back again.
Based on the total weekly influence (last article: http://www.erepublik.com/en/article/-tbre-alliances-of-the-eworld-day-1886-2196922/1/20)





Alliances include TWO (violet), CoT (Blue), Asgard (yellow) and EDEN (dark green).
The most powerful neutral countries were added (Argentina (green), Brazil (dark red), Russia (orange)).
The other countries were divided in CoTWO-side neutrals (light blue) and in EDEN-side neutrals (light green) on the basis of their MPPs in day 1914.

Several countries left EDEN (Ireland, Argentina, Norway, Portugal), but their MPPs continue to be with EDEN countries, and so are their damages.
Russia shifted towards CoTWO. That made the CoTWO-side to gain about 4% against EDEN. And the difference is about at 20% of damage.

The figures: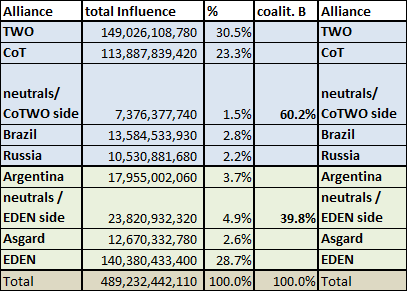 Coalitions B is a comparison between the two main sides:
CoT+TWO+CoTWO neutrals+Brazil+Russia vs. EDEN+Asgard+EDEN neutrals+Argentina

by Tony Clifford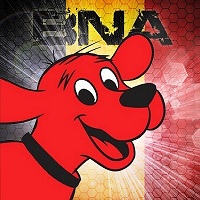 ________________________________________________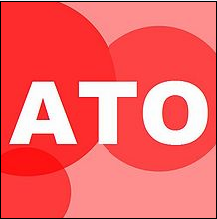 Publier ton commentaire
Qu'est-ce ?

Vous êtes en train de lire un article écrit par un citoyen d'eRepublik, un jeu de stratégie multijoueur immersif où l'on retrouve des pays réels. Créez votre propre personnage pour aider votre pays à atteindre la gloire et devenez un héros de guerre, un grand journaliste ou un magnat de la finance.