Día 1,910, 19:09
•
Publicado en USA
•
por stylez of roman
Black Water Mercenaries are Electronic!
Tired of not getting the fighting you want?
Thats pretty nice isn't it? A lot more of them are waiting for you in Black Water! We travel the world fighting for the highest bidders! Most units will just follow blindly to what this
Hippy State
Govt claims is a legitimate Campaign when in fact they are just too afraid to fight someone with substance. Not with the Mercs... We'll fight anywhere and everywhere just because we can! We're tired of Unity's bullshit and hindering growth through conquest.
What are the Requirements to join?
--Motivation is the Key. We are highly motivated to fight and win every battle we are commissioned for.
--Must be Ranked Commander or higher.
--We require commitment to the Unit. You will honor the contracts and do anything in your power to win.
What can Black Water Offer?
How about we start off with some excitement... We are all getting sick and tired of not fighting. We're all sick of not having bonus'. We'll fight for countries who actually want to help their citizens and we'll do what we can to help them. Did I mention you
DON'T
have to pay for travel costs...
I WILL
!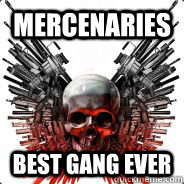 Do we give supplies?
Of course we do! We have Q7 communes!
In conclusion...
If you are completely bored with the lack of fighting around here come and join the Mercs! Mercenary medals are super easy to achieve when you get paid to fight for every country
🙂
!
Publicar tu comentario
¿Qué es esto?

Estás leyendo un artículo escrito por un ciudadano de eRepublik, un juego de estrategia multijugador inmersivo basado en países reales. Crea tu propio personaje y ayuda a tu país a alcanzar todo su esplendor mientras tú te consolidas como un héroe de guerra, un reconocido editor o un gurú de las finanzas.