Day 1,815, 11:25
•
Published in South Africa
•
by Badger06
This was a true showing of what South Africa is made of and what we can do in this game.
After seeing Grimstones CH the day before Crumoet was inspired to get his own, here is how it went down.
You shall not Pass
From the first minute of Battle 1 Crumoet commited dropping 9.7 mil to claim the BH
After recharging he came back in battle 7 and claimed that BH as well with 8.3 mil damage
Battle 12 was an epic show down. Crumoet stood his nerve and bettered his opponent Cruel Destiny.
Some weren't happy but then again some are never happy
We defended our Hero against this slander
Battle 13 rolled on with both throwing it all for the CH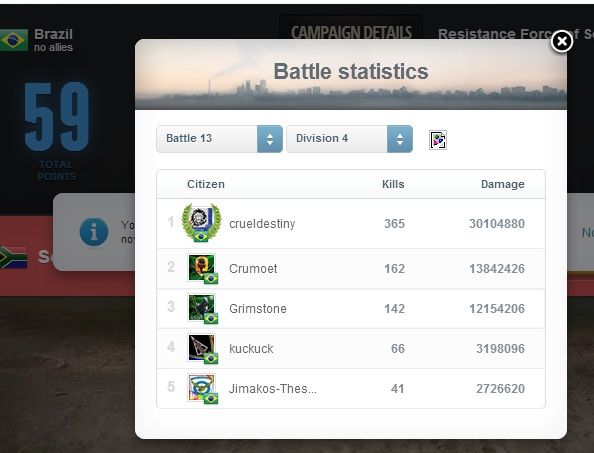 Crumoet smited all that came and claimed his prize
A glorious CH, that will forever echo in South Africa's history.
60.5 Mill is pretty insane !!!
Sorry Cruel Destiny but
.../l、
(゚、 。 7
 l、 ~ヽ
 じしf_, )ノ
Vote Miaow
Subscribe Miaow
Donate Miaow
Comment Miaow
Post your comment
What is this?

You are reading an article written by a citizen of eRepublik, an immersive multiplayer strategy game based on real life countries. Create your own character and help your country achieve its glory while establishing yourself as a war hero, renowned publisher or finance guru.