Day 2,141, 00:30
•
Published in USA
•
by James S. Brady Press Room
WHPR Day 2141 - Foreign Affairs; Gaming; English Letters; War Map; eNPR
HeapSeppo goes pro FA on the Media
Dateline:
Monday, September 30, 2013 (Day 2,141)
Location:
James S. Brady Press Room, The White House
Today's WHPR:: 1:
Foreign Affairs
: 2:
What Makes a Online Game Great
: 3:
English Letters
: 4:
War Map and Analysis
: 4:
eNPR
Editor:
Co-SecMed Melissa Rose
Contributors:
Co-SecMed Custer, Phoenix Quinn, Morning Star, HeapSeppo, Kelly J. Brown

Foreign Affairs
HeapSeppo
Recently there have been a lot of things going on. Talk of nations changing sides or moving further towards TWO. The two countries that have been mostly in focus are Brazil and Portugal. As some know, Portugal has been pro-TWO for awhile and has now moved even further towards them. They signed a treaty with Spain recently to strengthen that relationship.
https://docs.google.com/document/d/1Y9NaMotPJ91EdokgcbYjByR2B2K7TYzGLvNbviEY2Rw/edit
The other country is Brazil who previously had a "Bro pact" with us, called the CUB treaty. The Bro pact was a signed document that showed our mutual love for each other. This document meant that we were going to fight for each other and help each other in times of need with things like ATOs.
The CUB treaty:
http://www.erepublik.com/en/article/-whpr-misery-loves-company-support-the-us-recruitment-drive--2283108/1/20
Brazil decided to move in a different direction, MPPing a country that is in direct war with us. This country is Spain. It is really sad to have lost such a great connection and I hope that we can restore it in the future. Different times, different people.
http://www.erepublik.com/en/main/law/Brazil/132824
That brings us to the last country that has been talked about, Spain. We might not have had MPPs with each other or even been in the same alliance, but we have always had a rather good and healthy relationship. We might not fight for each other, but we have not been fighting directly fighting against each other. To make a long story short: Spain got bored of not having any direct wars. Their Congress decided to find an opponent. They chose us and then attacked.
So, is this the part where we ask some provocative questions, like, "where was our Diplomatic Corps while all this was going on?" or, "did America and CoT really let Brazil down?" We could do that. But Brazil's decision had more to do with their own unstable internal politics than anything else. Portugal simply drank the Spanish Kool-Aid rather than go to war with their more powerful neighbor. And Spain… well, they're Spain, and nothing underhanded they pull should come as any surprise-- especially since they've come under pressure from Serbia and TWO.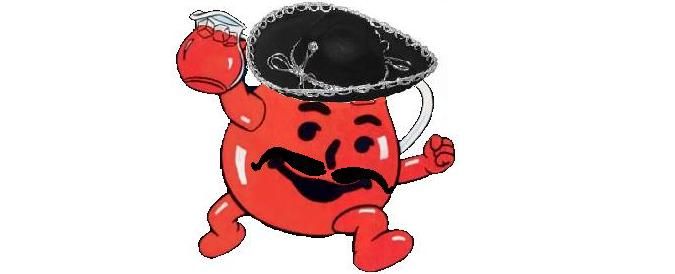 Different times, different people. Same Kool Aid, different day.

What Makes a Online Game Great
Kelly J. Brown
There are any number of factors that can make an online game good, and most of these are outside the control of the player. But I will submit that, what makes such a game great is not the design, graphics, or gameplay, but rather, something much more basic to the human experience: other human beings.
I am very new to eRepublik, and relatively new to social games in general. I guess I don't really fall into the normal gaming demographic – female, over 25 (positively old, I know), and, to be perfectly honest, a bit short on eye-hand coordination. But when I came across this game, something about it immediately appealed to me. It might have been the prospect of building up a character and participating in e-wars, or perhaps it was Plato's undeniable sexiness. But I think it was more likely something else: that what's really engaging about this game is not clicking buttons and watching numbers go up, but rather, participating in a vibrant community – an online community, but no less real for that. The more I've gotten to know some of the players here, the more I see fun, intelligent, organized human beings. People with sharp senses of humor, a welcoming attitude, and no short amount of e-patriotism.
I will admit that when I first noticed that our e-country was currently on the receiving end of some rather unpleasant brutishness from both within and without, I thought that perhaps I had joined the losing team. No one wants to see their e-country go down in flames! But what I am now coming to realize is that, again, this game is about something much more basic than wars and territories and political take-overs: it's about people. People having fun organizing themselves around a common purpose, and having great experiences and occasionally forging lasting friendships along the way. As with any game, one can't always expect to win, but one can always expect to have fun in the company of good people.
So even if we do get wiped, I'll still be here, doing what I can and enjoying the company of my fellow players.
…But all that said: there's nothing like being invaded to spark some patriotism. Let's go kick some e-Polish and e-Spanish tail.


Does it really have to be all that complicated? Anti-multi philosopher and blade-walker
Billy Occam
was famous for saying that theories should not be any more complex than absolutely necessary. Actually, he said that theories should not "multiply entities unnecessarily". But that's probably more complex than absolutely necessary, right?
Billy
Ocean
, on the other hand, said, "If I had to start all over without you I wouldn't know where to begin. 'Cause you are all that I need and I want you bad enough to keep on trying. Stand and deliver." Which is a whole 'nother thing.
Wait. Where was I? Oh. Right. Simplicity, science and razors. OK...
Let's suppose that the well-known e-Spanish philosopher, scientist and mystic
Isaac Newton
watched an apple fall and wisely exclaimed, "I've got it! Apples are caught in a tug-of-war between friendly
gremlins
who pull them up with promises of higher wages and horrid
trolls
who pull them down with nasty comments. And trolls are stronger than gremlins. QED: Apples fall downward."
Our friend Billy Occam would've retorted, "Isaac. Dude. Your theory accounts for all the observable facts, but it's way too complicated to be right. Get with the program: Keep it simple, stupid!"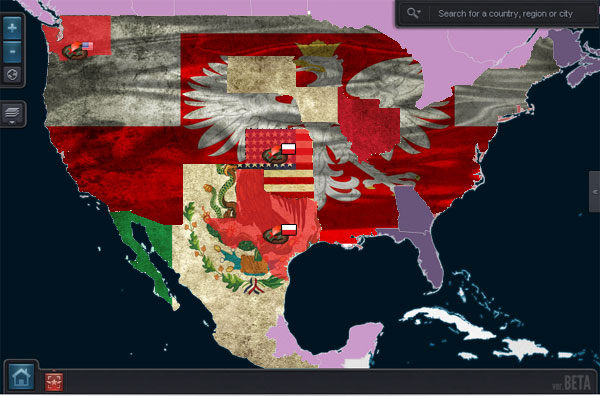 War Map and Analysis
MourningStar
Well folks, I am not here to blow smoke up your otherwise already puckered nether regions. With Kansas now under attack as well, we have lost some major battles the last couple days including Florida, Georgia, Kentucky, and South Carolina. Without sounding like I am beating a dead horse, Plato has it against us again. Back to back to back contests and bonuses have played right into the hands of TWO and helped push us to within inches of our lives and our last few states. Resistance fighting and guerrilla warfare seem to be the order of the day. Make the Polish menace fight itself while drawing attention away from more serious battles. While decisions of where to fight or not to fight might not make perfect or clear sense at the moment, there is a strategy. There is a purpose. There is still a United States!
---
Our Mexibros down South have not had it easy either, losing two territories to Venezuela and a few Resistance Wars to Poland. They currently have Texas under siege from the Polish horde as well. Mexico may have been able to land swap Oklahoma with us enabling the US to gain a food production boost, but they will probably need to focus on defending Texas and their own lands from the grip of Venezuela in the future.
---
It is now more important than ever in this smaller scale skirmish and resistance war environment to follow DoD and Military Unit orders. We must keep our heads high and our rifles clean if we are to come out of this stronger and with more resolve. The nations of TWO and those we had truces with might be able to take our land for now, but they will never take our memory... and brother, do we have a long memory.


eNPR; Your Oval Office Radio
President Oblige ran amok on the
Friday night
eNPR, beginning the show with the bombshell announcement that we will not seek a third (seventh overall) term of office. Even as he dominated the 100 minute show, mostly explaining how high taxes and low regions and resources work, SecMed Custer and eNPR Co-Host hammered the President with the popular view that these things just piss off the average player.
Upcoming eNPR Shows:Next Tuesday
, Talostastic presents
"the straight show"
with real guests and real news.
Next Friday
-- Election Eve-- Talos will host the
Bigass POTUS Debate
. Citizens are asked to submit questions for the candidates-- post them in the Comments to this article! Even if Josh Frost runs unopposed, he'll be grilled to explain in detail his agenda and how he expects to deal with the many problems facing America in the next month.




Melissa Rose
-|-
George Armstrong Custer
"I would rather rot in hell for all of eternity for standing by my principles, than get into heaven by leaving those principles behind"




Staff Writers Irule777, Mourning Star, Bucephalus92, Phoenix Quinn, and Guest Writer Kelly J. Brown

WHPR Day 2141
http://www.erepublik.com/en/article/2324281/1/20
Foreign Affairs; Gaming; English Letters; War Map; eNPR
---
Be Sure to check out these Official Government Newspapers for the latest News!
Use @whitehouse in any IRC room running Sovereign to see the latest Government News articles.
3069
:::
Post your comment
What is this?

You are reading an article written by a citizen of eRepublik, an immersive multiplayer strategy game based on real life countries. Create your own character and help your country achieve its glory while establishing yourself as a war hero, renowned publisher or finance guru.