Day 2,129, 00:21
•
Published in USA
•
by James S. Brady Press Room
WHPR 2129 - Huge eNPR Show; ATO Wrapup; English Letters; War Map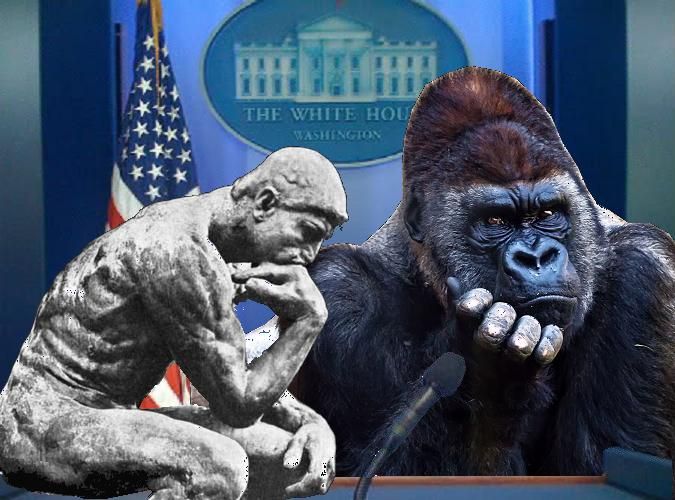 Literary giant Phoenix Quinn and Great Ape Colin Lantrip ponder the state of America today.
Dateline:
Wednesday, September 18, 2013 (Day 2,129)
Location:
James S. Brady Press Room, The White House
Today's WHPR:: 1:
eNPR Tuesday Night Review
:: 1a:
First Guest Colin Lantrip
:: 1b:
Last Guest Ajay/RGR
:: 1c:
eNPR Wrapup
: 2:
ATO Action: What's Next
: 3:
English Letters
: 4:
War Maps & Analysis
Editor:
Co-SecMeds Melissa Rose and Custer
Contributors:
Staff Writers Bucephalus92, Mourning Star, Phoenix Quinn, and Guest Writer Talostastic


eNPR, Your Oval Office Radio
Tuesday Night Host and Co-eNPR Director Talostastic
Excerpts from the Opening Segment with Colin Lantrip
In the opening segment, Colin sold it to us straight. "The push to remove Poland isn't going well, and it was made a measure more difficult by the Epic tournament, though it may not have been going too much better without. The appearance of the Tournament wiped out about 2 months worth of progress, on nearly every front except Macedonia."
He added, "Our success has been short-lived. As soon as they catch on, they're going to be beating us into the ground again."
"Short of, you know, millions and millions of CC, I don't see a way out of it [...] That's TWO in general, not just Poland."
The Great Ape summarized the current situation with, "The bottom line was something major needs to change, be it with Taxes, how we utilize our Damage and Combat Orders."
Either way, there will be tough times ahead.
---
Excerpts from the After Show with Ajay/RGR
After an opening salvo where Ajay informed us we were "wasting our time", Custer fired back that the battle of Morale is far more important than any long-term success or lack of the monthly PP PTO might bring us.
After "The Gipper" promised us he would eventually reach a point where we would need 5 anti-Ajay bodies for every body the AFA has, to even have a chance to freeze them out of Congress.
The allegations of "Dead Player Resurrection" were discussed, and the lack of evidence presented by Ajay/RGR in his recent article. His points were that many dead players returned to life on the 15th, and the jump from "barely over 6000" US players to our current total of around 6800. The massive Baby-Boom of the AFA on the 24th was also brought up, though Ajay/RGR at no point directly answered the allegations.
At this point, the show begins to become a little chaotic. As long as Ajay/RGR wanted to rant, I tried to be as calm of a moderator as possible and give him all the rope he needed.
Of course, at one point, Ajay/RGR decided to take that rope and hang himself with a
public admission, (two separate times)
of having Bots under the AFA's control.
Melissa Rose and Ajay/RGR then had an exchange about his habit of posting players' personal information publicly, where he repeatedly deflected the question. He continued to attempt to bring the conversation back to blaming Melissa Rose for "forcing" her daughter to join the AFA and spy on him, completely ignoring the statement that it was an independent idea and not any sort of "mission" planned by Melissa.
Of course, Ajay couldn't go the entire broadcast without saying something totally nutty, so his final line as part of the Aftershow was
"But, um, here is [...] the solution to solve all this. Now, what we can do is stop PTO'ing my party, let me be President, agree to be an American-Serbian colony, and everybody wins, how's that sound?"
I dunno, America… how's that sound to you? Sound like a plan?
---
eNPR Wrapup
Host Talostastic and Co-Host Melissa Rose kicked off the Tuesday night "straight show" with special guest Colin "The Great Ape" Lantrip. Further guests included Mazzy Cat, Fed PP Tyler Bubblar, Danish CP Ilphen, US CP Oblige, CoT SC potato134, UK DepPrime Minister Chew Chew Shoe, and Special Aftershow Guest AFA PP Ajay/RGR.
Topics covered during the Live portion of the show were: the war to remove Poland, Denmark's commitment to eUSA's war, ATO, a bit of CoT talk, and the awesomeness of Google Documents.
Ajay/RGR joined during the aftershow, and after he left there were still more hot topics discussed.
Listen to
Tuesday's Show
On Demand, at your leisure.
You really, really should check it out. Front to back, it's an excellent show.
Join Custer, Melissa Rose and the WHPR Press Corps
next Friday night
at 18oo hours for some unchained eNPR madness.

ATO Action: What's Next
Mourning Star
Stand fast, be ready...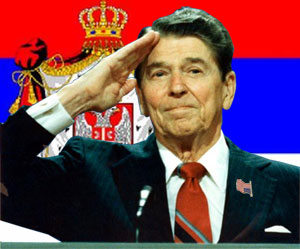 Okay ladies and gentlemen,
Ajay/RGR
was successfully and forcibly removed from his twisted herpes infested throne atop the pile of active Serbian and US non active players that make up his
constituency
... but don't let out a sigh of relief quite yet. No, no, no. You cannot get rid of the vile disease that has plagued our lands for far too long THAT easily.
Despite the sound advice his own wife,
Nancy Davis Reagan
gave to him, the Gipper is at it again. This time with a slightly used party re dubbed, but of course-- the
American Freedom Alliance NEW
. In the hours after the recent elections, funds were transferred, bots were moved, red telephones answered with shrieks of anger, and RGR was already rebuilding his evil empire. One that has ballooned from a mere 26 members a few days ago to over 130 members and a place near
the top five
biggest parties. So make sure to gear up for another round of "Don't let Ajay/RGR ruin this nation" ...again.
---
I am also reminded to let those heroes and villains who participated in the ATO/PTO efforts and are still in
AFA will ALWAYS fail
know that it is time to move back to your home Parties and get ready for more ATO action… even if that means most of the enemy within are going back to Serbia or Poland--
eUS prevails, Ajay forever fails!


I was once shooting the McDoodie with
Socrates
. This was long before he was forced to drink the e-hemlock. Whilst I myself was enjoying a non-alcoholic cherry juice, which soothes my achy joints, he'd of been into his cups. I was quizzing him on whether players have an essential character, or if everything about a player is ultimately just an accident.
As an adherent of the Middle School, I was splitting the difference. "Isn't it the case," I asked him, "that players must accept the cards that eRep life deals them? But once they are in hand, each player alone must decide how to play the cards in order to win the game?"
As he was wont to do, Soc went all zhizzy on me and blustered: "Well, duh! Phoenix, you know as well as I do that the somatic construction of reality will always fiercely critique essentialist biases. But we'll tumble right into an argument by prestigious jargon and other errors if we try to
deny
somatically constructed human universals."
He had me there, especially with that "prestigious jargon" jibe. It reminded me of the time that sexy comrade-citizen
Bayer
, who was a bit of a philosopher-trickster, asked me on the morning after: "Is that an aspirin you're taking, or an atypical elephant?"

War Map & Analysis
Staff Writer Bucephalus92
Greetings, bros! Despite our best efforts our advance against Poland was stalled and we have been subjected to a vicious counter attack. As a result of this counter attack we have lost the states of Alabama, Louisiana, Wyoming, and Colorado.
As current NSC head
HeapSeppo
recently
published
this change of fortune was heavily influenced by the introduction of the Epic Warfare Tournament, due to the fact that a higher rate of energy recovery favors the nations of TWO. Unfortunately, this has meant defeat for us and our allies on several fronts. However, with this Tournament over we can return to a (slightly) more even playing field and resume bringing the hurt to TWO across the globe.
But remember, our advantage over TWO is our willingness to coordinate damage and make sacrifices for our allies, so always make sure your fighting in the right place at the right time.
Plato's ill-timed tournament has cost the U.S. several states, however resistance cells from all over the country continue to carry on the fight.
Sir Winston Churchill once said "The longer you look back, the farther you can see ahead".
When I look back, you know what I see, America? A nation that has experienced some of the most large scale invasions this game has ever seen, and has come out stronger than ever. A nation whose community has weathered one of the largest and most malicious attack on a nation in the history of this game, and continues to hold out day after day, despite this assault. Looking back makes it clear that if there was any nation that could withstand these onslaughts then it would be the United States, so let's come out swinging.
"To survive is to endure and prosper,
and we have most certainly survived.
"





George Armstrong Custer
-|-
Melissa Rose
"I would be willing, yes glad, to see a battle every day during my life."





Staff Writers Irule777, Mourning Star, Bucephalus92, Phoenix Quinn, and Guest Writer Talostastic

WHPR Day 2129
http://www.erepublik.com/en/article/2319889/1/20
Huge eNPR Show; ATO Wrapup; English Letters; War MapVoice of Circle of Trust
http://www.erepublik.com/en/article/2319862/1/20
The Best The Brave and The Fierce
---
Be Sure to check out these Official Government Newspapers for the latest News!
Use @whitehouse in any IRC room running Sovereign to see the latest Government News articles.
3056
:::
Post your comment
What is this?

You are reading an article written by a citizen of eRepublik, an immersive multiplayer strategy game based on real life countries. Create your own character and help your country achieve its glory while establishing yourself as a war hero, renowned publisher or finance guru.