Day 1,539, 08:38
•
Published in USA
•
by Gnilraps

---
Department of Media Fraud
Day 1,539 of the New World
6 February 2012
---
Did you "
Love the Winter Dolphin
"?
More than 1000 of you did, that's for sure.
And
16 Shells
would like to congratulate eRepublik's newest (and youngest!) Media Mogul General Cartman Lee a.k.a. Pizza the Hut (I and II).
In his latest article published just 10 hours prior to the publication of this article, General Cartman Lee promised to award 1 Gold to every subscriber as long as certain terms were met, including his achieving the Media Mogul, and his subscribers post their shout/subscription numbers in the comment section as well as shout the article.
All night Shouts went out about General Cartman Lee's article, so much so that it was an eInternational Viral Sensation. Never before have we seen so many subscribers flock to a new writer so quickly!
In addition to the promise of 1 Gold to every new subscriber, GCL also promised a Q6 tank to anyone who included the phrase "We Love Winter the Dolphin" in their shout or comment. Naturally most subscribers did.
---
16 Shells
was fortunate enough to get screen captures of the article and the first 7 pages of comments before General Cartman Lee took his article down.
It would be too much to publish all 140 screen captures here, but they are available for anyone who wishes to see them. Instead I will merely reprint for you GCL's article and some selections of screen captures.
---
I look forward to hearing the reports of all those who receive their Gold.


---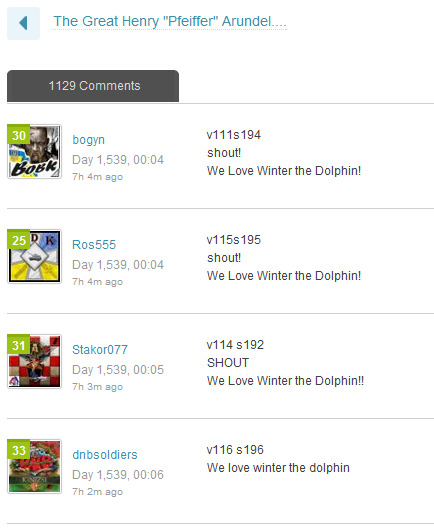 ---
---

---
---
---
You may now return to your regularly scheduled clicking
Post your comment
What is this?

You are reading an article written by a citizen of eRepublik, an immersive multiplayer strategy game based on real life countries. Create your own character and help your country achieve its glory while establishing yourself as a war hero, renowned publisher or finance guru.