Day 3,137, 23:36
•
Published in USA
•
by eUSA Congress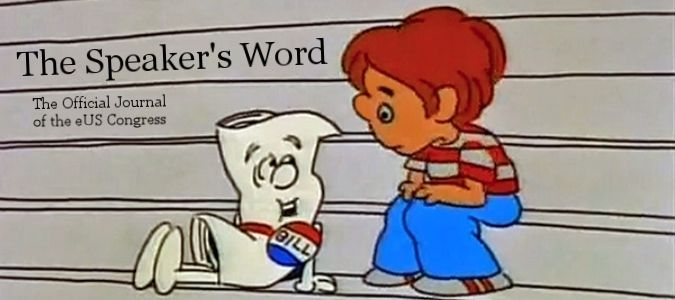 ---
Welcome to THE SPEAKER'S WOR😨 The Official Journal of the eUSA Congress.
---
Dateline:
Thursday, June 23 (Day 313
😎
Location:
102nd Session of Congress
Speaker of the House:
AlexJ1890
Video :
America's Capital
1950s Travelogue
The Word of the Day:: 1 :
Getting Caught Up
: 2 :
This Week's Congressional Activity
: 3 :
The Week Ahead
Editor's Note:
The Speaker's Word will be published every Thursday, by the OMFG and Speaker AlexJ1890.

Follow-up to Previous Congressional Activity

Congressional Activity Since June 16

Changes to Dept of Citizen Affairs Programs
As reported in the DoCA newspaper,
Changes to BU2S and StW,
Department head Ilene Dover has made changes to the programs which are funded by Tax dollars as regulated by Congress. But before announcing the changes, Ilene came to Congress with her ideas, asking for input and guidance, so that her final work would meet with Budgetary approval.
Strangely, Congress seemed confused by this approach, ultimately advising Ilene to do whatever she wants first, then Congress would approve or disapprove of the Department's Budget request, but would prefer to not assist in the development of these cost saving changes.
---
US Does Not Renew Russian MPP (continued)
This thread has been revived in
Private Congress
, so there's no link, but
President Yui has published
an article, so while details of the discussion do remain OpSec the general topic is not in total blackout.
To review.. Wild Owl, joined by Resoula and Orik, advised Congress to not MPP Russia, based on their history of lack of support for the US. Congress did vote to not renew the MPP, and instructed CP/D Yui to do (or not do) this.
Now, a week later, CP/D Yui has published misgivings about stepping back from Russia, and so the Discussion has been renewed. A new Vote is now in progress.
Because the Discussion/Vote is sensitive it is being held in Private Congress, and because the matter is not settled it cannot be fully reported on. SecMed Custer has urged Congress to settle the matter and authorise publication of the story.

What to Look for Next Week
With the Congressional Election in just a couple days, next week's Speaker's Word should announce the initial Sign In, Speaker Nominations and maybe Election results, and hopefully the beginning of July Budget talks.
The Russian Relations story continues to develop in Private Congress, so maybe by next week things will happen which can be publicly reported.

---
Please promote this edition of The Speaker's Word by using this Shout
The Speaker's Word Day 3138
www.erepublik.com/en/article/2602973/1/20
The Official Journal of the eUS Congress
---
---

:::
3138:716