Day 2,127, 15:59
•
Published in China
•
by Spite313
Dear friends,
In the past few weeks all of TWO has fought yet another balkans war. This time the Croatians broke free, and along with regional allies managed to stir up a whole boatload of trouble. Their freedom and fighting meant that Bulgaria escaped to Scandinavia, demolishing our ACT allies and directly threatening the UK. Romania had to chase them to stop them. Serbia lost all her empire again, and as a result France is about to attack the UK. That one well timed revolt has damaged half a dozen ACT countries, and weakened Serbia for another few weeks until they recover.
The thing is, this isn't the first time. CoT is a lot weaker than TWO (combined, about half the strength, not counting proTWO countries) and it's only advantage lies in well co-ordinated resistance wars and surgical strikes on bonus corridors. Now, American bluster aside, there have been few major victories for CoT. But those that have happened- Hungary losing out on most of it's empire (which was pretty inevitable considering the balance of power between Hungary and the countries it was holding down), Serbia being repeatedly driven to it's home regions - have all had one major source.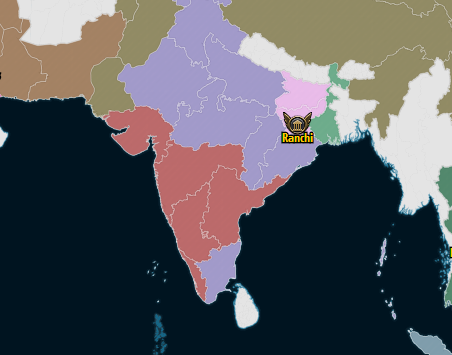 Just like in the days where they were based in Mexico, Croatia's position in India, alongside that of BiH and Albania, allows it to strike at the core of TWO without TWO being able to easily attack back. What makes this worse is that TWO has known about this for months- years even. Ever since Croatia first moved into India, the attitude has been "good riddance". The theory being that in India we only have to put up with intermittent resistance wars rather than constant war. Serbia can hold Croatia, Bosnia and Albania down (just), but if it does it can't hold anything else, so no Empire.
This painful logic has led to Croatia acting unchecked for all this time. They can attack with confidence knowing that Serbia will not attack back, because irritating as it is to be totally powerless, it would be a Pyrrhic victory to drive them out of India. If you read the Serbian media, there were calls to punish Albania and BiH for their part in the revolt against Serbia, but very little mention of Croatia. There's no call for an airstrike even - the RWs against BiH have been done by Serbian mobile battalions, which is by far our weakest form of attack as an alliance. It is because people have become comfortable with the status quo.
The current President of Croatia has been a friend of mine since before the dawn of time, but I have to say: this must end if TWO is to regain control of it's own future. Right now the whole schedule is being dictated by Croatia and CoT. The neutral countries and CoT might not be firm allies, but neither do they like TWO. And their co-ordinated strikes on TWO are making us the defender- not a position TWO adopts easily. We are an attacking alliance, and on the defensive we show our weaknesses.
Throwing Croatia and it's allies out of India won't give us any economic benefit, but it'll put us in control of the initiative. I don't expect people to agree with me- the fact the map is the way it is shows that most leaders in TWO feel that a Croatia in India is still a safer option. But I don't want a safe option, I want an option where TWO can return fire when it's attacked. Where maintaining bonus corridors isn't set above actual fighting. Where avoiding major battles and fighting to the death in minor RWs isn't the norm. I don't want to see 70%+ overhit walls in resistance wars anymore. It seems like since the rise of TWO the world has been quietly divided. NAPs respected by only one side have been quietly acknowledged. We've forgotten what we started out to do - conquer our enemies. Now we're an army of diplomats and our only focus is to keep the map exactly as it is now.
Don't let CoT and company hold the initiative. That's our job.


Iain
If you can keep your head when all about you
Are losing theirs and blaming it on you,
If you can trust yourself when all men doubt you,
But make allowance for their doubting too;
If you can wait and not be tired by waiting,
Or being lied about, don't deal in lies,
Or being hated, don't give way to hating,
And yet don't look too good, nor talk too wise:

If you can dream—and not make dreams your master;
If you can think—and not make thoughts your aim;
If you can meet with Triumph and Disaster
And treat those two impostors just the same;
If you can bear to hear the truth you've spoken
Twisted by knaves to make a trap for fools,
Or watch the things you gave your life to, broken,
And stoop and build 'em up with worn-out tools:

If you can make one heap of all your winnings
And risk it on one turn of pitch-and-toss,
And lose, and start again at your beginnings
And never breathe a word about your loss;
If you can force your heart and nerve and sinew
To serve your turn long after they are gone,
And so hold on when there is nothing in you
Except the Will which says to them: "Hold on!"

If you can talk with crowds and keep your virtue,
Or walk with Kings—nor lose the common touch,
If neither foes nor loving friends can hurt you,
If all men count with you, but none too much;
If you can fill the unforgiving minute
With sixty seconds' worth of distance run,
Yours is the Earth and everything that's in it,
And—which is more—you'll be a Man, my son!
Post your comment
What is this?

You are reading an article written by a citizen of eRepublik, an immersive multiplayer strategy game based on real life countries. Create your own character and help your country achieve its glory while establishing yourself as a war hero, renowned publisher or finance guru.