Day 1,551, 10:47
•
Published in USA
•
by George Armstrong Custer
Click the image for music
When the lights go down and the stage is quiet, the Old Man is still there, thinking about the next edition of the WHPR.
Dateline:
Saturday February 18, 2012 (Day 1,551)
Location:
White House Press Room
Reporter:
George Armstrong "Old Man" Custer

Sixty Days of WHPR
Here's a list of every WHPR published since my first submitted work on Dec 19th.
I wrote some myself, others contained contributed segments, still others were completely other people's work. Credits are given in the commentaries after the linked article titles. I handled most as Editor, whether the bulk of the work was my own or that of others.
Key: ● = I made the top pic; ○ = I didn't make the top pic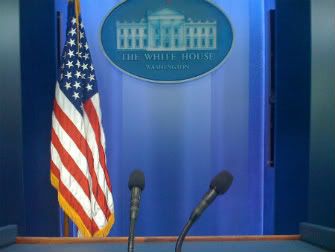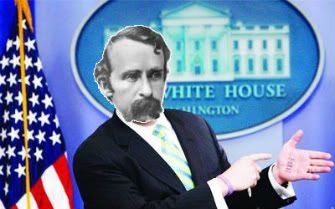 ●
WHPR Day 1490 - Dawn of a New Era
: Turkey leaves ONE for EDEN.
○
[WHPR] Grab Bags - Win a Q5 House, Cash, & new Q6 Tanks
: Day 1491, Kara Beth's Grab Bags.
○
[WHPR] Cuddly Pink Hugs, and Ponies!
: Day 1492, Kooguy interviews the Sec'y of Interior.
●
WHPR Day 1494 - The eUS Civilian Military Group
: All about the US Civ MU.
○
[WHPR] The Best Redcoat, is a Deadcoat
: Day 1495; Israel Stevens on the UK wipe out.
---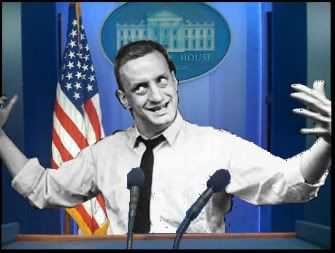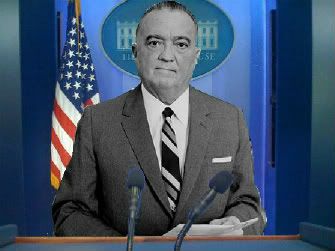 ●
WHPR Day 1499 - Secretary of State's Report on Europe
: Interview with SecState in map captions.
○
[WHPR] Invasion!!
: Day 1501; Serbia attacks Maryland, by Cody Caine.
●
WHPR Day 1504 - Commemorating 1000 Days
: Pfeiffer wrote this history of the WHPR.
---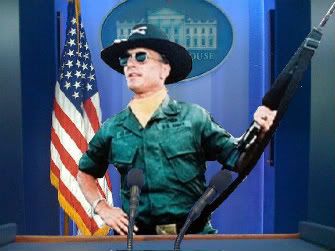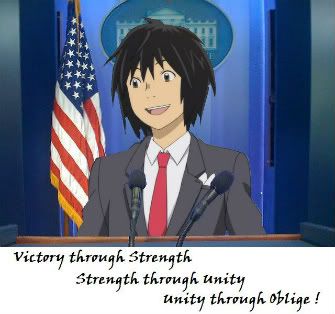 ●
WHPR Day 1505 - Freedom is Spelled "T-E-R-R-A"
: Oblige wrote this as TERRA wiped Poland.
●
WHPR Day 1506 - President Oblige
: Blatant election eve electioneering;
huge
shitstorm, my bad.
---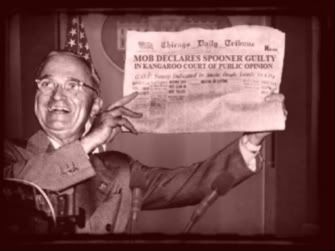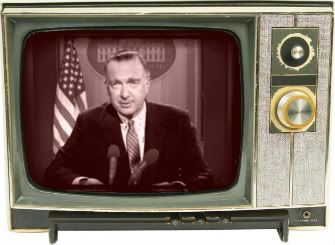 ○
[WHPR] Victory Through Unity, Unity Through Oblige
: Day 1508, Israel Stevens does damage control.
○
WHPR Day 1511 - Dinner and a Show
: Athanaric re-joins the Press Corps.
●
WHPR Day 1513 - Treason Trial and War Maps
: "Mob Declares Spooner Guilty in Kangaroo Court...!"
●
WHPR Day 1515 - Cabinet and Department Updates
: Kooguy interviews
eight
Department heads!
---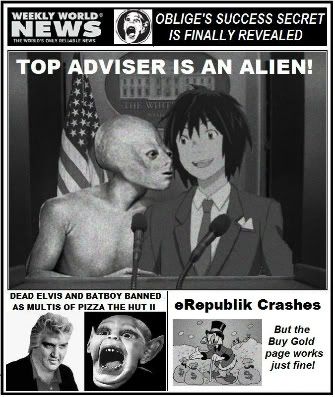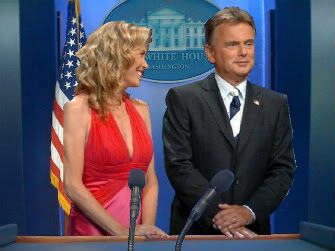 ●
WHPR Day 1518 - 100/100, and Oblige's Secret
: Juan Ladino, Kemal Ergenekon and Evry contribute.
●
WHPR Day 1520 - Get Ready to Whip It Out!
: Segments by Kara Beth, Athanaric, Kooguy and myself
---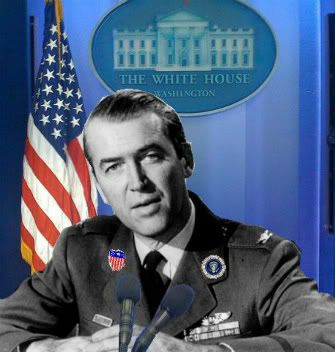 ●
WHPR 1522 - Grab Your Bags, America!
: Kara Beth's Grab Bag text, plus White House News.
●
WHPR 1524 - Special Sunday Edition
: Kara Beth's Grab Bag results, Michael Roberts Richard interviews the President.
---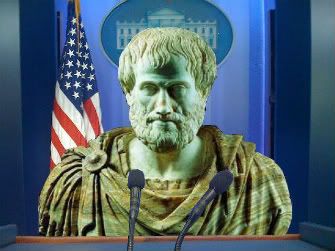 ●
WHPR 1525 - Op-Ed: Election Ethics
: About vote buying/selling; five interviews.
●
WHPR Day 1527 - Bullets, Then Ballots
: RW Galacia back to Spain to deprive Ajay of a Congressional seat.
---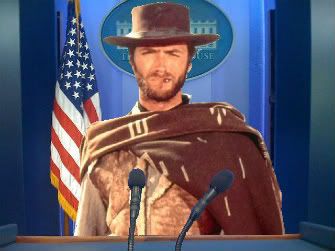 ●
The Good, The Bad, and The Oblige
: Day 1529; U.K. and Serbia, with Cromstar and Serendipitous
○
WHPR - A New American Hero:
: Day 1529; Israel Stevens praises Uhriventis for getting Ajay banned.
●
WHPR Day 1531 - Sunday Special
: President Oblige's first "fireside chat," and an interview.
---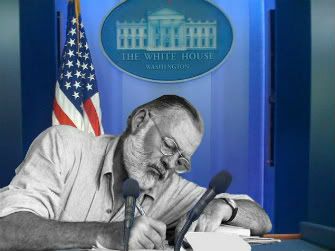 ●
WHPR 1532 - General News & Information
: Econ module changes, and Ajay returns as a new character.
●
WHPR 1533 - Econ Module Explained
: Knowledge is Power, by Guest Writer Gnilraps.
---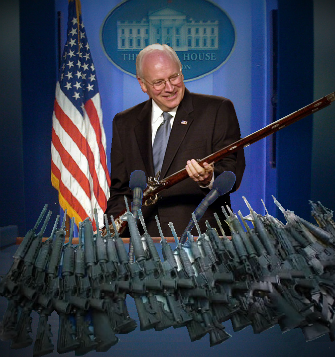 ●
WHPR 1534 - Announcements and News
Another Grab Bag event is coming, as is the POTUS debate on eNPR.
●
WHPR 1536 - GUN DRIVE
: Israel Stevens on the Gun Drive, Gnilraps on the Econ module change.
---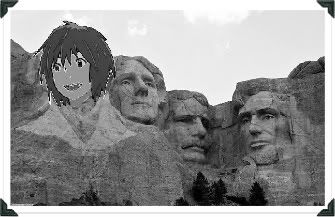 ●
WHPR 1537 - President's Weekend Address
: pre-election fireside chat, and Gun Drive results.
●
WHPR 1539 - Post Election Roundup
: February Cabinet, Medal of Honor is proposed.
---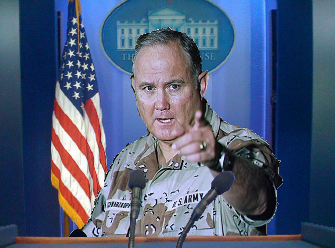 ●
WHPR 1541 - SF Command Change and Econ Help
: SF Commander TTi09 Retires, Shadowukcs' Econ help.
●
WHPR 1543 - Three Top Stories, No Fluff
: Operation Asian Dream, EPIC Alliance, Six-star impersonator.
---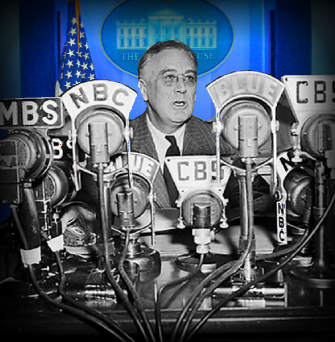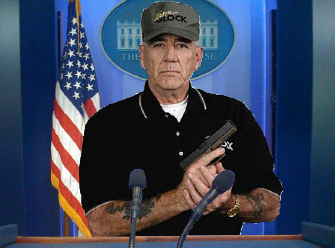 ●
WHPR 1545 - President's Weekend Address
: Fireside chat addresses failed Operation Asian Dream.
●
WHPR 1546 - Guest Econ Writer, and Bulgaria-Turkey
: Robert Renolds on the Economy; Bulgaria-Turkey rift.
---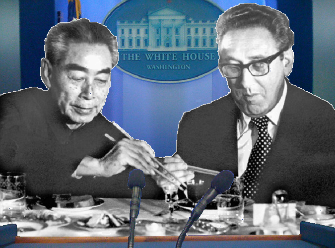 ●
WHPR 1548 - State Department; Spain; Chickens
: Ambassador Program; Op-Ed on Spain
●
WHPR 1549 - Special Tech Report
: eRep game outages probably caused by DDoS attacks.
---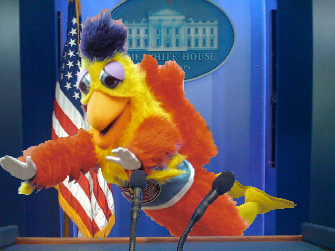 ●
WHPR 1550 - Vice President; Poultry Update
: Interview with VP Leroy Combs; Levif92 on Spain
●
WHPR 1552 - President's Weekend Address
: TBA on Sunday Feb 19
---
Besides making cool top pics and playing editor and doing some writing...
I instituted a format and created new graphics, to bring about a consistent image and feel to the paper. The most prominent component of the new standard is the top pic, utilizing the same Press Room podium with different people inserted into the picture, in some way relevant to the content of that day's article.
Each edition contains, as standard equipment so to speak, a quote from the President, a block for the Oval Office Radio show, and sets of links to other government newspapers as well as to the major military and militia groups. The whole thing is framed by standardized top and bottom bylines, adding to the familiarity and comfort of the daily readers.
Another important valuable asset is the Shout, which appears at the end of every article and is picked up by many readers throughout the day. I started tracking subscriptions on my first day; there were 1646 on Day 1490, and on day 1550 we had 1812, a net gain of 166 new subs to date.
A consistent theme of unity and progress has been set and vigorously maintained. Above all, the standard of journalism is as professional as the presentation is clean, because the WHPR is representing the White House and the Office of the President to the American people.
The WHPR currently carries the distinctive look and feel I've developed and imposed upon it. As personnel changes in both Administration and Department leadership, it will certainly evolve to reflect the mindset and agenda of its new Editors and writers.
These past couple months have been the most challenging, and most fun I've had in the nearly three years I've played this silly game. I hope what I've brought to your official White House newspaper has been good, and to your satisfaction.





George Armstrong "Crazy Old Man" Custer
:::
Reviewing 60 Days on the Job
http://www.erepublik.com/en/article/1970450/1/20
WHPR 1490 to 1550
:::
540
Post your comment
What is this?

You are reading an article written by a citizen of eRepublik, an immersive multiplayer strategy game based on real life countries. Create your own character and help your country achieve its glory while establishing yourself as a war hero, renowned publisher or finance guru.